Two-Month-Old Tiger Cub Suffers Mysterious Seizures at Zoo
A two-month-old tiger cub at London Zoo in the U.K has suffered three mysterious seizures, with veterinarians working around the clock to determine the cause.
The cub—called Loki—will now have an emergency MRI scan and additional blood tests after all other tests came back inconclusive.
The rare Sumatran tiger cub was born in December to 10-year-old Gaysha. Loki was born nearly a year to the day Gaysha arrived at the zoo from Denmark. Sumatran tigers are critically endangered and the rarest subspecies of tiger in the world. There may be as little as 300 remaining in the wild.
Tigers have been known to suffer seizures before, but it is rare at such a young age. It can sometimes be down to tapeworm infections or neurological conditions.
On its website, the zoo said Loki suffered his first seizure on Friday (February 18) just hours after he had been playing happily with his parents in their enclosure. He had shown no recent signs of being unwell. The cub was rushed to a veterinary hospital for treatment and appeared better after being given antibiotics.
Zookeepers were mindful of the need to return the cub to his mother as soon as possible. Keepers feared that if she sensed too much human interference, she may have rejected him.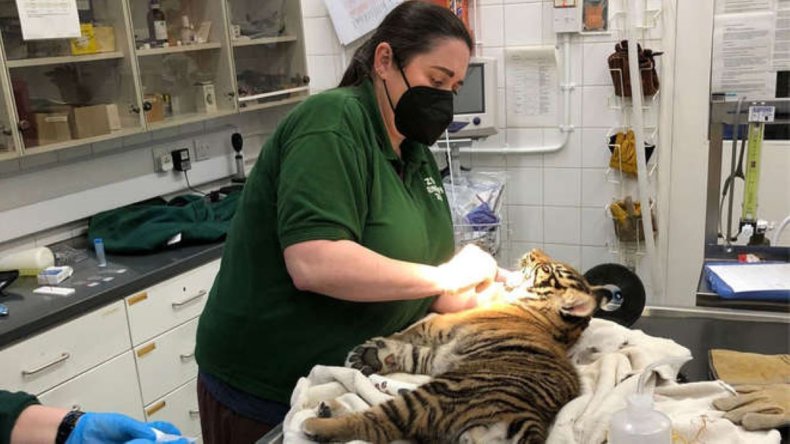 Once returned to his mother, the two were "sniffing and gently nuzzling" each other in their "cozy den" at the zoo.
Since then, the tiger has been under 24/7 monitoring. Keepers grew concerned when Loki did not appear very active on Saturday (February 19) morning. The cub was not feeding from his mother and appeared lethargic.
The zoo rushed the cub back to the veterinary hospital where they took more blood tests and looked for any clues as to what was wrong. Once again, the results were inconclusive but Loki appeared to feel better once he was back with his mother, and began feeding.
However on Sunday night, he suffered two more seizures.
In an update on its website published on February 22, a London Zoo spokesperson said its vets will use specialist equipment and advanced testing facilities to help them get to the bottom of Loki's seizures.
"We don't know what will happen next or what the outcome will be. But we are doing everything we can to work out what's wrong with Loki and determine what, if anything, we can do to help him," the spokesperson said. "The most important thing for everyone at [London Zoo] is Loki's welfare. Despite his two recent seizures, the vets in charge of his care are confident that he is not suffering, and as long as this is the case, we will continue to do everything within our power to treat him."
While the vets work to determine the cause of the seizures, Loki will remain with his mother in their enclosure while keepers keep a close eye on him.