The musical Funny Girl has come to be known—some might say dismissed—as the show that made Barbra Streisand a star. It also put several songs, especially "People" and "Don't Rain on My Parade," safely into the Great American Songbook. But, despite several attempts, it has not been revived on Broadway since the original production.
Now Funny Girl has finally been brought back, starring Beanie Feldstein. It also features Ellenore Scott and Ayodel Casel as the two choreographers, and these two young women of color have done some fancy footwork and put some fancy footwork into the show, bringing dance front and center stage to what is usually seen as a star vehicle—for one star—and are making big names for themselves in what is the largely white male world of Broadway choreography.
The show now has some electric set pieces as well as some well-choreographed highly stylized comic dances that stop the show. Scott is in charge of the more traditional choreography, while Casel directs the show's four tap sequences. Neither Scott nor Casel saw the original show, which closed in July 1967; and while some video snippets of that production are apparently available, from a dance perspective, this Funny Girl is essentially a new show. Recently, they talked to Newsweek about how they put it all together.
Making Moves
When asked how she approached a musical that is almost 60 years old, as opposed to a new work, Scott told Newsweek, "I think a lot of the creative team felt this was really telling the story of Fanny Brice and really looking at the material and the script and going based off of what the script is, versus what everyone kind of assumed or thought each dance number should look like based off of the original production. So, for me, what was most inspiring is the music. And so, what I tried to do when choreographing these big dance pieces was just read the script, listen to the lyrics and really say, 'What is the most important part about this number? Is the number supposed to highlight Fanny coming into her own and, and how funny she can be?'
"The movie was a big reference point in terms of just like moving style, but so much of the movie is also very different from the stage production. There are archival videos at the Performing Arts Library, but I didn't want to go look at them because I didn't want them to influence how I was approaching the movement myself."
The choreography here is not just traditional Broadway-style dance numbers, though the show has plenty of those. There are some comic set pieces and one that has echoes of the Stephen Sondheim–James Goldman classic Follies and the ghosts of the Weismann Theatre. Pretty much any extended piece of stylized movement fell to Scott to stage.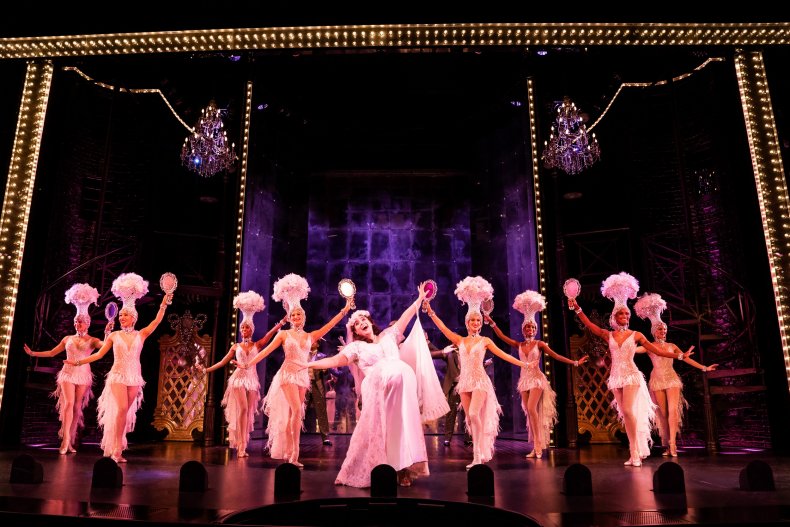 When asked when blocking becomes choreography, Scott told Newsweek, "Michael Mayer is an extraordinary director and he truly has great visions in terms of a lot of the numbers. So, you know, anything that had ensemble movement would be technically considered choreography. There are moments in the show where I choreographed what Fanny and Nicky Arnstein are doing; there were moments where I choreograph what the poker ladies are doing. So, the staging element was definitely a collaboration between myself and Mr. Mayer. He would sometimes totally have a vision of like: 'This is what I want to see and this is what we're going to do,' and he would stage it. And then there were some times he would say, 'I don't know what we need to do here. Make it look pretty.'"
Funny Girl even has one superbly choreographed scene on a couch, without music, that brings down the house due in large part to the actors' physical comedy. This even makes Scott laugh: "Every night, I die laughing because it's just pure comedy genius. They are brilliant out there."
And for the Follies dances, Scott told Newsweek, "The one thing that we kept thinking about when creating the Follies movement was the spectacle and the women and the showgirls being almost so beautiful that they transcended being a human being. Just being tall and long and gorgeous and wearing diamonds and being like gemstone, like precious stones.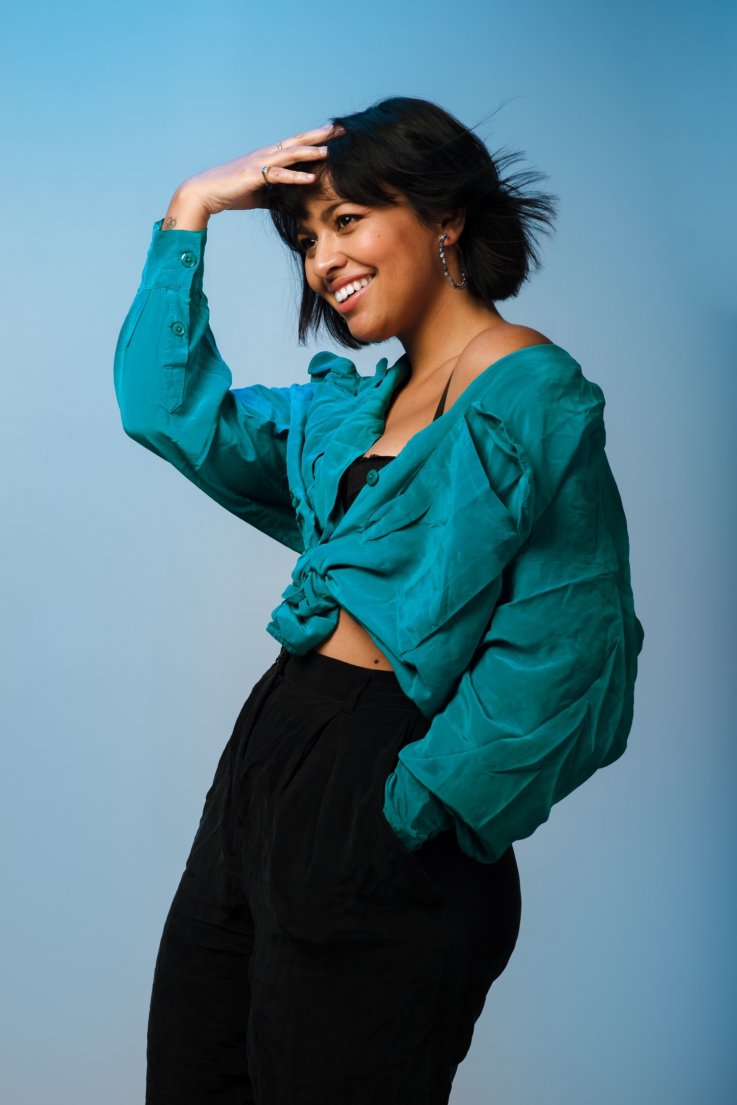 Ellenore Scott makes her Broadway debut as a lead choreographer with new revival of "Funny Girl."
Mike Petrie Jr.
"A lot of what I tried to do with the choreography was, when they were the Follies—when they were these gorgeous amazons on stage—the movement was much more simple. It was much more about the lines. It was much more about showing off the set and the clothing, because a lot of the Follies numbers were that: using the entire space with as many people as possible. So, it was trying to mimic that with our ensemble dancers. But then we were trying to find the flip side of how can we show off those beautiful Follies legs and dancers, while Fanny has a pillow in her stomach and is hitting them all over the place, finding the shtick. And to be honest, we keep that moment almost like improv. There are some things that are set for a few reasons, but we also allow Beanie to have fun every night and to keep everyone else who is performing on their toes. That is also kind of an exciting element of the comedy that I think will keep it fresh for all the audiences who come to watch it."
Scott also worked with Mayer as the associate choreographer for the Broadway show Head Over Heels on Broadway and a few episodes of Smash. on the current hit off-Broadway revival of Little Shop of Horrors playing at the Westside Theatre. In spite of having much more space and a bigger orchestra, working on Funny Girl is much the same process. "From a basic perspective," Scott told Newsweek, "you go into it the same way. Other than the fact that you have more space to work with."
"For Funny Girl, this is my Broadway debut as a choreographer, the lead choreographer. The pressure of that and the stakes. But when it comes down to it, it's just choreographing a show. So I approach each show I work on in the same way: I go to the book, I look at the script, I listen to the score, I start prepping. I ask, 'What does the world look like? What's the choreographic vocabulary for the show?' So that you know the numbers all feel like they're in the same show. Also, what I usually like to do is go through each number and just kind of start figuring out some steps, some moves. I ask, 'Does it move a lot? Does it not move a lot?' I do that for every show.
One of the more interesting and fun challenges for Scott is when an actor who is not a dancer is required to dance.
"My goal with actors is that, on stage, the actors feel comfortable. So when it comes to choreography, a lot of principal actors will come up to me and say, 'I'm a little nervous' or like, 'I'm not, I'm not a dancer. So just I'm telling you right now, it's gonna be really hard for me to learn choreography.' So like on day one, they come up and tell me that they can't do it. And I always find that really endearing and sweet, because that probably means that they were put on stage before doing something they felt uncomfortable doing and they felt embarrassed or they couldn't do it. So, I recognize that it is them protecting themselves. It's always my job as the choreographer to work with them, to make sure that they feel comfortable. For example, Jane Lynch, Rosie Brice, who's fabulous by the way. She was one of the people who was like, 'I can't learn choreography. That's just not what I do.'
"She has a pretty big number in Act Two, "Who Taught Her Everything She Knows?" with Eddie, played by Jared Grimes. So I was like, 'OK, We need to figure out a way to make sure that you feel amazing and deserve all the applause at the end of that number.'
"I said to her, 'You go to the club, right, and the music starts playing—what dances do you do?'
"So a lot of the moves that she does on stage are things she feels comfortable doing so that when she performs it at night, she is smiling a big smile, because it's just something she naturally does.
"I feel like as the choreographer it is not necessarily me just putting rules on people and forcing them to do it. It's collaborating with them and making sure that they feel good doing it."
There Came a Tapping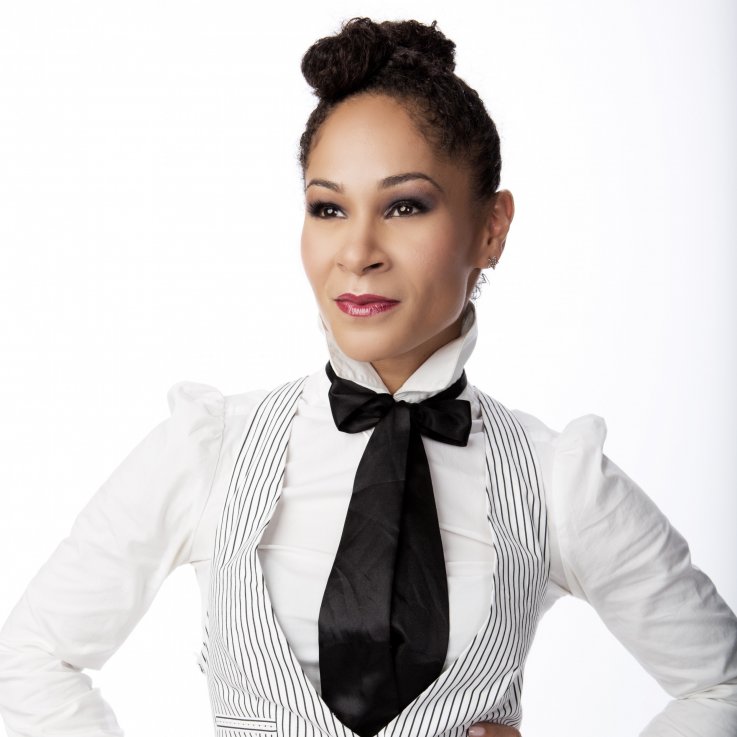 Ayodele Casel is the tap choreographer for the revival of :"Funny Girl."
Michael Higgins
Scott says that her colleague, Ayodele Casel, who choreographs the tap numbers, "is an encyclopedia of tap history. She's doing things on stage that I've never seen before. It's really, really exciting."
When Casel was asked how she approaches her job, how she comes up with the steps for her dances, she told Newsweek, "There's my own take on how I how I view rhythm and listen to rhythm, but also, it comes with for me it comes with a history and legacy a rhythmic legacy of people. So, as it relates in the context of this show, we're talking about a time period of the Ziegfeld Follies. But because I am keyed into the legacy of the history and the evolution of tap dance, I can easily point to beacons in my field who were present at that time, the mid-1900s, as well as Florenz Ziegfeld himself.
"When I think about Eddie Ryan, I think about the Nicholas Brothers, who were certainly a part of that world. I think about that legacy, I think about all of the jazz musicians, and I think about Sammy Davis Jr. As a young person. I think about Baby Laurence; as a tap dancer he would be very popular and important to our form. I think about Bill Robinson! One of the greatest performers of that time. So I think of Eddie Ryan as a conglomerate of all of those influences.
"I think about those things, and I approach it from that particular point of view. So that's how those steps come together."
"Rat-Tat-Tat-Tat" is a whole nuther animal. It could have been a standard dance piece. But in this Funny Girl, it is a tap extravaganza interwoven with slapstick comedy. Casel told Newsweek, "Something like "Rat-Tat-Tat-Tat" was so much fun. It was a challenge, and it was a lot of fun, because the way that Eddie Ryan is presented in this Funny Girl is that he is the choreographer of Ziegfeld shows by that time. So for me, it's like how would any tap dancer with that experience, as a Black man, which was a different, a very different sensibility from more popular references that we know, like Fred Astaire and Gene Kelly and all that. What kind of rhythmic sensibility would he put into that thing?
"It was so nice because I was able to expand on the original version. I added a duet attack, which I think is a killer tap duet between the two leads of the "Rat-Tat" song at the beginning and making it live in a rhythmic feel, which is a lot of fun."
One thing that is probably not common knowledge is Feldstein's tap-dancing ability. Casel told Newsweek, "I want to give props to Beanie, because she was so excited to learn all the taps. I was prepared, as we generally do with lead actors, to kind of tailor things around what they're doing. And it just so happened that Beanie actually can tap. And not only can she tap, she has a vocabulary and she can execute. She would have done the whole thing if she could have, but she had other [comic] things she had to accomplish in the number. That was really exciting.
"What is really nice about bringing Funny Girl to a new audience is we get to bring our interpretation and the energy that each person has, from actors to the creative team. We get to add another layer of sensibility to the whole thing.
"The beauty of doing musical theater for me, as opposed a tap concert or a dance concert, is that you're using all the superpowers of everyone involved to tell the story, and it happens be in rhythm and it happens be in action."
Recently, Casel said, "I was talking to a member of the audience last week or so, and he saw the original production, in Pittsburgh, I think and he was just going on and on about how much he was enjoying this." They talked about "Rat-Tat-Tat-Tat," and when Casel asked him what he remembered about the original he said, "Well, I remember the bagels and the comedy, but I have a feeling that tonight I'm going to remember the dancing."
She says, "From somebody who actually was in the room with Barbra, it was really a nice moment."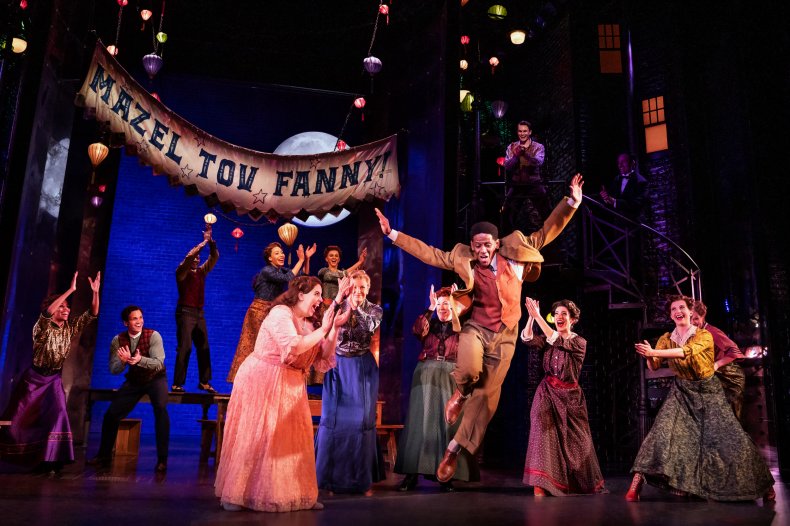 Both Scott and Casel are keeping the cast on their toes and lifting audiences to their feet. These two young women of color are bringing new moves and a new sensibility, and they are making serious creative inroads in the world of Broadway choreography.
Funny Girl is playing at the August Wilson Theatre, 245 West 52nd Street, New York. For tickets and more information, go to FunnyGirlOnBroadway.com.