Five Wounded in Rocket Attack on Base Housing U.S. Troops in Iraq as Fears of Broader Conflict Loom
A rocket attack on a military base north of Baghdad injured three coalition service members and at least two Iraqi soldiers on Saturday, it has been reported. The Associated Press reported that the strike on Camp Taji, a base housing U.S. troops and coalition forces, saw more than a dozen rockets land inside the facility.
Official sources also told the AP that at least two Iraqi troops were injured in the attack, which came just days after a similar strike killed three coalition personnel — including one U.K. soldier and two American servicemen. The AP reported that some of the rockets struck the base housing coalition personnel as others hit a runway used by Iraqi servicemen.
The latest attack on the base reportedly took place during daylight hours, whereas previous rocket strikes in the region have taken place at night.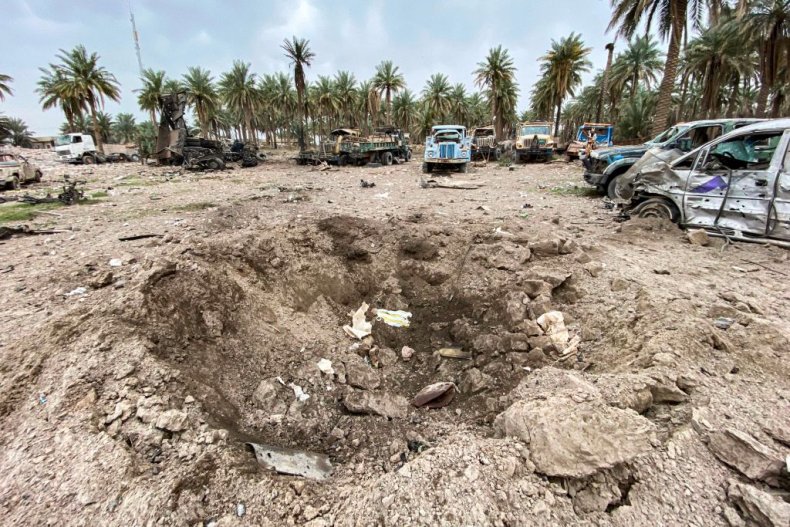 Newsweek has contacted the Pentagon and the Combined Joint Task Force — Operation Inherent Resolve for comment and confirmation. This article will be update with any responses.
The CJTFOIR spokesman Col. Myles Caggins III posted a statement about the attack on social media, saying, "The CJTFOIR confirms at least (25) 107mm rockets impacted Iraq's Camp Taji base hosting Coalition troops, March 14 at 10:51 a.m. (Iraq Time). 3-Coalition WIA [Wounded in Action], 2-Iraqi WIA. Assessment and investigation ongoing."
The earlier rocket barrage against Camp Taji on Wednesday was the most lethal to take place since another attack in December killed one American contractor, sparking a series of tit-for-tat strikes that led to the U.S. assassination of Iranian Revolutionary Guard commander Major General Qassem Soleimani in January.
U.K. Prime Minister Boris Johnson called the Wednesday strike on Camp Taji "abhorrent" and said, "Our servicemen and women work tirelessly every day to uphold security and stability in the region — their presence makes us all safer."
Secretary of Stake Mike Pompeo later added that the strike "would not be tolerated" and warned that forces responsible for the attack would be "held accountable."
In the wake of the Wednesday barrage, the U.S. issued retaliatory airstrikes against the Iran-backed group Kataib Hezbollah in Baghdad on Friday local time.
The Iraqi President Barham Salih condemned the American attacks, calling them "repeated violations" as the Iraq military said five security officials — including three soliders and two policeman — and a civilian were killed in the strike. Several others were injured.
U.S. General Kenneth McKenzie told reporters that American forces believed "collateral damage" from the Friday strike was "going to be very low." In a statement on the airstrikes posted to social media on Thursday night, Secretary of Defense Mark Esper said, "The United States will not tolerate attacks against our people, our interests, or our allies.
"As we have demonstrated in recent months, we will take any action necessary to protect our forces in Iraq and the region."
This is a developing story, more information will be added as it becomes available.