Tyre Nichols Death: Police Look To 'Rebuild Trust' As Unit Disbanded
The Memphis police chief has disbanded the city's so-called Scorpion unit on Saturday, citing a "cloud of dishonor" following the release of video that showed some of its officers savagely beating Tyre Nichols.
Police Director Cerelyn "C.J." Davis acted a day after the harrowing video of emerged, showing five officers pummeling the 29-year-old Black man on January 7—an assault that has been likened to the infamous 1991 police beating of Rodney King.
The officers, who are also Black, are seen leaving Nichols on the pavement propped against a squad car as they fist-bump and celebrate. Nichols was taken to hospital after he complained of shortness of breath and died three days later.
The five officers—Tadarrius Bean, Demetrius Haley, Desmond Mills Jr., Emmitt Martin III and Justin Smith— have been fired and charged with Nichols' murder. They also face charges of aggravated assault, aggravated kidnapping, official misconduct and official oppression. They face up to 60 years in prison if convicted of second-degree murder.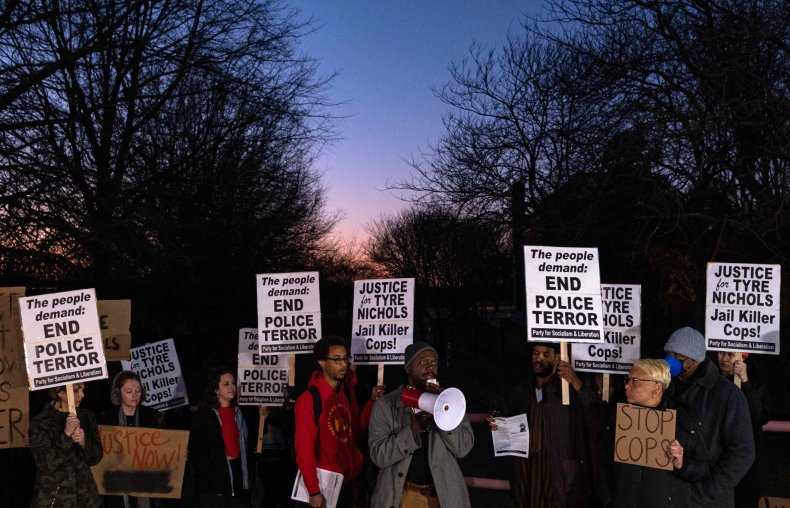 Protestors gathered in multiple cities following the release of the footage, which renewed questions about how fatal encounters with law enforcement continue even after repeated calls for change.
A news release from the Memphis Police Department on Saturday said Davis had listened to Nichols' relatives, community leaders and other officers before making the decision to disband the Scorpion unit, which stands for Street Crimes Operations to Restore Peace In Our Neighborhoods.
"It is in the best interest of all to permanently deactivate the SCORPION unit," Davis said in a statement. "The officers currently assigned to it agree unreservedly with this next step."
Contradicting an earlier statement that she would keep the unit, Davis said that "while the heinous actions of a few casts a cloud of dishonor on the title SCORPION, it is imperative that we, the Memphis Police Department take proactive steps in the healing process."
She added that the department "remains committed to serving our community and taking every measure possible to rebuild the trust that has been negatively affected by" Nichols' death.
The Scorpion unit was launched by Davis —the first Black female police chief in Memphis—in November 2021, to target offenders in crime hot spots. It consisted of about 40 officers.
Protestors marching though downtown Memphis on Saturday cheered when they heard the unit had been dissolved, it was reported.
"The unit that killed Tyre has been permanently disbanded," one protestor said over a bullhorn.