Tyre Nichols Protests Planned in These Cities Ahead of Body Cam Release
Protests against police brutality are expected to take place across a number of major cities in the U.S. tonight, as the nation braces for the release of the body camera footage from the assault on Tyre Nichols that led to his death.
Memphis police are set to release the video of the fatal beating on Friday after 6 p.m. local Tennessee time.
Nichols was a 29-year-old Black man who died three days after a traffic stop led to a violent arrest. His death has provoked outrage across the country and the new footage, which officials have described as brutal, is only expected to fuel public anger.
Five officers with the Memphis Police Department, who are also all Black, were fired in connection to Nichols' death after an internal investigation last week. They are also facing criminal charges, including second-degree murder.
Protests have been planned in multiple cities on Friday, including Memphis, New York City, Washington, D.C., Atlanta, Chicago, Boston, Philadelphia, Detroit and Portland, Oregon, and Providence, Rhode Island.
Memphis
The Memphis chapter of the Black Lives Matter movement held a candlelight vigil for Nichols on Thursday night at Tobey Skatepark, and more events are expected to follow on Friday.
On Friday afternoon, businesses were seen boarding up their storefronts ahead of the video's release. The Associated Press reported that area schools also canceled all after-school activities out of an abundance of caution.
"I want each and every one of you to protest in peace," Nichols' mother, RowVaughn Wells, said at Thursday's vigil. "I don't want us burning up cities, tearing up our streets, because that's not what my son stood for."
In preparation for the video's release, Memphis Police Chief Cerelyn Davis, the city's first Black female police chief, told the public, "I expect you to feel outrage at the disregard of basic human rights as our police officers have taken an oath to do the opposite of what transpired on the video. But we need to ensure our community is safe in this process."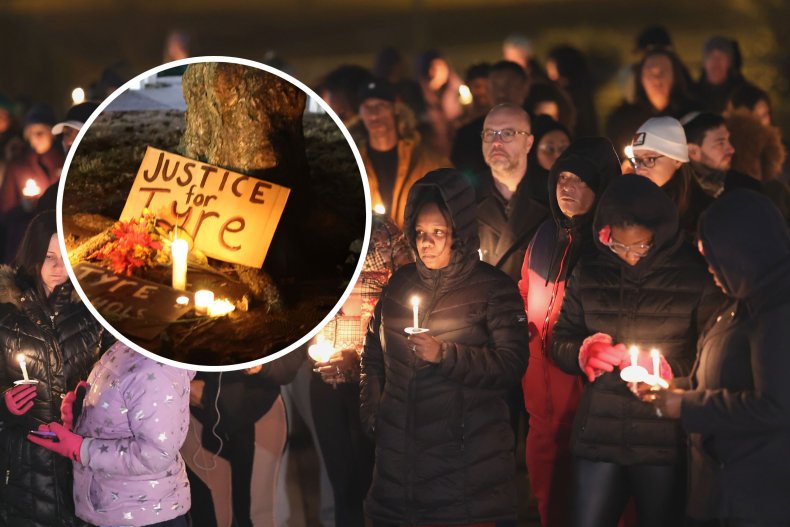 New York City
The city branch of the Party for Socialism and Liberation (PSL) is organizing a rally in Times Square "calling on all New Yorkers to hit the streets" and demand justice for Nichols. The event begins at 7 p.m.
According to an Instagram post, the group is demanding "an end to racist police terror in Black and Brown communities" and jail time for "all killer cops."
New York City Mayor Eric Adams, a former NYPD officer who said he was deeply affected by the case both "personally and professionally," has said the police force is preparing for "robust protests" in the city and that officers are "on standby" for the video drop.
New York Governor Kathy Hochul has also urged protesters to protest peacefully with Nichols' mother in mind.
"On behalf of her family and his 4-year-old child, if you're going to protest, please do so peacefully in her son's memory," she said.
Washington, D.C.
There is a planned protest at Lafayette Square scheduled for 7 p.m.
The Metropolitan Police Department has fully activated all personnel, which includes more than 3,000 officers, ahead of the release of the body camera footage.
"We understand that a video will be released and contains disturbing content that does not represent the values that any law enforcement officers are sworn to uphold," MPD said in a Thursday statement.
Capitol Police are also upping security in preparation, with crews seen setting up fences at the Capitol as early as Thursday night, according to a report from Politico.
Federal employees have also been asked to evacuate from federal agencies no later than 3 p.m. and telework for the remainder of the day. In an email, authorities said, "The reason for the evacuation is a concern for potentially violent protests in the wake of the planned release by the Memphis Police Department."
Atlanta
Atlanta has already seen violent protests in the downtown core this week in response to the death of 26-year-old social justice activist Tortuguita, who was shot and killed by law enforcement on January 18. He was fatally shot by a Georgia State Patrol trooper while protesting the site of a planned public safety training center that activists have dubbed "Cop City."
On Thursday, Governor Brian Kemp issued a state of emergency that authorizes 1,000 National Guard troops to be called up until February 9. It will remain in place as more demonstrators are expected to take to the streets on Friday over Nichols' death.
In a Friday statement, Atlanta police said they were "closely monitoring" events in Memphis in preparation for protests in Atlanta.
"We understand and share in the outrage surrounding the death of Tyre Nichols," the department said. "Police officers are expected to conduct themselves in a compassionate, competent, and constitutional manner and these officers failed Tyre, their communities and their profession. We ask that demonstrations be safe and peaceful."
Other Cities
There are two protests happening in Chicago to demand justice for Nichols—one outside the Chicago Police Department's 16th District located at 5151 N. Milwaukee Avenue and the other at the Plaza Tenochtitlan in Pilsen. The rally at the north-side precinct is scheduled for 6:30 p.m., and the south-side event will begin at 7 p.m.
In Portland, Black Lives Matter organizers are planning a "Justice for Tyre Nichols" event at the Oregon Convention Center at 7 p.m.
The Boston chapter of the PSL is hosting a 7 p.m. protest at Park Street Station. Massachusetts State Police released a statement on Friday urging protesters to "act peacefully and with respect for the law and their fellow citizens." Colonel Christopher Mason said the State Police "stand with all who lawfully and peacefully express condemnation of the officers' actions and compassion for the Nichols family."
The Philadelphia Young Communist League is holding a demonstration at 7 p.m. at City Hall. "We demand Justice for Tyre Nichols who lost his life prematurely to the violent and animalistic Memphis PD," the group tweeted on Friday.
PSL Detroit is also hosting a vigil for Nichols at 2 Woodward Avenue in downtown Detroit at 7 p.m.
PSL Rhode Island is holding an event at Burnside Park in Providence at 7 p.m. as well.