Tyre Nichols Stepfather Shares Disturbing Details of Body Cam Video
Tyre Nichols' stepfather, Rodney Wells, shared disturbing details of the body camera footage that eventually resulted in the 29-year-old Black man's death.
While speaking with CNN's This Morning with Don Lemon, Rodney Wells and his wife, RowVaughn Wells, the mother of Nichols, were asked about the recent death of their son which occurred just a few days after he was hospitalized following a traffic stop conducted by officers with the Memphis Police Department. Body camera footage of the arrest is expected to be released on Friday evening, but Rodney Wells said that he has already seen the footage.
"I saw officers hitting on him. I saw officers kicking him. One officer kicked him like he was kicking a football a couple of times," Rodney Wells said, according to a transcript of the interview. "The most telling thing about the video to me was the fact that it was maybe 10 officers on the scene and nobody tried to stop it or, even after they beat him and they propped him up against the car, no one rendered aid to him whatsoever."
"They walked around smoking cigarettes like it was all calm and like, you know, bragging about what happened," Rodney Wells added.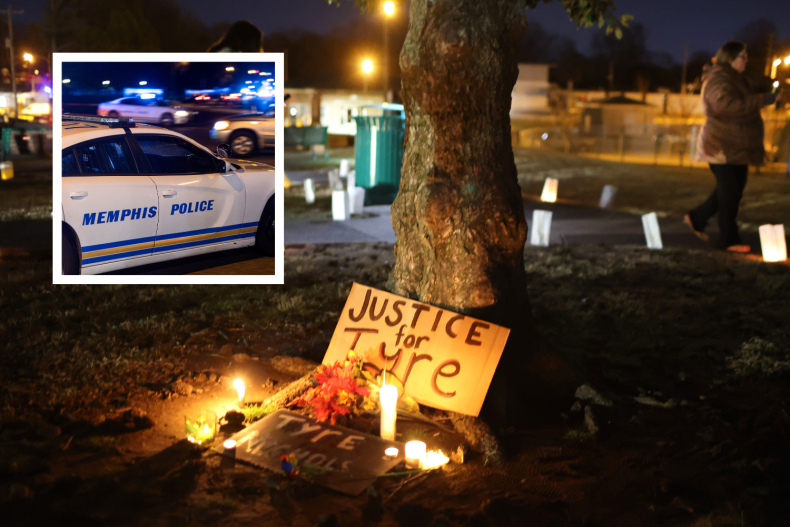 The comments by Rodney Wells come just a day after five former Memphis Police officers involved in the arrest of Nichols were charged with second-degree murder, as well as several other charges, including aggravated assault and aggravated kidnapping. The five former officers were identified as Tadarrius Bean, Demetrius Haley, Emmitt Martin III, Desmond Mills, Jr., and Justin Smith.
According to the Tennessee Bureau of Investigation, the five officers conducted a traffic stop on Nichols on January 7. Nichols is said to have fled from officers in an initial stop and during a secondary stop, a "physical encounter" ensued, the Tennessee Bureau of Investigation said, and Nichols was hospitalized shortly after.
"On January 10th, doctors pronounced him deceased," the Tennessee Bureau of Investigation said.
During the interview with CNN on Friday, Nichols' mother, RowVaughn, said she didn't see the body camera footage but described how her son looked in the hospital shortly after his arrest.
"When my husband and I got to the hospital and I saw my son, he was already gone. They had beat him to a pulp," she said, according to the transcript. "He had bruises all over him. His head was swollen like a watermelon. His neck was busting because of the swelling. They broke his neck. My son's nose looked like an S. They actually just beat the crap out of him."
RowVaughn also said that she agrees with the second-degree murder charges filed on Thursday.
In a recent YouTube video, Memphis Police Chief Cerelyn Davis addressed the death of Nichols and warned of possible violence that could come following the release of the body camera footage.
"I expect our citizens to exercise their First Amendment right to protest," Davis said. "None of this is a calling card for inciting violence or destruction on our community or against our citizens."
While speaking with CNN's Don Lemon on Friday, Davis further detailed the body camera footage and said, "You're going to see acts that defy humanity. You're going to see a disregard for life."
Newsweek reached out to Shelby County District Attorney Steve Mulroy's office for comment.