U.S. Gas Prices to Spike After Europe Partially Blocks Putin's Oil
The European Union's embargo on Russian oil will likely lead to higher gas prices for Americans, according to experts.
The EU on Monday agreed to halt the import of about 90 percent of Russian oil by the end of the year in its latest rebuke of the invasion of Ukraine. The move—which comes after the U.S. already cut off Russian oil imports, contributing to soaring fuel prices—seeks to add to the sanctions already weakening the Russian economy to pressure Russian President Vladimir Putin to end his invasion.
The ban will lead to higher gas prices both in the United States and across the globe "with near certainty," Patrick De Haan, the head of petroleum analysis at GasBuddy, told Newsweek on Tuesday.
"Since the European Union is a primary consumer of Russian oil, the imbalance that cutting off that oil will create will undoubtedly have implications on oil prices and gas prices," he said.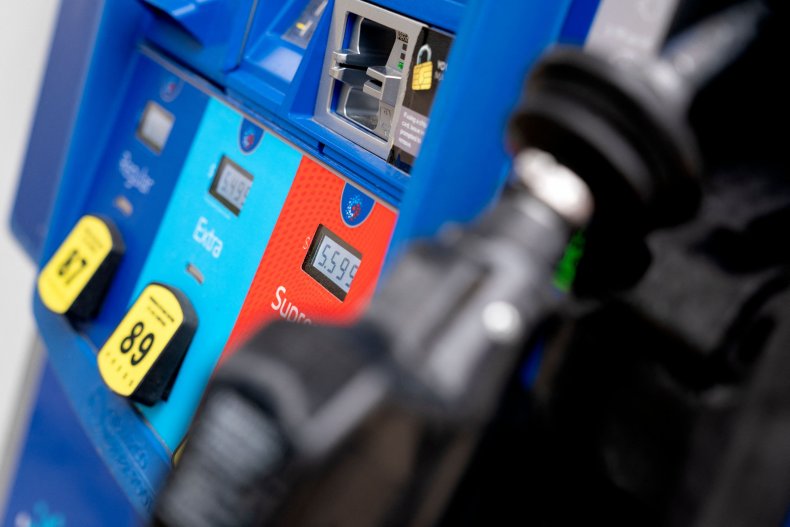 Russia produces up to 10 million barrels of oil each day, so cutting off that large amount will make it more difficult to meet global oil demand, resulting in higher prices, he said. He explained that consumers could expect to see prices increase by 20 to 50 cents per gallon, though that range could change by a number of other factors, including if the agreement's terms deviate.
Consumers can immediately expect to see gas prices rise as the market reacts to the embargo, though its full effects may not be known until 2023, De Haan said.
The impact of the embargo, coupled with a typical increase in gas prices during the summer, means that consumers should expect to see them rise throughout the next few months, Devin Gladden, a spokesperson for AAA, told Newsweek.
Gladden offered potential solutions that could offset some of the increases. International Energy Agency member countries could coordinate to release oil from their emergency reserves, he said.
President Joe Biden's authority to influence gas prices is limited, according to De Haan. Ultimately, Biden could promote oil production policies that would see a long-term reduction in gas prices, but that would take years, he said.
Meanwhile, there are also some measures consumers can take to help prevent gas prices from skyrocketing, De Haan said. He said if Americans drive more fuel efficiently, by limiting acceleration and driving within the speed limits, the increased efficiency could help mitigate rising prices.
"Basically if every American is trying to drive as fuel efficient as possible, we could probably cut demand overnight by 5 to 10 percent, which would likely be significant enough to reduce prices in some way," he said. "Would it bring prices down to $3? No, probably not. But it would cause some drastic improvement."
Gladden added that drivers carpooling more often, combining trips and ensuring their vehicles are well maintained could also help conserve gas use.