U2's Bono and The Edge performed in a Kyiv bomb shelter following an invitation from Ukrainian President Volodymyr Zelensky on Sunday.
Amid Russia's widely-condemned invasion of Ukraine, much of the world, including many celebrities, have rallied around the Ukrainians. The surprise performance is the latest instance of musicians coming together to show support for Ukraine as the war continues.
"President @ZelenskyyUa invited us to perform in Kyiv as a show of solidarity with the Ukrainian people and so that's what we've come to do. -- Bono and The Edge #StandWithUkraine," the group tweeted Sunday morning on their Twitter account.
Videos of Bono, the band's lead vocalist, and The Edge, the band's lead guitarist, performing on a subway platform in Ukraine's capital city were shared on social media, which caused Bono to trend online and amassed tens of thousands of views.
One video features them singing a variation of the Ben E. King song "Stand by Me," where they instead sang, "Stand by Ukraine," alongside Ukrainian soldiers.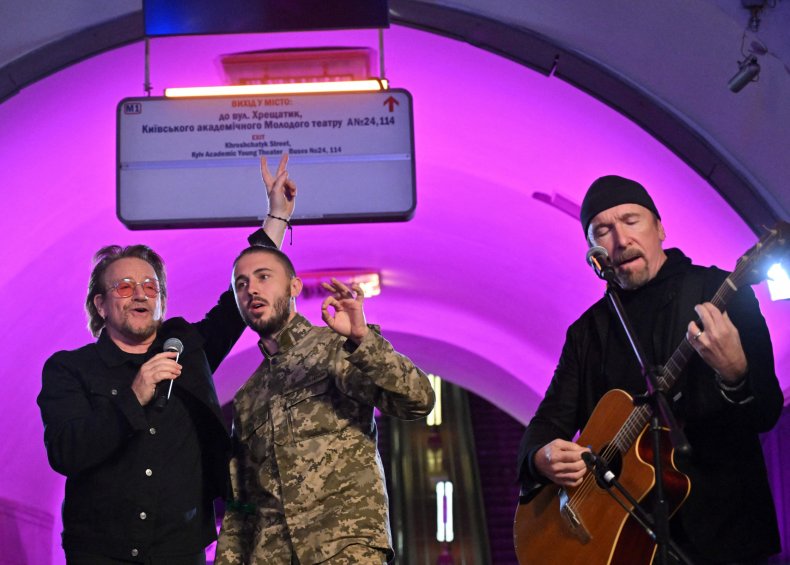 They performed inside of Kyiv's Khreschatyk metro station, which has doubled as a bomb shelter since the invasion began at the end of February.
"The people in Ukraine are not just fighting for your own freedom, you are fighting for all of us who love freedom," Bono said during the performance, according to French media outlet France 24. Bono also spoke of past conflict in Ireland, where the band first formed, adding that the he and The Edge "pray that you will enjoy some of that peace soon."
While introducing the song "Angel of Harlem," Bono said "there is nowhere in the whole world that we'd rather be today than in the great city of Kyiv."
Since the invasion, U2 has shown solidarity with Ukraine, performing alongside artists like Bruce Springsteen and Kacey Musgraves in the Stand Up for Ukraine livestream last month, which was an effort to push world leaders to help refugees from the nation, which has seen nearly 6 million people displaced globally.
The group has also tweeted out their support for Ukraine, writing in March that "the Ukrainian people are teaching the rest of the world looks like, what freedom feels like, and most importantly what freedom acts like."
In the wake of the invasion, several other celebrities have donated millions of dollars to causes to help Ukraine. Last month, Pink Floyd released a new song "Hey Hey Rise Up," which features vocals from Ukrainian singer Andriy Khlyvnyuk. Proceeds supported the Ukrainian Humanitarian Relief.
The performance also comes at a pivotal time in the war, as Russia reportedly plans to try to completely take over the key port city of Mariupol on Monday, which is Victory Day in Russia. However, fighting at the Azovstal steel plant in the city has prevented Russian forces from doing so.