UCLA has condemned the Los Angeles Police Department's decision to use the university's baseball field as a makeshift jail for protesters arrested at demonstrations calling for justice in the wake of George Floyd's death.
The university issued a strongly-worded statement on Tuesday night, claiming the LAPD had not sought permission to use Jackie Robinson Stadium, which is located approximately 15 miles west of downtown Los Angeles.
"We are troubled by the accounts that Jackie Robinson Stadium parking lot was used as a 'field jail' to process protesters. This was not done with UCLA's knowledge or permission," UCLA said in a statement to Newsweek.
"UCLA leases Jackie Robinson Stadium from the U.S. Department of Veterans Affairs, but the university does not own the stadium or its parking lot. From time to time, city agencies like the Los Angeles Fire Department ask UCLA's permission to use the parking lot as a staging area during fires or other emergencies and we typically grant those permissions."
The university added that, several weeks ago, the LAFD had asked to use the parking lot as a COVID-19 testing area and UCLA granted that permission.
"However, UCLA did not receive a request from the LAPD or any other city agency to alter the use of that space last night into a 'field jail' for processing arrestees," the statement added.
"Our understanding is that LAPD worked directly with the VA, not consulting UCLA. LAPD has vacated the property and we informed them that future use as an arrest processing center will not be granted by UCLA."
LAPD has acknowledged using the facility to hold protesters arrested during the demonstrations, but told NBC News it was "no longer using it."
UCLA urban planning professor Ananya Roy wrote on Twitter that a number of UCLA students were among those arrested despite taking part in what she described as "peaceful protests" and were arrested by LAPD, before being transferred to the baseball field on Los Angeles County Sheriff's Department prisoner buses.
Roy was among 17 faculty members who co-signed a letter addressed to the university's leaders to demand answers for LAPD's decision to hold suspects at the baseball field.
"Last evening, UCLA students were arrested for engaging in the constitutionally protected right to peacefully protest against racial injustice, which is pervasive in American policing," the letter reads.
"They were detained and processed at a stadium on their own campus named after Jackie Robinson, an icon of the long and unfinished struggle for Black freedom."
As the letter pointed out, using a field named after Robinson as a makeshift jail to hold those protesting against racial discrimination is a cruel twist of irony.
On Opening Day of the 1947 season, Robinson ended almost eight decades of racial segregation in baseball and tore down one of the most significant social barriers in American sports as he became the first black player in the MLB.
Floyd's death on May 25 sparked enormous nationwide protests against police brutality and racial discrimination after several videos showed a white police officer kneeling on his neck for around nine minutes while arresting him. The footage showed Floyd repeatedly saying he couldn't breathe, before seemingly losing consciousness.
While hundreds of cities across the U.S. imposed curfews to restore public order, protests extended into an eighth day on Tuesday night. Thousands marched in Los Angeles, where approximately 3,000 have been arrested since demonstrations began last week.
UCLA's rebuke of comes at a very delicate time for LAPD, which earlier this week attracted severe criticism after department Chief Michel Moore claimed protesters and looters were as much to blame for Floyd's death as the four officers who arrested him.
"His death is on their hands, as much as it is on those officers," he said during a media briefing on Monday.
Moore swiftly backtracked on his comments, explaining that while he condemned the looting that's taken place across Los Angeles and in the U.S. where a number of protests turned violent, the responsibility for Floyd's death rested firmly with the officers who arrested him.
"I misspoke when I said his blood was on their [the protesters' and looters'] hands but certainly their actions do not serve the enormity of his loss," he explained.
"What his [Floyd's] name should stand for is the catalyst for change. I regret the remarks of that characterization, but I don't regret, nor will I apologize to those out there creating destruction. His memory deserves better."
Moore then doubled down on his stance on Twitter.
"Let me be clear—there are 4 police officers and 4 alone responsible for the death of George Floyd," he wrote.
"Simply put: Those intent on spewing mayhem and distraction into our communities are a disgrace to his memory."
Newsweek has contacted the LAPD for comment.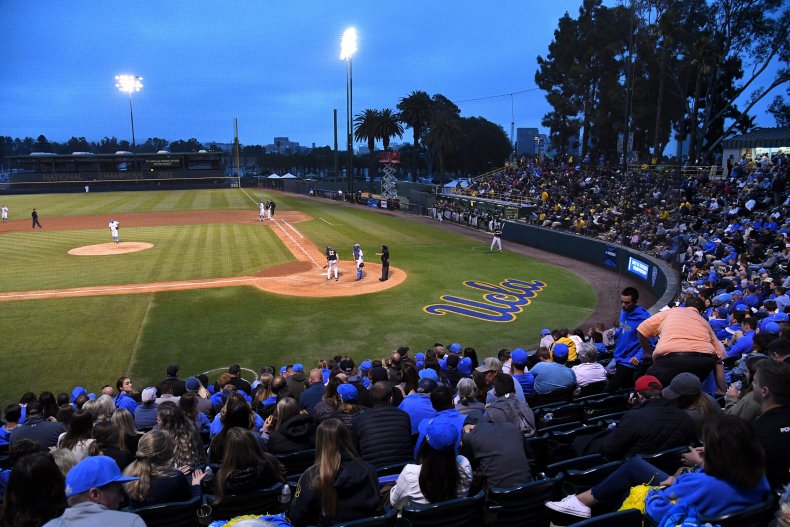 About the writer
Dan Cancian is currently a reporter for Newsweek based in London, England. Prior to joining Newsweek in January 2018, he was a news and business reporter at International Business Times UK. Dan has also written for The Guardian and The Observer.