U.A.E Refuses to Play Israeli National Anthem, Raise Star Of David Flag For Judo Champion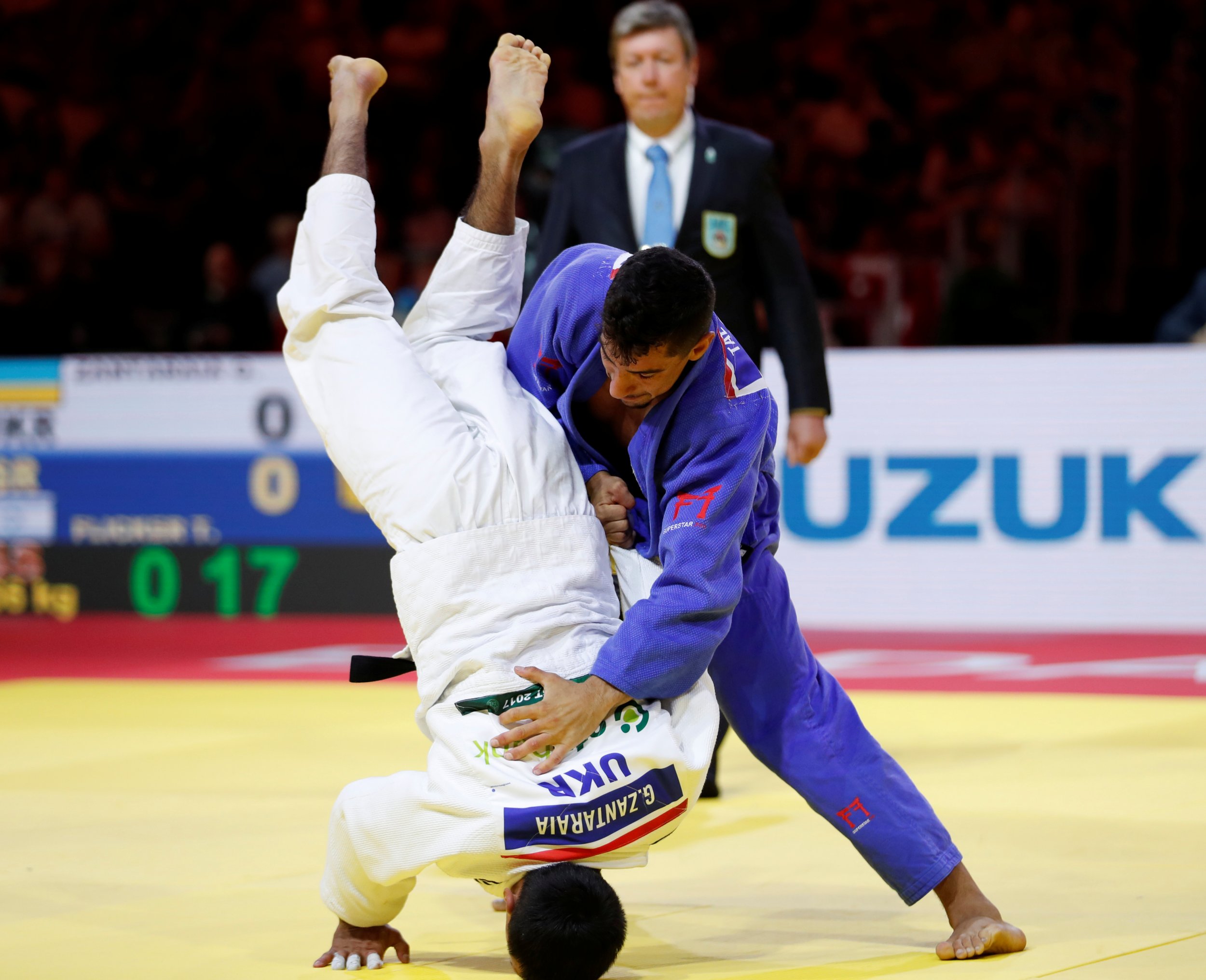 A champion Israeli judo fighter was forced to sing his own national anthem beneath an International Judo Federation (IJF) flag during an awards ceremony Thursday because of a ban on Israeli symbols at the sport's Grand Slam competition in Abu Dhabi.
Tal Flicker, who won gold in the men's under-145lbs category, had to sing his own private version of the 'Hatikvah,' Israel's national anthem, because tournament organizers in the Gulf nation had refused to play it.
The censored award ceremony in which the flags of the Russian Federation, Azerbaijan and Georgia were hoisted did not come as a surprise to the Israeli team. The country's delegation to the IJF had been told prior to the tournament that there would be no acknowledgement of their nation, no flags and no anthems, the Associated Press reported.
Related: Rio 2016: Egyptian Judoka Refuses to Shake Hands With Israeli Rival
However, Flicker was determined to make some show of national pride. "I was singing 'Hatikvah' from my heart," the athlete told Israel's Channel 2 news from his hotel room."Israel is my country, and I'm proud to be Israeli," he added, according to the Times of Israel.
The IFJ, which has intervened in an attempt to end political displays at international events has found itself embroiled in the Middle East's fractious politics. Like many Arab countries, the United Arab Emirates does not have diplomatic relations with Israel and has called for an independent state for Palestinians.
This follows a demand from the IJF that tournament hosts respect each nation competing, and that "all delegations, including the Israeli delegation...be treated absolutely equally in all aspects, without any exception," according to a letter obtained by the AP.
The intervention came after the CEO of the World Jewish Congress, Robert Singer, sent a letter to IJF President Marius Vizer last week requesting that he "protect the rights of the Israeli national judo team and keep the spirit of sport free of political discrimination," Haaretz reported.
The U.A.E. Judo Federation claim the ban is in place for the athletes' own safety, claiming they could be at risk in the Emirates if they were identified as Israelis.
Flicker, aware of the U.A.E.'s position, wrote on Facebook ahead of the tournament that "everyone in the world knows where we are from and what country we represent."
Gili Cohen also won bronze in the under-114lbs class on Thursday and the Israeli flag again was not raised.
At the 2016 Olympics in Rio, former IJF World Champion Or Sasson of Israel was snubbed when he won a bronze medal at the 2016 Rio Olympics when Egyptian judoka Islam El Shehaby refused to shake his hand. Many other Israeli athletes have been boycotted by Muslim and Arab states that do not acknowledge the country.
U.A.E Refuses to Play Israeli National Anthem, Raise Star Of David Flag For Judo Champion | World