Uganda 2016: Russia Gives Praise, EU and U.S. Cry Foul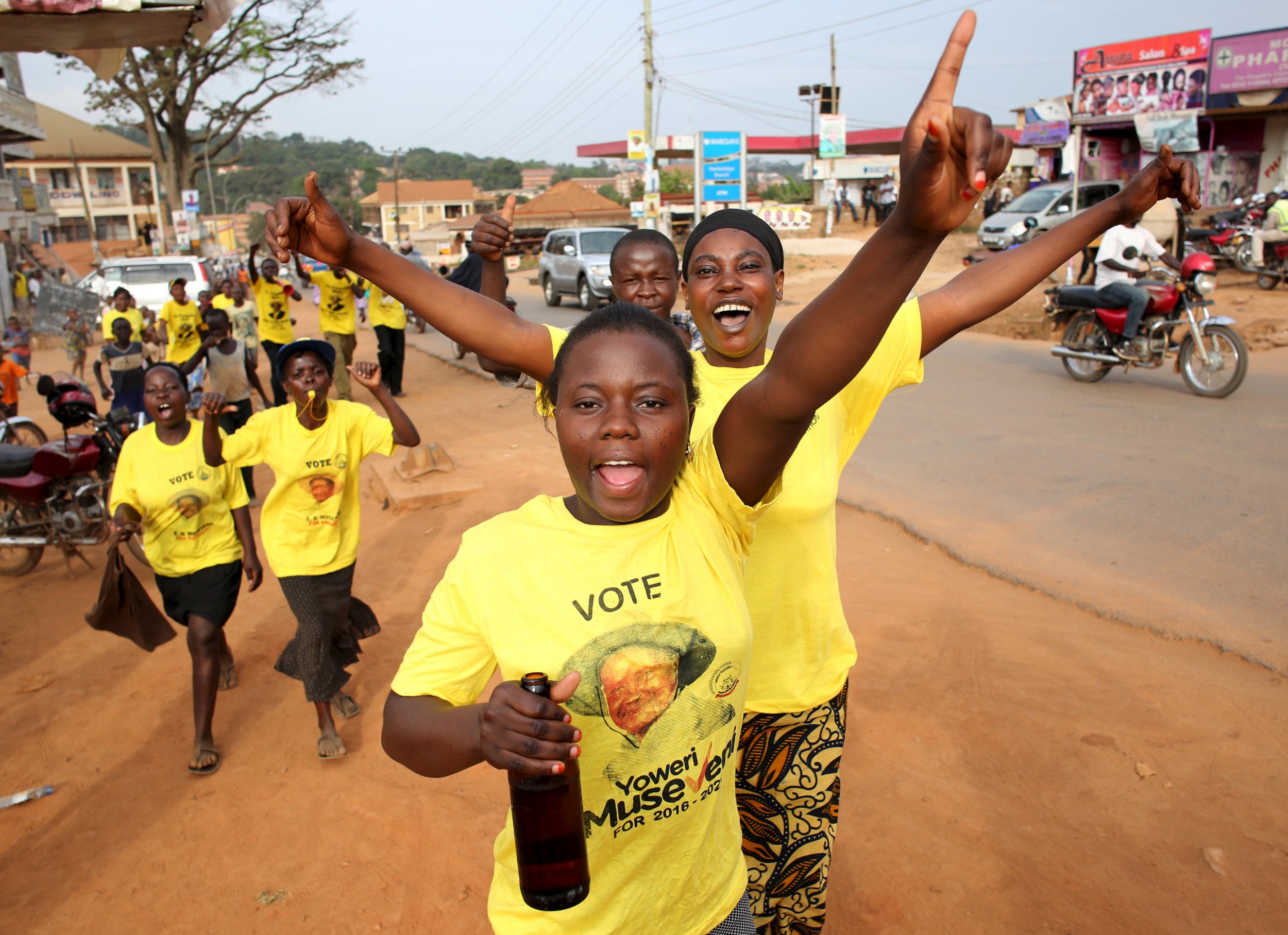 Yoweri Museveni triumphed in Uganda's presidential elections on Thursday, prompting a range of reactions from the international community.
Museveni, who has been in power since 1986, won 60.8 percent of the vote, ahead of main rival Kizza Besigye on 35.4 percent in a highly contentious election. The day was marred by a social media blackout and seven-hour delays in ballots being delivered to some polling stations.
The prospect of another five years of Museveni's rule will be pleasing to some: Uganda has enjoyed steady economic development under the 71-year-old, averaging 7 percent GDP growth throughout the 1990s and 2000s. For others, however, it heralds the continuation of human rights abuses by pro-government security forces: Uganda's police force has been accused of torture and arbitrary arrests of opposition activists, although they have repeatedly denied the allegations.
Newsweek rounds up how different parts of the international community reacted.
The European Union and the U.S.
The EU's observer mission at the elections was not impressed by how proceedings went ahead. While praising the determination of voters to wait for hours to cast their vote, the mission was less sympathetic to the ruling National Resistance Movement (NRM) and the country's Electoral Commission.
The NRM's control over state institutions, particularly the security forces, created "an intimidating atmosphere for both voters and candidates," according to the mission's statement, while the "lack of transparency and independence" of the Electoral Commission—as evidenced in the late delivery of ballots to opposition strongholds, such as the capital Kampala—further undermined the results.
Similarly, the U.S. State Department acknowledged numerous reports of irregularities "that are deeply inconsistent with international standards and expectations for any democratic process." Washington highlighted, in particular, the multiple detentions of Besigye and called for his immediate release.
Museveni was predictably fiery in response to such criticisms. Speaking on Sunday after his victory was announced, Museveni said that anyone challenging the results of the elections was "not serious" and rejected claims that he had been favored by state apparatus, including the Electoral Commission. "I told those Europeans...I don't need lectures from anybody," said Museveni.
The Ugandan leader also said he had received a phone call from U.S. Secretary of State John Kerry, who raised concerns about the shutdown of social media and Besigye's arrest. "Mr. John Kerry rang me and I told him: 'Don't worry, we're experts in managing all those things [elections],'" said Museveni.
Russia
Striking a noticeably different tone to the West, Russia hailed the Ugandan elections that "confirmed the broad popular support" for the ruling NRM party and its leader, Museveni. The Russian Foreign Ministry said that African observers of the election had noted the "open, calm nature of the election campaign and voting process itself" and said no serious violations had been discovered that could impinge on the results, in a statement issued on Sunday.
The statement comes on the back of warming relations between the two countries, based on a mutual disdain for the West. Uganda awarded a $4 billion oil refinery project to a Russian state conglomerate whose chief was under EU and U.S. sanctions at the time, with Ugandan government spokesman Ofwono Opondo telling the Financial Times that "the West won't dictate to us who we do business with."
The Ugandan government has clashed with Western powers including the U.S. and EU, who cut aid to Uganda over an anti-homosexuality bill introduced in February 2014. Uganda said the bill, which imposed a maximum life sentence for certain cases of homosexuality but was overturned in September 2014, had been "misinterpreted" by international donors, who cut aid to the East African country in response.
Regional neighbors: Kenya and Burundi
Museveni's election was welcomed with a ringing endorsement by neighboring Kenya. President Uhuru Kenyatta spoke out on Saturday while other East African leaders—including Paul Kagame in Rwanda and John Magufuli in Tanzania—remained quiet while the aftermath of the contentious elections died down.
"The people of Uganda have spoken, and they have spoken very clearly," said Kenyatta, adding that Museveni could "count on my support, and my friendship, as well as that of their brothers and sisters in Kenya." The statement sparked some negative feedback from Kenyans on social media, however, with many not keen to be associated with Museveni's regime, which has been accused of intimidating opposition activists:
Kenyatta was followed in his praise by Burundian President Pierre Nkurunziza, who tweeted his "warmest congratulations" to his Ugandan counterpart. "May God bless Uganda and Burundi," Nkurunziza said. Nkurunziza prompted widespread violence in Burundi in April 2015 when he announced his decision to run for a third presidential term, which opponents criticized as invalid. So it's not clear whether Museveni will be glad of the praise or keen to distance himself from his Burundian peer.