What Does U.K. 'Critical' Threat Level Mean?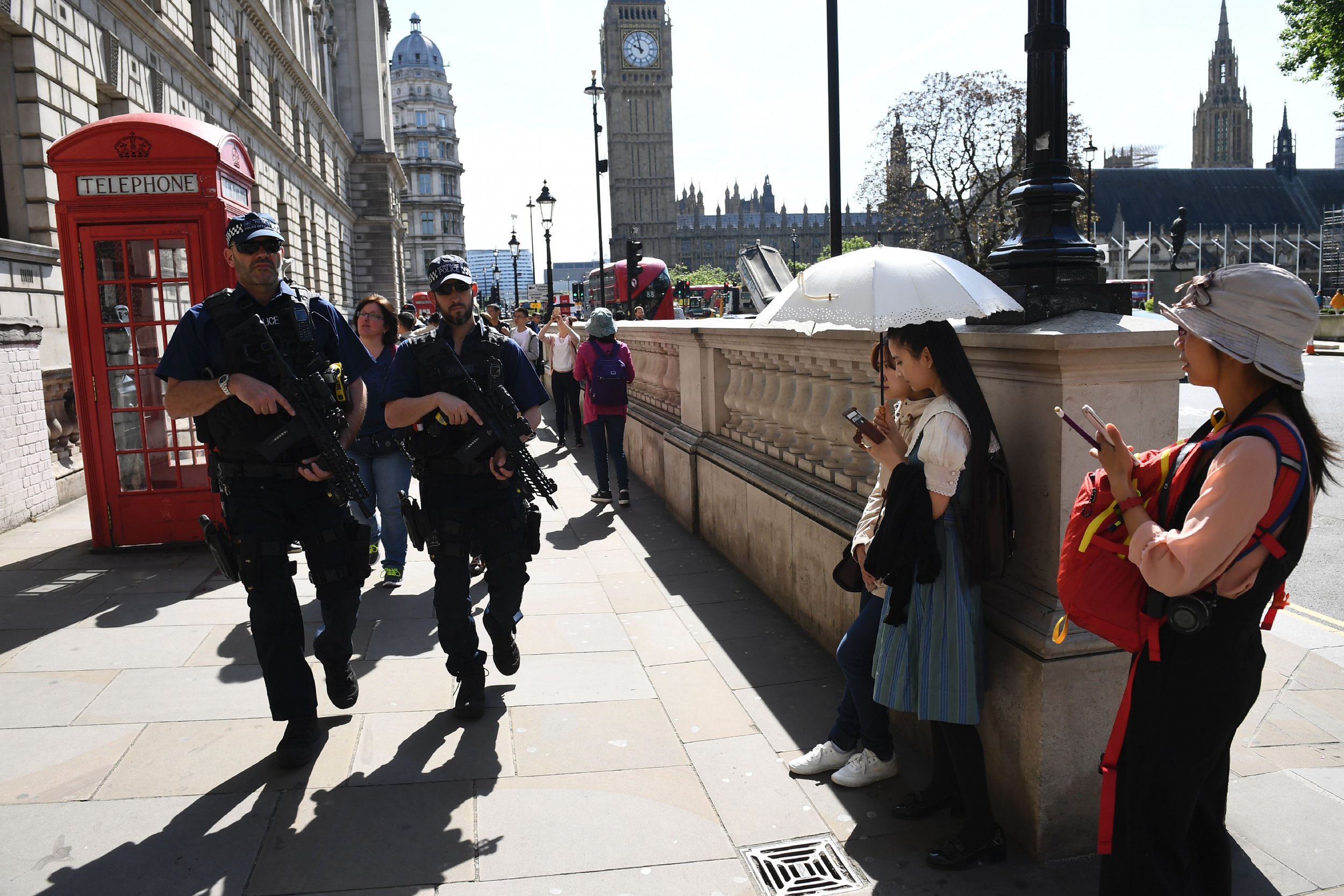 British Prime Minister Theresa May has raised Britain's threat level to its highest grade, "critical," as authorities move to prevent a potentially imminent attack after the Manchester bombing that killed 22 people.
It is the first time that Britain has been placed on maximum alert for an attack since 2007, and the first time that the British government has activated "Operation Temperer," the deployment of the military to support police at key sites, marking a new phase in U.K. security.
Up to 5,000 soldiers will be tasked with protecting the country's streets. The troops are to be dispatched to sensitive public sites, based on the recommendation of the Joint Terrorism Analysis Centre, the British intelligence organization that assesses international and domestic threats to national security.
The Islamic State militant group (ISIS) has claimed responsibility for Monday's blast at the Manchester Arena where Ariana Grande had just finished a concert, and for March's car-ramming in Westminster. It is feared that further radical Islamist attacks could be imminent.
May said Tuesday: "It is a possibility we cannot ignore that there is a wider group of individuals linked to this attack."
Police arrested a 23-year-old man, the brother of 22-year-old Manchester bombing suspect Salman Abedi, in the city's southern suburb of Chorlton Tuesday, and made three more arrests Wednesday. Home Secretary Amber Rudd said it was "likely" that Abedi had not acted alone in committing the worst attack on British soil since the 7/7 London bombings in 2005. Security services are investigating whether his attack is part of a broader network. As witnessed in Brussels, where an ISIS cell accelerated its triple suicide bomb plot in the days following the capture of Paris attacks fugitive Salah Abdeslam, more plots could be planned.
Sites that the military will be tasked with defending include sports and music venues, such as Wembley Stadium, where the FA Cup final, Britain's premier soccer cup competition, will take place Saturday. Soldiers will protect Buckingham Palace, Westminster, Downing Street and embassies. Airports, other transport hubs and major shopping centers will also have a visible military presence.
Read more: British and EU spies criticize American "blabbermouths" after Manchester leaks
Deploying the troops for this role will free police assets to focus on counter-terror investigations. The Ministry of Defense confirmed that the famous Changing the Guard ceremony at Buckingham Palace was canceled Wednesday to reassign police officers.
Rudd said the threat level would remain critical as long as the investigation into the Manchester attack remained active. If it lasts several months, top tennis tournament Wimbledon, which begins in July, and other summer sporting events would fall under the new protections.
May's decision is only the third time that Britain has reached "critical" since the grading system was introduced in 2006: once in that year after the revelation of a liquid explosives plot targeting a transatlantic airliner and in 2007 after authorities thwarted a bomb plot on a central London nightclub and a bomb attack took place at a Glasgow airport.
The impact on the British public may not only be visual or psychological, but bring extra dangers, experts say. "There is a risk that military personnel deployed on the streets will themselves be targeted as has happened in France," says Kit Nicholl, security analyst at defense consultancy IHS Janes. "This, in turn, would increase the risk of collateral civilian casualties, either from terrorist action or the military use of automatic weapons in self-defense in a crowded public area."
May increased the threat level against the backdrop of increased counter-terror activity in Britain. Earlier this month, Neil Basu, senior national coordinator for counterterrorism policing in Britain, said security services are dealing with threats to the British public every day. "Activity continues around the clock to identify and stop these threats and we are making arrests on a near daily basis," he said.
Since the beginning of April, British security services have stopped three active plots: a man arrested in possession of three knives in London's Westminster in April, three women arrested on terrorism charges also in April, and four men arrested in connection with a terror plot in East London last week. Before the Westminster attack, security services said they had thwarted 13 active plots since the beginning of 2015.
Ultimately, the decision is one that May and her security chiefs believed they had to take in urgent circumstances. In light of ISIS's statement, in which it claimed the Manchester attack and promised more attacks in the U.K., some may be inclined to agree. "What comes next will be more severe on the worshippers of the Cross and their allies, by Allah's permission," it read.