U.K. Terror Threat Level Rises to 'Severe' After Austria and France Attacks
The U.K.'s terror threat level has been raised and means an attack is "highly likely" following incidents in Austria and France, British officials have said.
Home Secretary Priti Patel said the Joint Terrorism Analysis Centre changed the terror threat level from "substantial" to "severe" amid concerns of follow-on attacks to ones seen across Europe.
"This is a precautionary measure and is not based on any specific threat" and the British public should be "alert but not alarmed" while policing steps up across the country, Patel said. Significant steps have already been taken to amend powers and strengthen the tools for dealing with developing terrorist threats.
"As I've said before, we face a real and serious threat in the U.K. from terrorism," she said. "I would ask the public to remain vigilant and to report any suspicious activity to the police."
On Monday night, four people were killed and 17 others injured after a suspected terror attack in the Austrian capital Vienna. Gunmen armed with knives and rifles opened fire in the city center at six different locations, including one near a synagogue.
Three people died after a knife attack in Nice, France, last week, while teacher Samuel Paty was murdered in Paris in October.
The decision to raise the UK's threat level has been taken by the Joint Terrorism Analysis Centre (JTAC). JTAC is based at MI5's headquarters in London and is made up of counter-terror experts from the police, government, and security agencies.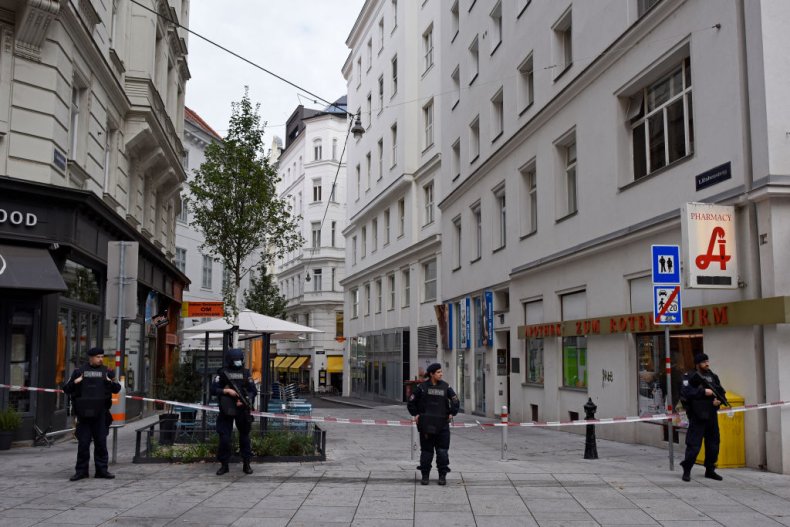 Last week, experts told Newsweek that more terror attacks were "inevitable" after the attacks in France further inflamed tensions between the country and Muslim communities.
The terror threat level had been at "substantial" in the U.K. since November last year when it was lowered from "severe" for the first time in five years. The "severe" level is the second-highest, with only "critical" above it - which was reached in May 2017 after the bombing at an Ariana Grande concert at Manchester Arena.
Police investigating the attack in Austria have arrested 14 people in a series of raids across Vienna. A perpetrator blamed for carrying out the attack was shot dead at the scene. The man was a 20-year-old "Islamist terrorist" who was released early from jail in December 2019, Austria's Interior Minister Karl Nehammer said.
A manhunt is underway to find further attackers but authorities believe the gunman shot dead by police may have acted alone. Some witnesses spoke of seeing more than one gunman and police are still assessing some 20,000 mobile phone videos of what happened.
Elsewhere in Europe, France has suffered a spate of Islamist militant attacks recently, involving "lone wolf" jihadists. French history teacher Paty was beheaded outside a school in a suburb of Paris by a Chechen youth, who was then shot dead by police. As the French government launched new measures to tackle militant Islam, a Tunisian man fatally stabbed three people in a cathedral in Nice.
French President Emmanuel Macron said Europe must not "give up" in the face of attacks as leaders strongly condemned the Vienna shooting. British Prime Minister Boris Johnson said he was "deeply shocked by the terrible attacks". Patel earlier said the U.K. would "stand ready to support in any way we can".