Ukraine Using Artificial Intelligence to Catch People Sabotaging War Effort
Artificial intelligence has become one of Ukraine's most "effective tools" in identifying potential saboteurs amid the ongoing war with Russia, according to the Ukrainian Ministry of Internal Affairs.
The ministry issued a report Wednesday on law enforcement's anti-sabotage activities aimed at stopping people in Ukraine who may compromise the counteroffensive or aid Russia in its assault. Officers have been using software on tablets to check if a person they view as "suspicious" is already listed in databases, including a police database of about 2 million people suspected of holding positions in paramilitary units from the far-right faction known as the Liberal Democratic Party of Russia (LDPR).
The first days of Russia's attack on Ukraine were peppered with reports of mass anti-war protests in Russian cities and thousands of arrests, but the report highlights Ukraine's own efforts to combat acts of sabotage within its own population. The ministry said that Ukrainian police have been fighting against such saboteurs ever since Russia invaded Ukraine.
"More than 123 counter-sabotage groups were set up, and at least 1,500 people were involved," First Deputy Minister of Internal Affairs Yevgeny Yenin said in a statement, according to an English translation. "And the result was not long in coming: More than 800 people suspected of sabotage and intelligence activities were detained and handed over to the SBU (Security Service of Ukraine) for investigation."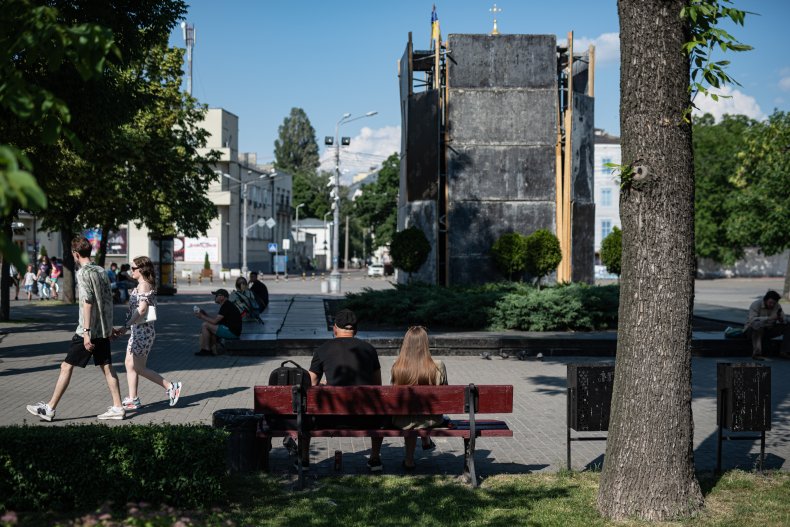 The report, citing Yenin, said that the police database on people with suspected ties to the LDPR alone contains a "huge amount" of operational information that law enforcement and partners have compiled. This includes more than 10 billion photos, it said.
Yenin said that sabotage groups can vary in profile and number because they can be created to carry out different tasks. Closer to the start of Russia's invasion, for example, Ukraine pinpointed five to 10 people who were tasked with committing "terrorist acts" and sabotage, including in the center of the capital, Kyiv.
Since then, most of the saboteurs have focused on tasks like trying to share the location of armed groups and recording the effectiveness of shelling via missiles or artillery, the report said.
Ukrainian civilians have aided law enforcement in their anti-sabotage efforts by reporting potential suspects, Yenin said.
"Only one in 10 reports is true, but it is worth it, because the detection of saboteurs is one of the key factors in ensuring public safety in wartime. And thanks to information from our operational sources, we managed to prevent a terrorist act against the leadership of our state," he said, apparently referring to Ukrainian President Volodymyr Zelensky.
Russia has also reportedly contended with sabotage from supporters of Ukraine within its borders.
Russia's Federal Security Service announced last month that they had detained a supporter of the "Ukrainian Nazis" in the city of Kemerovo who allegedly damaged two power transmission lines, causing a temporary power outage for the region.
Newsweek reached out to Ukraine's Ministry of Internal Affairs for further comment.