Ukraine 'Nazi' Supporter Held For Allegedly Sabotaging Power Lines: Russia
A supporter of "Ukrainian Nazis" was detained in the Russian city of Kemerovo after allegedly damaging two power transmission lines, Russia announced Wednesday.
Russia's Federal Security Service (FSB) said in a news release that the detained individual was a Russian citizen. The detainee's alleged effort to damage the power transmission lines resulted in a temporary outage for power lines in the Kemerovo region, the FSB said.
The Russian citizen's purported efforts to damage Russian power transmission lines, coupled with his alleged support of "Ukrainian Nazis," may reflect remaining pockets of anti-war sentiment in Russia. Following Russia's invasion of Ukraine in late February, anti-war protests condemning the attack broke out within Russia's borders, and OVD-Info reported in early March that more than 4,000 people had been detained in Russia because of the demonstrations.
It was not immediately clear how the detained protesters have fared since OVD-Info's initial report.
The FSB did not identify the Russian citizen by name but said that his detainment was the "result of a complex of operational-search measures in the city of Kemerovo" in coordination with Russia's Ministry of Internal Affairs.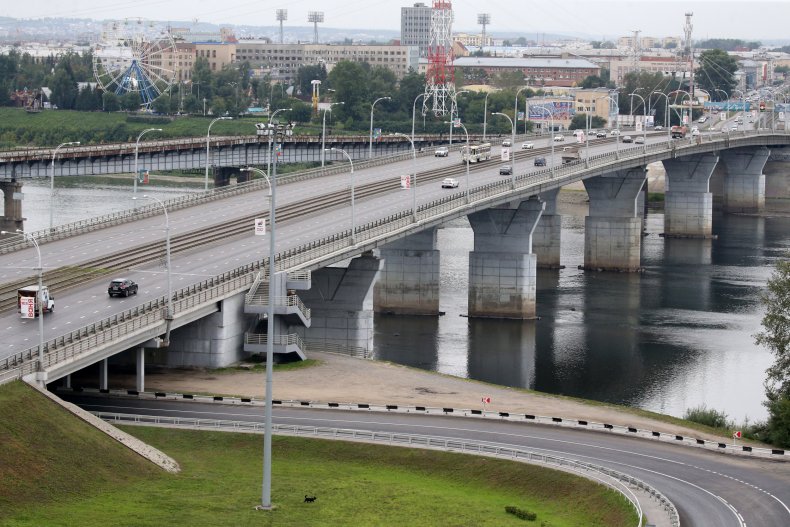 "In the course of investigative actions, Molotov cocktails, canisters of gasoline, fastening bolts from damaged power lines, two pneumatic pistols converted to fire live ammunition, two combat knives, communication and communications equipment containing the location maps of military enlistment offices and police departments were seized at the address of the detainee's residence," the FSB said in the release.
It added that it seized the detainee's personal diary, which it said contained handwritten notes "confirming the commission of sabotage by him."
The FSB did not provide additional information on when the detainee allegedly damaged the power lines and why, or what led it to believe that he was a supporter of Ukraine. The Russian citizen is being investigated for the "deliberate destruction or damage to property" and "sabotage" under the Criminal Code of Russia, the FSB said.
This is not the first time that the FSB has announced the detainment of a Russian citizen who it alleged was a supporter of "Ukrainian Nazis." Russian President Vladimir Putin and other Russian officials have repeatedly attempted to justify the war in Ukraine by accusing the country of supporting a "Nazi" regime, even though Ukrainian President Volodymyr Zelensky is Jewish.
Late last month, on April 27, the FSB announced in another news release that it had detained two Russian citizens who were accused of "preparing to commit sabotage at one of the transport infrastructure facilities of the Belgorod Region."
The FSB did not name the two detainees but said that they were being investigated for "preparation of sabotage" under the Criminal Code of Russia.
Newsweek reached out to the FSB and Ukraine's Foreign Ministry for comment.