Ukraine Celebrates as Downing of Russian Jets Hits New Milestone
Ukraine's government praised its air defenders as Kyiv's military said that 300 Russian jets have been shot down over the country since the outbreak of full-scale war.
"Every Russian military jet invading our air space or attacking our people is a legitimate target for our air defense troops," Ukraine's defense ministry said on Twitter on Monday.
"Hope you had a nice landing," the ministry added in a graphic attached to the post.
On Monday, Ukraine's General Staff of the Armed Forces said that over the previous 24-hour period, one Russian aircraft had been shot down, bringing the total tally to 300, as well as 288 helicopters.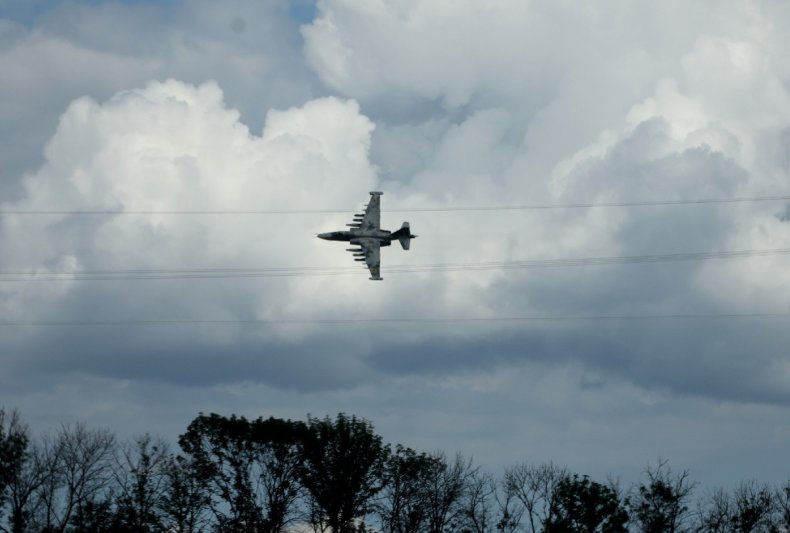 Ukraine's 110th Mechanized Brigade shot down a Russian Su-25 warplane on February 26, the Kyiv Independent reported on Monday. Ukraine has not explicitly confirmed whether this is the 300th aircraft shot down by their count.
Newsweek reached out to the Russian defense ministry for comment.
On February 16, the British defense ministry said that Russia had continued to "underperform" in the air throughout Moscow's invasion of Ukraine.
Russian air power has been "constrained by a continued high threat from Ukrainian air defences and dispersed basing due to the threat of strikes against Russian airfields," the ministry said in its daily intelligence briefing.
The Russian Aerospace Forces, known as the VKS, "likely maintains a largely intact fleet of approximately 1,500 crewed military aircraft," although it has lost "over 130" since the beginning of the invasion in February 2022, it added.
This number comes in lower than Ukraine's estimates, and higher than the losses confirmed by the Dutch open-source outlet, Oryx. The latter, which only counts losses corroborated by video or photographic sources, has logged 74 Russian aircraft as lost, including 67 destroyed.
In its daily update on the war on Monday, the Russian defense ministry said 390 Ukrainian aircraft had been destroyed, in addition to 211 helicopters.
But Russian combat jets are completing missions "almost exclusively over Russian-held territory," the British defense ministry said, which was hindering their strike capabilities.
The ministry said in early January that the Russian Aerospace Forces were holding back on using its most advanced fast jets in Ukraine, fearing they could be shot down by Ukraine's air defenses.
The VKS had "almost certainly" used Su-57 Felon jets in operations against Kyiv's forces since the summer, the ministry said on January 9, 2023. The Su-57 is a fifth-generation supersonic stealth combat jet, complete with "highly advanced avionics," the ministry added.
But a "risk-averse" Russia had likely limited Su-57 operations to Russian territory, avoiding the "reputational damage, reduced export prospects, and the compromise of sensitive technology which would come from any loss of Felon over Ukraine," it said.