Ukraine Denies Seeking 'Korean Scenario' Peace Deal From Russia
A Ukrainian official on Tuesday pushed back on claims made by Dmitry Medvedev that Ukraine was seeking a scenario in which it is split into two nations like Korea.
Medvedev, the former president of Russia and current deputy chairman of the Security Council, wrote on his Telegram channel that Kyiv seemed to be considering an alleged proposition from Western allies to divide Ukraine "according to the Korean scenario."
Under such a plan, Medvedev said Ukraine would exist similar to the democratic nation of South Korea, while the Donbas and other occupied territories would become part of Russia. However, Medvedev also characterized the "Korean scenario" as "just wishful thinking" on the part of Ukraine and said it would not be possible because Russia is "a state with full sovereignty and [has] the most formidable weapons."
Oleksiy Danilov, secretary of Ukraine's National Security and Defense Council, said Medvedev's claims of such talks regarding a split-state scenario were false.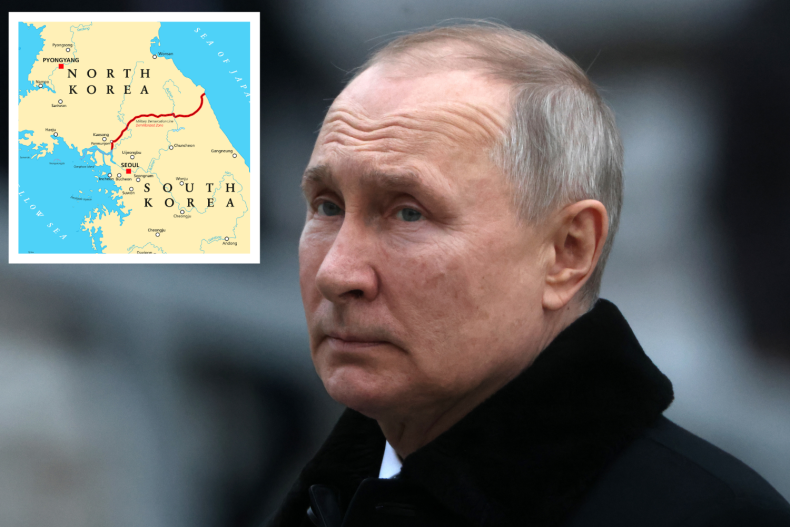 "Ukraine is not Korea. There will be no 38s and other parallels, other people's stories and scenarios imposed from the outside," Danilov wrote on Twitter, referring to the 38th parallel, the latitude that roughly forms the border between North and South Korea.
"The coordinates of the movement of the 'Russian warship' are set, no changes are foreseen, the Defense Forces of Ukraine are working."
Ukrainian officials have referenced the Korean split in the past when discussing possible outcomes for the war.
Kyrylo Budanov, head of Ukraine's Main Intelligence Directorate, said last March that Russia could try to force a "Korean scenario" on Ukraine.
Russian President Vladimir Putin "will try to impose a dividing line between the unoccupied and occupied regions of our country," Budanov said, according to the online news outlet Ukrainska Pravda. "In fact, this is an attempt to create North and South Korea in Ukraine. After all, he is definitely not able to 'swallow up' the whole state.
"The occupiers will try to unite the occupied territories into a single quasi-state entity that will oppose independent Ukraine."
Ukrainian Defense Minister Oleksii Reznikov also spoke about the possibility of his country being divided during an interview with Ukrainska Pravda in August.
Reznikov said that "the Korean route is impossible for us, for the reasons that the Russians would have had such a chance if they had frozen the conflict in 2014."
"But the Kremlin was not satisfied with this, they went on an open offensive," he added.
Russia invaded Ukraine on February 24, 2022.
Newsweek reached out to Ukraine's Ministry of Foreign Affairs and Russia's Ministry of Foreign Affairs for comment.