Video Shows Ukraine Drone Drop Grenades on Unsuspecting Russians
A new video posted online purportedly shows a Ukrainian drone dropping grenades on Russian soldiers, including one making an unsavory gesture at the camera.
Morale has more frequently become a cause for concern among Russian military personnel following Vladimir Putin's partial mobilization of some 300,000 soldiers in September. Aside from infirm and older recruits being called up in error only to purchase their own equipment for survival, others have more recently taken to social media channels like Telegram to express a lack of purpose and preparation by their own army.
Russian soldiers continue to die by the thousands, according to updated Ukrainian tallies that have been disputed not just by Russia but also by Western allies. Over 1,000 Russian fighters allegedly died on Monday, bringing the total number of losses to 154,830 based on Ukrainian estimates.
The newest video, posted on Twitter by the Ukraine Defense Ministry and reportedly taken by the 30th Mechanized Brigade, shows a pair of Russian soldiers hiding among trees and looking in the direction of the drone. One soldier can be seen flashing the middle finger toward Ukrainian adversaries prior to doing a little dance.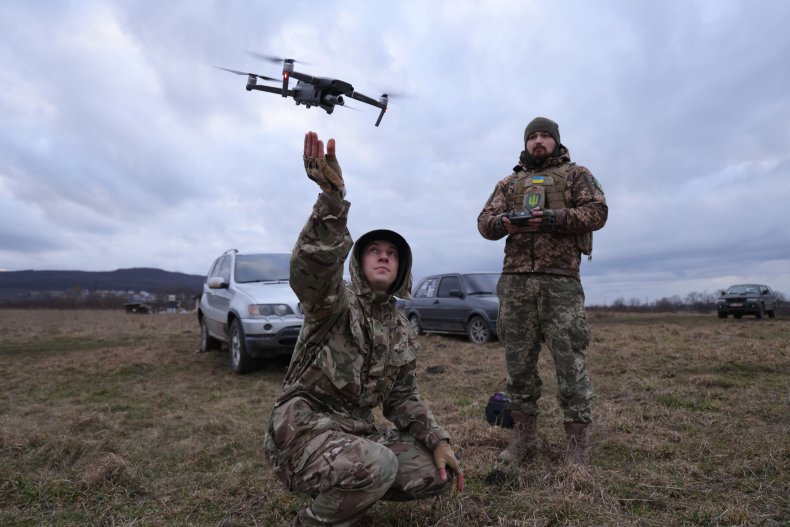 After the soldier grabs a rifle and assumes his position, the drone quickly ascends and hovers over the trees surrounding the Russians. It drops three grenades in the vicinity, including on green-colored tents set up as likely camouflage, causing explosions.
It's unclear where in Ukraine the incident occurred. Newsweek has not verified the video.
"As you can see this ruscist is being very impolite," the defense ministry captioned the video. "Polite people never come to your home uninvited."
A 45-second video of an alleged Ukrainian drone attack on a Russian battle tank went viral online on Monday, showing the drone entering the open hatch around Siversk, a Ukrainian city in the Bakhmut region.
On Sunday, Ukraine defense officials reported that Russian "invaders" attempted to bombard Kyiv with Iranian-produced Shahed-131/136 drones. A total of 15 drones were sent from the Bryansk region, with 13 destroyed in total—12 by anti-aircraft defenses and one by unspecified air defense units.
Samuel Bendett, Russia analyst for the Center for Naval Analyses, told Newsweek that both armies have used drones and UAVs (unmanned aerial vehicles) "to the full extent of their ability."
"It is true that Ukraine was more effective in initially utilizing both military and commercial type drones against Russian forces, often leading and changing tactics that forced Russian military to adapt," he said.
He cited FPV, or First-Person View, drones on Ukraine's behalf as a successful military implementation that has proved fruitful against Russian armor and vehicles—prompting Russian forces to take notice and adopt similar tactics.
The same can be said about Ukrainian forces using commercial-type drones in groups and other tactics, Bendett added.
"At the same time, Russian forces began countering Ukrainian electronic warfare by launching very small DJI drones like Mavic2 in order to see how they behave in order to determine EW (electronic warfare) presence before launching larger and heavier DJI combat drones," Bendett said, which has been advantageous considering the Iranian-supplied Shahed UAVs going after Ukrainian infrastructure.
"Until recently, Ukraine had no answer to such a mass-scale Russian UAV attack but Ukrainian long-range drone strikes against targets deep inside Russia have the potential to unsettle Russian plans," he added.
"The use of UAVs ebbs and flows, with one side enjoying an advantage but the other side attempting to adapt."
Two United States lawmakers told Reuters that Ukraine officials are pressing for controversial cluster bombs provided by the U.S. that are capable of dropping anti-armor bomblets on Russian forces by way of drones.
The weapon is the MK-20, according to U.S. Representatives Jason Crow and Adam Smith, both members of the Armed Services Committee. The request follows a previous push for 155-millimeter artillery cluster shells.
Newsweek reached out to Ukrainian and Russian defense officials via email for comment.
Update 03/07/23, 3:59 p.m. ET: This story was updated with comment from Samuel Bendett.