Video Shows Ukraine Drone Fly Directly Into Open Hatch of Russian Tank
A video circulating on social media shows a Russian tank being precisely targeted by a Ukrainian drone amid the intense conflict in the Bakhmut district.
The 45-second clip of the so-called "kamikaze" drone was shared on Twitter Monday by Nexta, a Belarusian media outlet now based in Poland that has risen to prominence as a source of reporting on the Russia-Ukraine war. The tweet claims that the video originated from the K-2 battalion of the Ukrainian Army's 54th Mechanized Brigade.
"A #Ukrainian drone operator showed a real master class in delivering 'gifts' to the occupiers near #Siversk, directing his 'kamikaze' directly at the head of a #Russian [forced conscript] sticking out of a tank," the tweet read.
The clip appears to be footage taken directly from the drone's point of view, with the beginning of the footage showing it flying over a gray and brown landscape. About halfway through, a cursor in the field of view begins to focus on something moving in the distance, with the text "Russian tank" then appearing onscreen. The drone begins to quickly approach the tank, getting closer until it appears to enter an open hatch on the vehicle. The video then cuts to static, as the tweet implies that the drone exploded upon tank entry.
As of Monday afternoon, the video had been viewed on Twitter over 32,000 times. Newsweek was unable to independently verify the authenticity of the clip. Newsweek has also reached out to Ukrainian military officials for comment.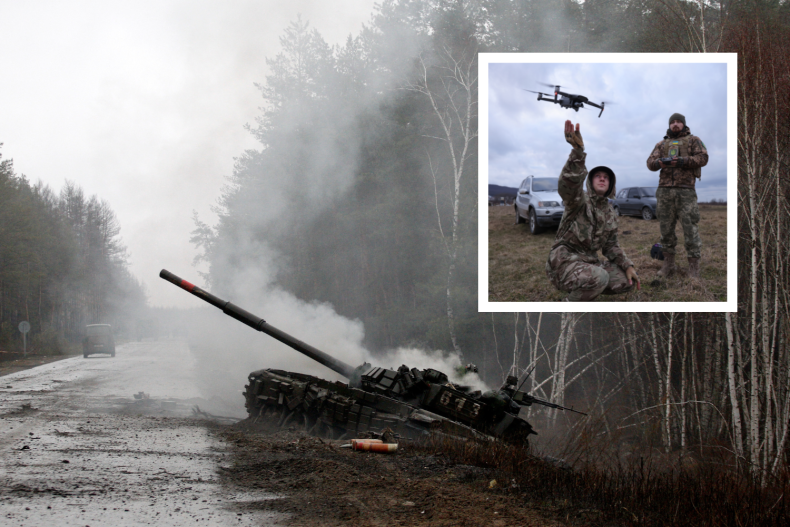 According to a tweet from Nexta, the video originates from the area around Siversk, a Ukrainian city in the Bakhmut district. The city of Bakhmut, the administrative center of the quadrant roughly 38 kilometers south of Siversk, has been the site of intense conflict between Russian and Ukrainian forces since August, with recent reports indicating that Ukraine might be planning to leave the area soon.
While Ukrainian officials have denounced those rumors and insisted that maintaining control over Bakhmut is a major goal, defense officials from the U.S., U.K., and elsewhere have argued that the city has little strategic value. U.S. Defense Secretary Lloyd Austin on Monday said that the fall of Bakhmut to Russia would be more of a "symbolic" loss than a significant strategic one. Some U.K. experts have also suggested that Ukraine's fight to defend the city has been part of a plan to divert Russian forces toward a less valuable target.