Ukraine's Newest Fighter Jet Compared to U.S. F-16 'Fighting Falcon'
Poland has offered to provide MiG-29 fighter jets to Ukraine to aid in its war against Russia.
The U.S. has provided Ukraine with powerful weapons but not F-16 fighter jets as the country has requested.
Though MiG-29s and F-16s are similar, Guy McCardle of the military news outlet SOFREP described some differences between the jets.
Polish Prime Minister Mateusz Morawiecki said on Tuesday that his country may provide Ukraine with MiG-29 fighters "within the next four to six weeks," the same day a bipartisan group of U.S. senators sent a letter to U.S. Defense Secretary Lloyd Austin calling on him to send F-16 fighter jets to Ukraine.
The addition of any fighter jets would provide a boost to Ukrainian President Volodymyr Zelensky, who has been publicly appealing to his Western allies for months to provide his military with aircraft to aid in Ukraine's war against Russian President Vladimir Putin's forces.
Though the U.S. has provided Ukraine with powerful weapons like the High Mobility Artillery Rocket System (HIMARS) and Javelin missiles—as well as promised M1 Abrams tanks—President Joe Biden has thus far resisted authorizing the shipment of F-16s.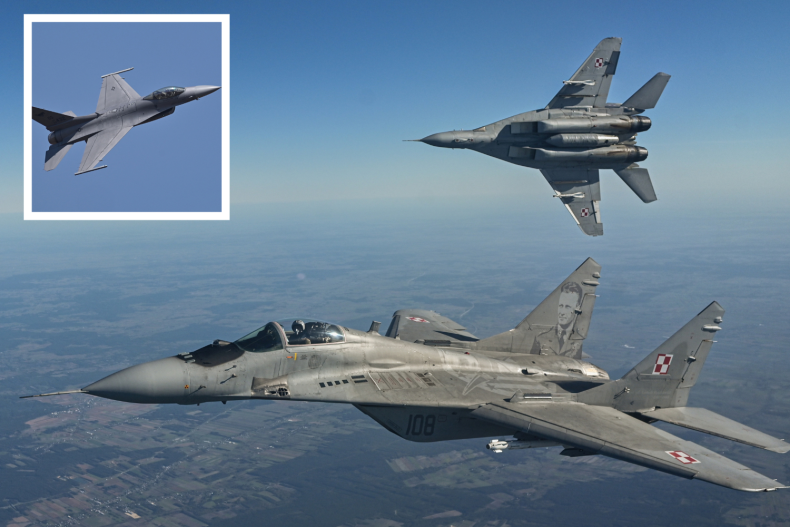 As for how MiG-29s compare to F-16 "Fighting Falcons," Guy McCardle, managing editor of Special Operations Forces Report (SOFREP), told Newsweek that while MiG-29s are "impressive" aircraft, there are some key differences between the jets.
The MiG-29, which got its name from its developer, the Russian design bureau Mikoyan, was first introduced in the 1970s before entering into service for the Soviet Union in 1983.
Also called "Fulcrum," the MiG-29 is part of the fourth generation class of fighter jets that first went into service in the 1970s and 1980s and continues to be used today. The F-16 is also a fourth-generation fighter, entering service in 1979. Developed by General Dynamics for the U.S. Air Force, the Fighting Falcon is currently used by militaries in more than two dozen nations.
"American pilots will cite the MiG-29 Fulcrum's low-speed maneuverability and its helmet-mounted sight system as two of the more impressive aspects of the aircraft," McCardle said.
He added that while the MiG-29 has "superior nose-pointing capabilities" when flying at less than 200 knots, F-16s "excel" in such capabilities at speeds above 200 knots.
"The turn rate on F-16 is significantly better," he said.
McCardle, who is also a 16-year veteran of the U.S. Army, said that Americans who have flown Fulcums have reported that "the visibility in them is not nearly as good as in an F-16."
"They state that F-16 pilots 'sit high in the cockpit.' Fulcrum pilots, when turning their heads in the cockpit, cannot see directly behind them. This is an obvious disadvantage when spotting the enemy." he said. "A MiG-29 also must jettison its centerline fuel tank in order to go supersonic. This greatly limits its range and the length of time they can fly sorties (an attack made from a position of defense) at high speeds."
Despite any advantages that Fighting Falcons may have over Fulcrums, many Ukrainians on social media praised the news coming out of Poland.
"Poland is ready to hand over MiG-29 fighter jets to Ukraine. Our military would be able to use them immediately in combat operations," Kira Rudik, a member of Ukraine's parliament, tweeted on Wednesday.
Newsweek reached out to Ukraine's Ministry of Foreign Affairs via email for comment.