Ukrainian Forces, Zelensky Congratulate Biden on July 4 As Putin Refuses
Ukraine and Russia are using America's Independence Day holiday to signal just how each nation feels about the involvement of the U.S. in the ongoing war in eastern Europe.
On Monday, Ukrainian President Volodymyr Zelensky and the Ukrainian Air Forces wished President Joe Biden and the U.S. a happy Fourth of July, celebrating the two nation's shared values of "freedom, democracy and independence."
"Happy Independence Day to the people of [the U.S.] and @POTUS!" Zelensky tweeted. "I wish the friendly people of [the U.S.] peace and prosperity. I appreciate the leadership assistance of the United States in Ukraine's defending of common values - Freedom, Democracy and Independence."
The Ukrainian Air Forces also shared a video of the military orchestra of the U.S. army performing the national anthem, captioning it: "Happy Independence Day, #USA."
The congratulations from Ukrainian officials come as Russian President Vladimir Putin remained steadfast in his disapproval of his U.S. counterpart.
On Monday, Kremlin spokesperson Dmitry Peskov confirmed that Putin would not send a celebratory message to Biden this Independence Day, citing America's "unfriendly policies" towards Moscow.
"Congratulations this year can hardly be considered appropriate," Peskov told reporters on a conference call. "The United States' unfriendly policies are the reason."
The Biden administration has repeatedly stated its support for Ukraine amid Russia's invasion of the country and committed more than $8.8 billion in military aid to Ukraine.
"We are going to support Ukraine as long as it takes," Biden reiterated last week at the NATO summit in Madrid.
The president said the U.S. is giving Ukrainians "the capacity" to "continue to resist the Russian aggression. "I don't know how it's going to end, but it will not end with a Russian defeat of Ukraine in Ukraine," Biden said.
Putin has been vocal in his distaste over America's decision to send aid to Ukraine and to impose sanctions against Russian oligarchs, slamming the U.S. for thinking "of themselves as exceptional."
"And if they think they're exceptional, that means everyone else is second class," Putin said in his address at the annual St. Petersburg International Economic Forum last month.
It has been more than 130 days since Russia invaded Ukraine in February. On Sunday, Russia took control of Lysychansk, the last city in the Luhansk region still under Ukrainian control.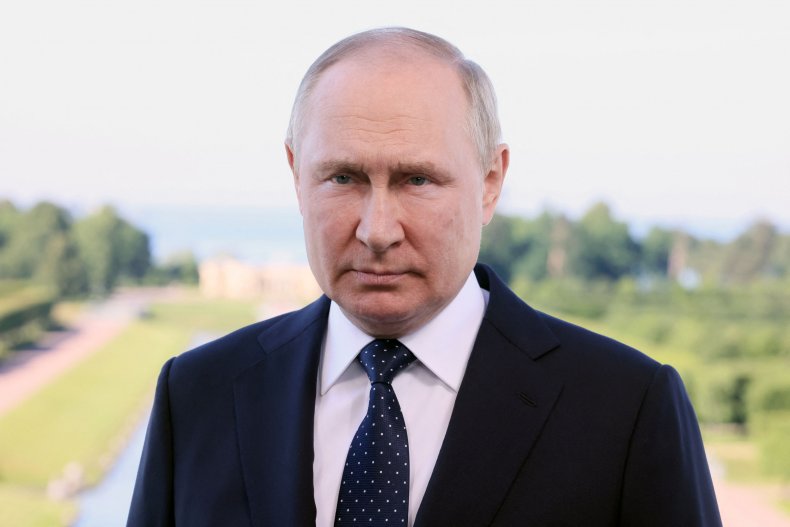 Putin celebrated the fall of Lysychansk, saying on Monday, "I hope everything will be successful as it happened in the [Luhansk] area."
Russian forces are reportedly moving toward cities in Donetsk following their victory in Luhansk, according to the General Staff of the Ukrainian military.
On Monday, Ukraine said it raised its flag over Snake Island after its forces pushed Russia to withdraw from the territory.