Yuriy Vitrenko, the CEO of Ukraine's state-owned Naftogaz oil and gas company, told Newsweek that invading Russian troops are using critical energy infrastructure as a shield as they advance into Ukrainian territory.
Speaking from Kyiv on Wednesday, Vitrenko also said that damage to Naftogaz infrastructure in the first week of Russia's latest invasion is "on the minor scale," though warned this could change as fighting intensifies.
"I'm managing the entire company from Kyiv," Vitrenko said, as Russian forces pushed towards the capital from the northwest and northeast supported by regular air and missile strikes on military, civil, and civilian targets. "Every night is a nightmare."
Last week, Naftogaz evacuated all staff and suspended operations at an oil refinery facility in Shebelinsky, in the eastern Kharkiv region of Ukraine, due to the intense fighting nearby.
The plant remains closed, Vitrenko said, though added energy infrastructure damage so far is not a major concern: "More and more of our assets got damaged but it's still on the minor scale. By and large, the infrastructure is still working."
But as Russia's assault becomes more indiscriminate, the risk for critical infrastructure rises, Vitrenko said: "It started with them targeting more military infrastructure, although their weapons as we can see are not precise at all. But then, they were not trying to target civilian infrastructure. And now they're targeting administrative infrastructure."
The energy chief accused the invaders of sheltering behind key sites to dissuade Ukrainian defenders from attacking. "What they also do is sometimes they use critical infrastructure, basically as a shield," he said.
"They try to take over such assets and have their military bases there. Because, again, we cannot bomb this infrastructure ourselves."
Russia's invasion of Ukraine has driven gas prices in Europe to record highs, due to fears that supply will be interrupted whether by the fighting, by Western sanctions on Russia, or by Russia rerouting energy exports in retaliation against the West.
Vitrenko said Ukraine currently has enough production capacity and storage to get through the heating season, which generally ends in early April. "Frankly, we have other things to worry about," Vitrenko said when asked about the soaring price of gas.
"We still have our own production. We still have gas in storage, and we even have some imports as well. So that's how we manage to cover internal consumption. But going forward, let's see how it develops."
As to fears that Russia might shut off its own gas supply to the West, Vitrenko said: "Never say never, everything is possible. But that's probably one of the last things Russia will do. It is possible, but it's not something that we should be expecting right now."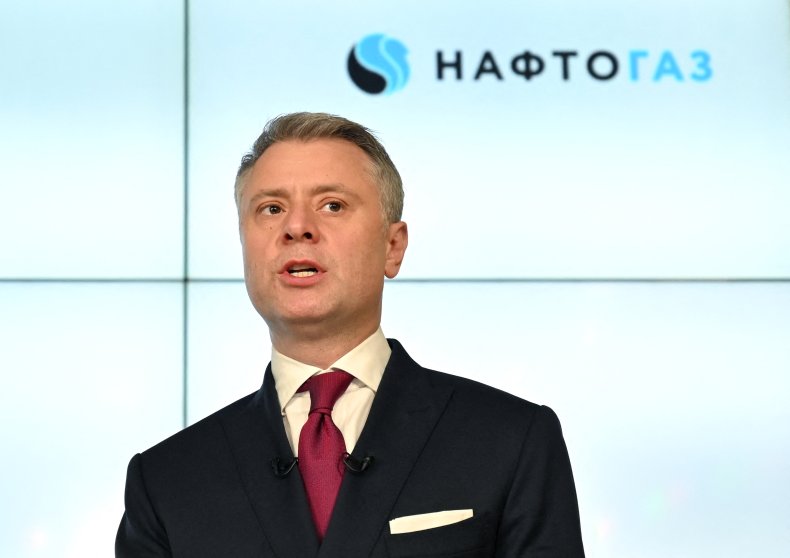 The EU, Vitrenko said, will likely have to diversify away from gas consumption over the coming year to protect stores for next winter, which might involve more reliance on coal and green initiatives.
Days before the invasion, Vitrenko told Newsweek previously that he sensed resistance in Europe to meaningful sanctions against Russia. The last week has seen a seismic change in Europe's Russian posture, the Union and its non-member partners unifying to isolate and strangle the Russian economy.
"They really took it seriously," Vitrenko said of the European response, though argued measures should have been put in place prior to invasion: Frankly, it would even have made sense to announce these kinds of sanctions before, because apparently Putin did not expect such strong sanctions."
The West, he added, must now be agile in keeping Russia under economic pressure.
"One should expect that Russians will start playing around the sanctions," Vitrenko said. "Always with sanctions, it's very important to go forwards and not to let them use any loopholes or find ways around it. There should be a second wave of sanctions."
Failure, Vitrenko warned, will encourage more aggression. "Putin will really believe that the West is so corrupt and weak," he said. "And then Putin will go forward, and then it's a really dangerous scenario."
The Nord Stream 2 natural gas pipeline from Russia to Germany was long a key target for Vitrenko, Naftogaz, and Ukraine more broadly. They argued it would have allowed Moscow to further isolate Ukraine from its natural gas supply routes, and deny it billions of dollars each year in transit fees.
"It is important but again, unfortunately, it was taken just two days before the invasion and it could not change anything," Vitrenko said of the landmark German decision to suspend the project.
"At that time, Putin already had a different calculus. So it's also important to be timely."
Russia is still sending natural gas to Germany through the 1.9 trillion cubic foot Nord Stream 1 pipeline.
"In terms of Nord Stream 1, I do believe that it should also be sanctioned, maybe with some kind of a winding down period for gas supplies," Vitrenko said.
"In general we believe there should be a full embargo on Russian gas and oil. Every time the West buys Russian gas and oil, you're just giving Putin more weapons. That's insane.
"That's why the whole world should stop buying Russian gas and oil. Or at least make sure that it's super rapidly decreasing its purchases and controlling the price."
Economic sanctions will strangle Russia, but Ukraine needs intensive military support, Vitrenko said: "We really need to see it happening faster because time is of the essence. We need more and more weapons because this war is becoming uglier and uglier."
A "no-fly zone", a proposal repeatedly rejected by NATO, would make a world of difference, Vitrenko said. NATO nations have ruled out the step for fear of coming into direct conflict with Russia, which could lead to unintended—even nuclear—escalation.
"We believe that a no-fly zone should be enforced by NATO," Vitrenko said. "We understand the risks. Everybody understands the risk, but at the same time, it's not the first time," he added, noting NATO actions in Libya and the former Yugoslavia
"The whole of Europe is in danger," Vitrenko warned.
Putin, he said, "really wants to change the world order, at least what we thought this world order was; I think it's clear for everybody. If he is not stopped here in Ukraine, he will go further."