What to Know About Ukraine's Counteroffensive So Far
Gunfire has been heard in Ukraine's Russian-occupied city of Kherson amid a reported counteroffensive to recapture Moscow-controlled territory in the south of the country.
Local news outlet Most reported that there had been intense shooting on the streets of central Kherson's Pivnichnyi and Tavriiskyi neighborhoods on Tuesday, while the UNIAN news agency said shots were also heard outside a prison in the south of the city.
While it hasn't been confirmed who was involved in the shooting or whether Ukrainian troops were inside the city that Russia seized earlier in the war, Moscow-installed official Kirill Stremousov told the Tass News agency that Ukrainian spies and saboteurs had been killed.
Footage shared on social media showed black smoke hanging over the outskirts of the city of Kherson, apparently from explosions. Meanwhile, Tass reported that at least five air defense missiles were fired over the city's airspace on Tuesday.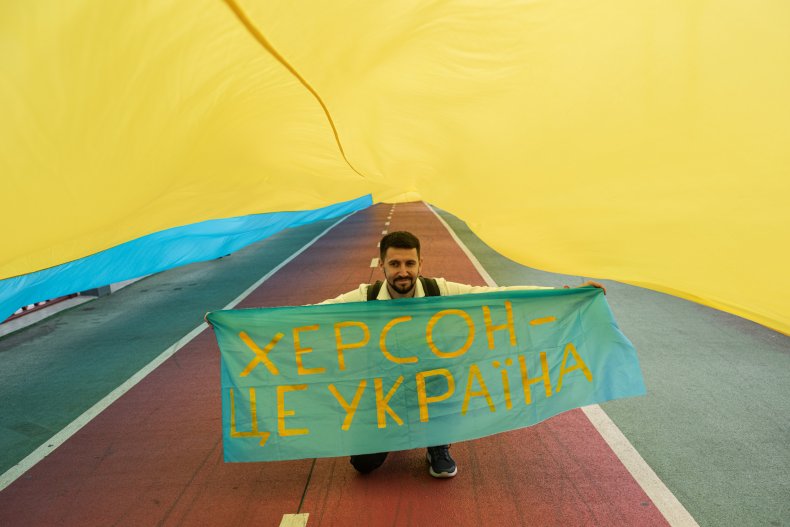 Earlier, Ukrainian presidential adviser, Oleksiy Arestovych said his country's troops had broken through Russian defenses near the city. In comments posted to his Telegram social media account, Arestovych described the counteroffensive as a "slow operation to grind the enemy."
He said Ukrainian forces were shelling ferries in the Kherson region that Russian troops had been using to supply Moscow-occupied territory on the west bank of the Dnieper river, although he appeared to seek to manage any expectations that it would be a swift operation.
"Many would like a large-scale offensive with news about the capture by our military of a settlement in an hour," he wrote. "But we don't fight like that."
Citing a Ukrainian military source, CNN reported that Ukrainian troops had taken back four villages near Kherson that Russia had seized early on in the war and the provincial capital of the region with the same name that borders the Black Sea.
A senior U.S. official said there had been an "uptick in kinetic activity" in the southern region, but would not confirm if this was part of the counteroffensive, CNN reported.
Russia's defense ministry, which Newsweek has contacted for comment, acknowledged Ukrainian troops had attempted an offensive in the Mykolaiv and Kherson regions, they had suffered significant casualties and the offensive attempt "failed miserably."
Ukrainian media reported that explosions rang out in Kherson on Tuesday morning with automatic rounds heard in the city and residents advised not to go outside and stay clear of windows.
Ukrainian President Volodymyr Zelensky did not directly mention the details of the counteroffensive in his nightly address on Monday but said that "the occupiers must know—we will chase them to the border...whose line has not been changed."
If Putin's troops wanted to "survive" he said, "it is time for the Russian military to flee. Go home."
Meanwhile, in its daily assessment, British Ministry of Defense officials said that Russian forces are likely "under-manned" in Kherson whose location where the Dnieper River meets the Black Sea makes it a key supply route for Russians on the frontline.