The Ukrainian military said that it killed 106 Russian soldiers on Monday as the high-stakes battle for the Donbas region continued.
Ukraine's Operational and Tactical Group (UTG) "East" said on Facebook that 106 Russian troops had allegedly been killed. Multiple armored military vehicles, weapons, ammunition and other supplies were also reportedly destroyed. The Russian military has focused heavily on capturing the Donbas due to Russian President Vladimir Putin's push to allegedly "liberate" the region and "de-Nazify" Ukraine.
The Russian military has lost approximately 33,800 troops during the nearly three-month war, according to the General Staff of the Armed Forces of Ukraine. An additional 1,000 Russian troops are being held captive by Ukraine, according to Ukrayinska Pravda.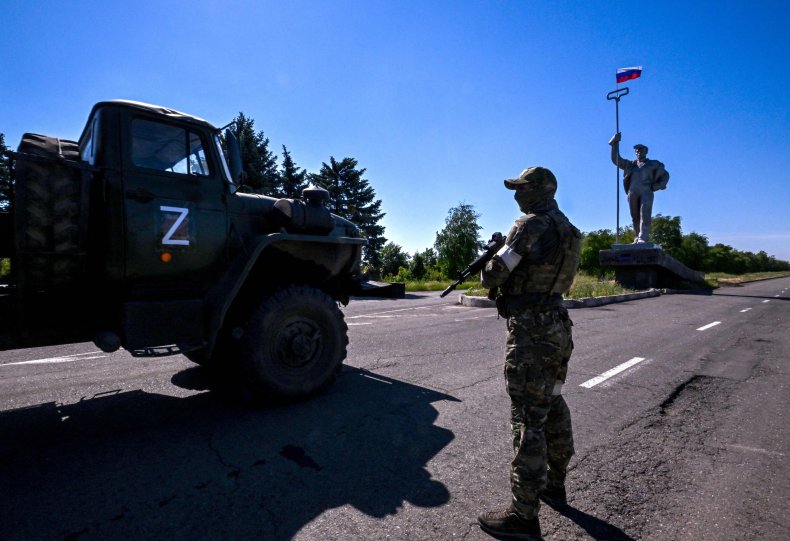 Ukraine also claimed to have destroyed a large number of Russian military vehicles, aircraft, equipment and supplies since the invasion began on February 24, including:
1,477 tanks
3,588 armored fighting vehicles
749 artillery systems
238 rocket launchers
98 anti-aircraft systems
216 airplanes
181 helicopters
601 tactical drones
130 cruise missiles
14 ships and boats
2,527 units of automotive equipment and tankers
55 pieces of special equipment
Russian Defence Ministry spokesman Igor Konashenkov said on Monday that 3,696 Ukrainian tanks and armored military vehicles had been destroyed during the war, according to Bloomberg.
Oleksiy Arestovych, an adviser to Ukrainian President Volodymyr Zelensky, said earlier this month that 10,000 Ukrainian troops had been killed during the war. Zelensky said earlier this month that up to 100 more Ukrainian soldiers were dying every day.
The Ukrainian estimates for military deaths on either side have not been independently verified.
Recent fighting in the Donbas region, which is located in the eastern part of Ukraine and includes the oblasts of Luhansk and Donetsk, has been particularly fierce near the Luhansk city Severodonetsk. Earlier this month, Zelensky predicted that the outcome of the battle would determine the "fate" of the region.
Luhansk governor Serhiy Haidai told the Associated Press on Monday that fighting in Severodonetsk had been "very difficult," with Russian forces holding control of most areas of the city.
The only area of the city that remains under Ukrainian control is the Azot chemical plant, where 500 Ukrainian civilians are reportedly taking shelter alongside an undisclosed number of Ukrainian troops.
"It's just hell there," said Haidai, who noted that Russian forces have continued to deploy additional troops and military equipment to the city. "Everything is engulfed in fire, the shelling doesn't stop even for an hour."
Haidai previously warned against making comparisons between the Azot plant and the Azovstal steel plant in Mariupol, where a large number of civilians sheltered earlier in the war.
"People are hiding in shelters, of which there are several," he said. "This shouldn't be compared to Azovstal."
Newsweek reached out to the Russian government for comment.