Ukraine Leopard 2 Tankers Finish NATO Training Ahead of Spring Push
Ukraine's tank crews sent to Spain to familiarize themselves with the German-made Leopard 2 main battle tank have finished their instruction course and will this week head back to Ukraine to prepare for Kyiv's planned spring offensive.
Reuters reported Tuesday that a total of 40 crew members and 15 mechanics completed the four-week training course on operating the 2A4 variant of the main battle tank, which Kyiv hopes will help its expected counteroffensive break Russian lines and liberate more occupied territory. The 55 trainees are to return to Ukraine via Poland on Wednesday.
Spain will deliver at least six, and as many as 10, of its mothballed Leopard 2A4 tanks to Ukraine sometime in the spring. An additional 48 have so far been promised by NATO nations, including Germany, Poland and Portugal, still according to Reuters.
The training took place at a military base outside Spain's northeastern city of Zaragoza. Captain Contreras—who only gave his rank and surname—told reporters that the training process "has been intense," adding that the Ukrainian crews would return to the war "with a very acceptable knowledge" of the Leopard tank platform.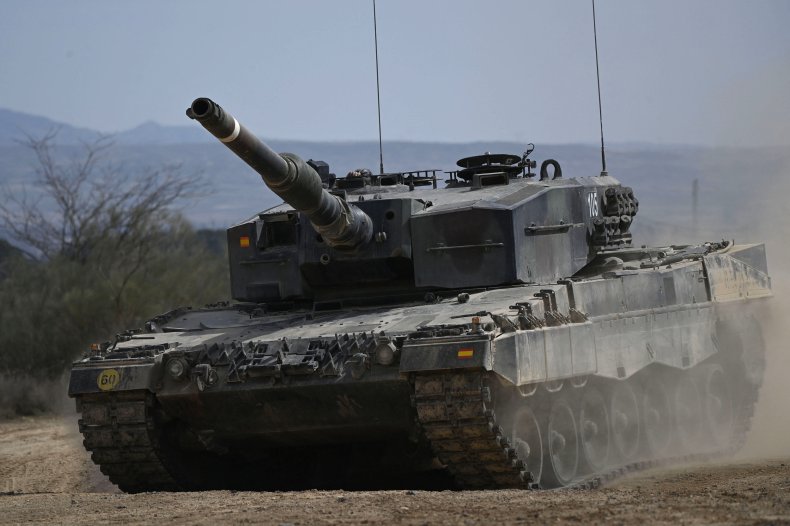 "Although the tanks were different, there were many systems that coincide and that has made things much easier," Contreras said, according to Reuters. "With that, together with the motivation that the personnel brought and their desire to learn, we see them very well prepared to resume combat."
Agence France-Presse reported that Contreras said the Ukrainian teams trained 12 hours a day, six days a week. "They are very motivated," he said. "They have a strong desire to learn and are eager to return and contribute to the defense of their country."
The troops—ranging in age from 21 to 60—all had previous battle tank experience, Contreras said, and underwent instruction on simulator and actual Leopard 2 tanks. The focus was on practical, rather than theoretical training, Contreras added, "because they prefer practical training, as you can understand."
The Ukrainian tankers, Contreras said, noted the "superior capacities" of the Leopard 2 tanks compared with those they had used before, and those fielded by the Russian invaders.
Newsweek has contacted the Russian Defense Ministry by email to request comment.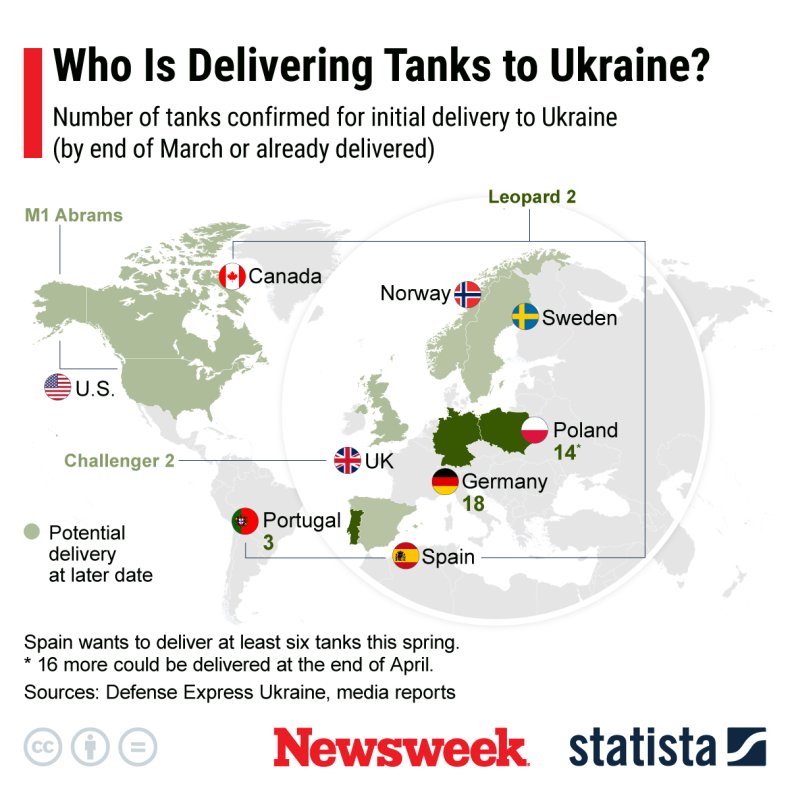 This Statista chart shows the number of tanks confirmed for initial delivery to Ukraine (by the end of March or already delivered).
Leaders in Kyiv have repeatedly said that Western main battle tanks and other armored vehicles could prove vital in the expected spring offensive. Presidential adviser Mykhailo Podolyak recently said that Ukraine's next counteroffensive would begin in around two months, once the current Russian push has been exhausted.
Podolyak and other Ukrainian officials are now urging Western nations to expand the provision of 155mm artillery rounds, and approve long-range missiles and fighter jets for Ukrainian use.