Zelensky Aide Declares Two Key Bakhmut Goals
Mykhailo Podolyak, advisor to the head of Ukrainian President Volodymyr Zelensky's office, has said that Kyiv's troops are "surpassing" expectations in achieving two key goals of the ongoing fighting over the eastern city of Bakhmut, which has become a fulcrum of Moscow's renewed push to gain more territory.
Speaking with the Italian newspaper La Stampa, Podolyak confirmed that Ukrainian troops are preparing their own spring offensive, with an eye on launching the operation in about two months. For now, though, Kyiv's units are focused on the bloody defense of the front line in Donetsk Oblast, as well as in other areas of heavy fighting in the southeast and northeast of the country.
There has been some criticism of Kyiv's political and military leadership for the continued, and costly, defense of Bakhmut, which both Ukrainian and Western officials have said is not a highly valuable strategic target. Podolyak explained, as translated by the Kyiv Post, that Ukraine has two key ambitions for the months-long battle.
"We have two goals: to reduce their combat-ready personnel as much as possible and squeeze them into several grueling key battles, disrupt their offensive, and concentrate our resources elsewhere for a spring counteroffensive," Podolyak said.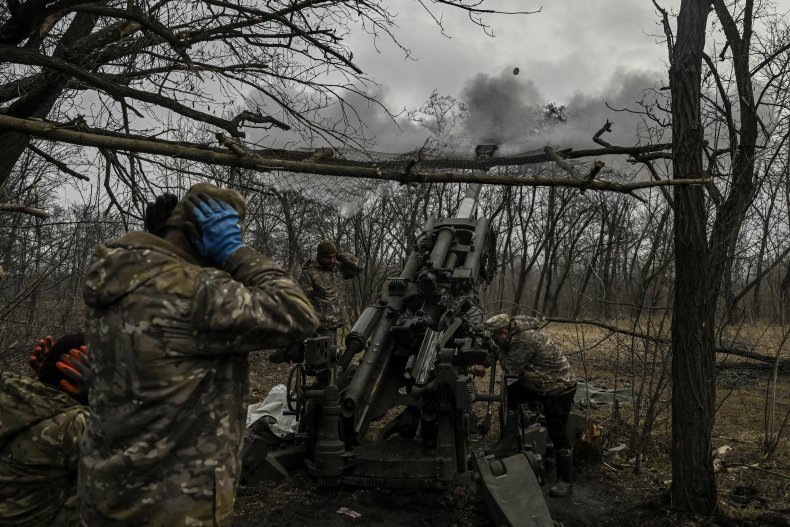 The adviser also said that Ukrainian units were performing well, despite reported high casualties and the gradual advance of Russian troops—led by Wagner Group mercenaries—around the town, putting it at risk of siege.
Ukrainian tactics, Podolyak said, are "quite effective today, surpassing its key tasks." He added that Russia's casualty rate is five times that of Ukraine's, estimating that Russia has suffered some 40,000 dead and wounded in its efforts to take the city of Bakhmut. Among them are some of Russia's most elite units, Podolyak suggested.
"We are not in a hurry, we will reorganize over the next two months," Podolyak said of Kyiv's planned counter-offensive. "We will exhaust the Russians in Bakhmut and then focus elsewhere."
Mark Voyger, a former special adviser for Russian and Eurasian affairs to then-commander of U.S. Army Europe General Ben Hodges, told Newsweek the recent focus on Bakhmut is a demonstration of Russia's failure to conduct successful theater-level operations.
"The war has become so tactical that even a small town, which should normally be a tactical target, is in the news globally," Voyger—now a non-resident senior fellow at Center for European Analysis and professor at the American University of Kyiv—said. "It's become a strategic target, it's like the Stalingrad of this war."
Newsweek has contacted the Russian Defense Ministry by email to request comment.
Incoming NATO heavy armor will be key to Ukraine's planned counter-offensive. Ukrainian troops are currently training on high-profile systems including German-made Leopard 2 tanks and American-made Bradley infantry fighting vehicles, which Kyiv and its Western partners hope will help break Russian lines in the spring.
Podolyak told La Stampa that Ukraine also needs long-range missiles to support the offensive, plus an expanded supply of 155mm artillery shells. European nations are currently discussing plans to expand the production and provision of shells to Ukraine, while the U.S. has sent millions of its own stored rounds and is backfilling from South Korea.