Ukraine Official Reveals Key Moment for Kyiv To Counterattack in Donbas
Ukrainian forces are "waiting for weather conditions to improve" to launch a counterattack against Russian troops, according to a senior Ukrainian official.
Serhiy Haidai, the governor of the eastern Luhansk region, said on Telegram on Monday that Ukrainian fighters would bide their time for "a few weeks" before embarking on a counterattack in the Donbas region.
Luhansk, along with Donetsk in eastern Ukraine, was plunged into armed conflict back in 2014. Russian-backed separatists seized control of parts of Luhansk and Donetsk, and Moscow illegally annexed the Crimean peninsula south of mainland Ukraine.
Collectively known as the Donbas region, Donetsk and Luhansk have seen the heaviest fighting since the outbreak of all-out war on February 24, 2022. Russian forces are working to capture the remaining territory of Luhansk, according to the Washington D.C.-based think tank, the Institute for the Study of War.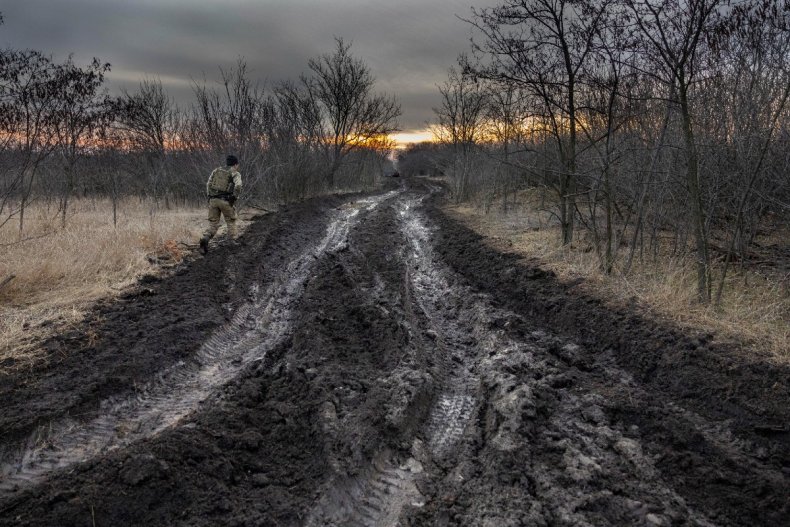 Oleksandr Syrsky, who heads Ukraine's ground forces, said on Telegram on Saturday that it was "necessary to gain time to accumulate reserves and start a counteroffensive, which is not far off."
Ukraine's presidential office advisor, Mykhailo Podolyak, said on Friday that Ukraine's forces were "not in a hurry," but will "reorganize over the next two months."
"We will exhaust the Russians in Bakhmut and then focus elsewhere," he told the Italian newspaper La Stampa.
Speculation has long surrounded when Ukraine will embark on a counteroffensive, which was expected to take place in the warmer spring months. Last month, Anton Gerashchenko, an adviser to Ukraine's minister of internal affairs, told Newsweek that Ukraine was "waiting for the supplies of Western equipment to start our own counteroffensive."
But as the mercury rises, so too is the consideration paid to the notorious Ukrainian muddy season. Known as "rasputitsa," the warmer temperatures create muddy conditions which hinder military operations.
"Mud is a factor, especially if one is stuck in a muddy trench or driving off-road or on an unpaved road," William Reno, a political science professor at Northwestern University, previously told Newsweek.
It directly impacts vehicles' ability to get off the roads, former U.S. Army major John Major also told Newsweek. The mud causes problems with maintenance, movement, and supply chains, he added.
"As mud limits the roads you can take, that increases the likelihood of attacks," he argued.
On February 9, 2023, the British defense ministry referenced the spring thaw, arguing both Ukrainian and Russian commanders would "highly likely seek to avoid scheduling major offensives" from mid to late March.
"The weather continues to play a significant role in the course of Russia's war in Ukraine," the U.K. government department added.