Ukraine Reveals Timetable for Counteroffensive
Mykhailo Podolyak, a top adviser to Ukrainian President Volodymyr Zelensky, gave a rough estimate of when Ukraine might begin a counteroffensive against Russian forces.
Podolyak said Ukraine's military remains focused on the fighting in the city of Bakhmut as it also tries to replenish its forces.
Podolyak also called for Western allies to provide long-range missiles and heavy artillery shells.
Ukrainian President Volodymyr Zelensky's top aide said in an interview published on Friday that the Armed Forces of Ukraine (AFU) are preparing for a counteroffensive that will begin in about two months.
Mykhailo Podolyak, adviser to the head of the presidential office, provided the estimated timeline during an interview with the Italian newspaper La Stampa. He added Ukraine's military will first concentrate on trying to retain control of the city Bakhmut.
Bakhmut has been the site of intense fighting for several months, and a recent assessment from the Institute for the Study of War (ISW) said Russian President Vladimir Putin's forces may currently be too depleted from the fighting in that city and other sites to launch a major offensive. Meanwhile, the ISW, a U.S.-based think tank, wrote that Ukraine is "likely conducting a limited tactical withdrawal in Bakhmut" in part to bolster its forces for a coming counteroffensive.
"We are not in a hurry, we will reorganize over the next two months. We will exhaust the Russians in Bakhmut and then focus elsewhere," Podolyak told La Stampa of a counteroffensive, according to a translation provided by the Kyiv Post.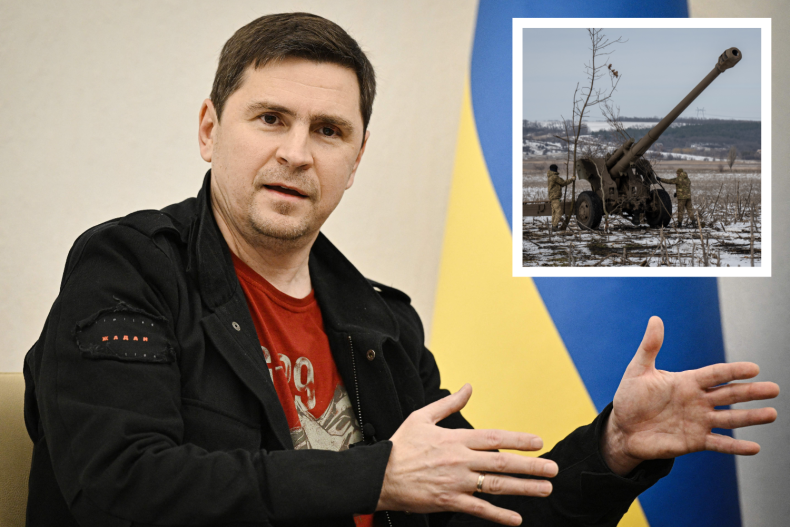 Podolyak said that since Russia's military had committed so much personnel to Bakhmut, Ukraine could focus on replenishing its forces while still engaging in conflict with Moscow.
"It is important for them to move in this direction. Therefore, we have two goals: to reduce their combat-ready personnel as much as possible and squeeze them into several grueling key battles, disrupt their offensive, and concentrate our resources elsewhere for a spring counteroffensive," Podolyak said.
According to the Kyiv Post, Podolyak also told the Italian newspaper that the strategy put into effect in Bakhmut by the AFU is "quite effective today, surpassing its key tasks."
Also in his interview with La Stampa, he reportedly repeated Ukraine's frequent appeal for Western allies to provide Zelensky's forces with long-range missiles and with more heavy artillery shells.
Other Ukrainian officials have also publicly spoken in recent weeks about an anticipated spring counteroffensive.
On February 24—the one-year anniversary of the start of the war—Ukrainian Defense Minister Oleksii Reznikov indicated his country's military is preparing for such action.
"A year ago, it was difficult for us to get serious weapons. Today, civilized countries see that you are the shield of Europe in the east," Reznikov said, according to Agence France-Presse (AFP). "There will be a counteroffensive. We are working hard to prepare and secure it."
Anton Gerashchenko, an adviser to Ukraine's minister of internal affairs, also told Newsweek in a February interview that a counteroffensive was coming.
He said Russia had already begun its own offensive and that "combat intensified on several parts of the frontlines." Gerashchenko added that Ukraine is "waiting for the supplies of Western equipment to start our own counteroffensive."
Newsweek reached out to the Ukrainian Ministry of Foreign Affairs via email for comment.