Ukrainian Pilots Are in U.S. Training on F-16s
Ukrainian pilots are being evaluated for training on advanced F-16 jets on U.S. soil.
On Saturday, NBC News reported that two Ukrainians were "undergoing an assessment" in the U.S. to see how long it would take them to complete training on aircraft including F-16 fighters.
Citing officials, the outlet said they were being evaluated in Tucson, Arizona, and further Ukrainian pilots could be on the way.
"Two Ukrainian pilots are currently in Tucson for a familiarization event for U.S. and Ukrainian pilots," a military official said.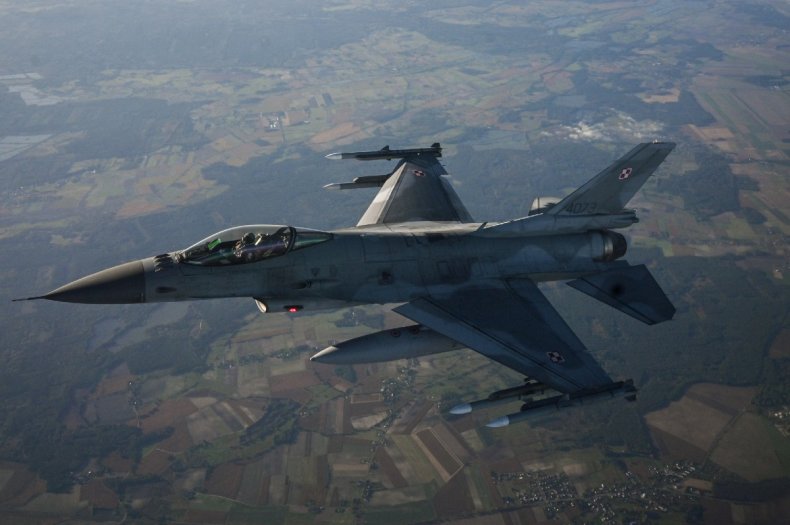 Described as a "routine activity as part of our military-to-military dialogue with Ukraine," the "'familiarization event' is essentially a discussion between the Air Force personnel and an observation of how the U.S. Air Force operates," the official added.
It is intended to assist Ukrainian pilots in becoming "more effective," and to "advise them on how to develop their own capabilities," the official said. This will include using simulators.
"While this is the first time we have conducted an event like this with Ukrainian pilots, it is similar to events we've held with other countries" under a "pre-approved" United States European Command program, the official said.
"There are no immediate plans to increase the number of pilots beyond the two currently in Tucson but we're not closing the door on future opportunities," according to the military official. But "there are no updates to provide regarding F-16s to Ukraine," the official added.
Ukraine's government has long called for its Western backers to send advanced fighter jets to replace the Soviet-era aircraft it has been operating. But Kyiv's supporters have so far resisted such demands.
During a whistle-stop tour of Britain, France and Belgium in February, Ukrainian President Volodymyr Zelensky renewed his appeal for jets, calling them "wings for freedom."
During Zelensky's visit to London, the British government announced that the U.K. would extend its training of Ukrainian forces to include fighter jet pilots.
This "will ensure pilots are able to fly sophisticated NATO-standard fighter jets in the future," Downing Street said on February 8.
Britain having already formally indicated that it would start this training shows the U.S. is "late" to action it should have started "a long time ago," according to Glen Howard, president of Washington D.C.-based think tank the Jamestown Foundation.
Ukrainian pilots have a "burning desire to fly F-16s," he told Newsweek, suggesting they will already have some familiarity with the multi-role jet.
"This is a sensible, practical but measured contingency against the high probability that the U.S. does authorize the donation of some of these jets to Ukraine in the next few months," former British military officer Frank Ledwidge told Newsweek.
Ledwidge suggested a decision about whether to furnish Ukraine with F-16s will be made "in due course," and will likely require an assessment of air and ground crews.
Colin Kahl, the Pentagon's undersecretary of defense for policy, said on February 28 a decision had not been made to provide F-16s by the U.S. or any of Ukraine's allies, and so "it doesn't make sense" for the U.S. "to start to train [Ukrainian personnel] on a system they may never get."
He told the House Armed Services Committee that Ukraine could end up operating Swedish-made Gripens or the British air force's Tornado jets, meaning training on F-16s would be of little use.
It would take three to six years to deliver advanced "new production" F-16s to Kyiv, he said.
The "most expeditious" timeline for training and delivery of F-16s to Ukraine would be around 18 months, he said.
Kahl added the U.S. Air Force had suggested Ukraine would need somewhere between 50 and 80 fourth-generation aircraft over the long term to replace the country's existing fighters.
Fourth-generation fighters are advanced aircraft but usually have limited, if any stealth capabilities, unlike the latest fifth-generation aircraft.
In an interview coinciding with the first anniversary of the beginning of Russia's full-scale invasion of Ukraine in February, President Joe Biden once again dismissed the possibility of committing F-16s to Kyiv.
"I am ruling it out for now," Biden told ABC News.
Update 3/6/23 4:25 a.m. ET: This article has been updated with comment from a military official.