Ukraine Gets Leopard Tank Boost on War Anniversary: What Next?
Poland has delivered the first Leopard tanks to Ukraine, the country's president, Andrzej Duda, confirmed on Friday, as Prime Minister Mateusz Morawiecki visited Kyiv to mark one year since the beginning of Russia's invasion.
Morawiecki confirmed that four tanks have been delivered to Ukraine, but he didn't specify whether those were the Leopard 1 or the more modern Leopard 2 models; Bloomberg reported, however, that the four tanks were Leopard 2A4s. The rest of the Leopard tanks Warsaw promised Kyiv will follow soon, Morawiecki said.
Ukraine has long called for a ramp-up of military aid, asking for supportive countries to send Leopard tanks and fighter jets to face a potential, and widely expected, new Russian offensive in the spring.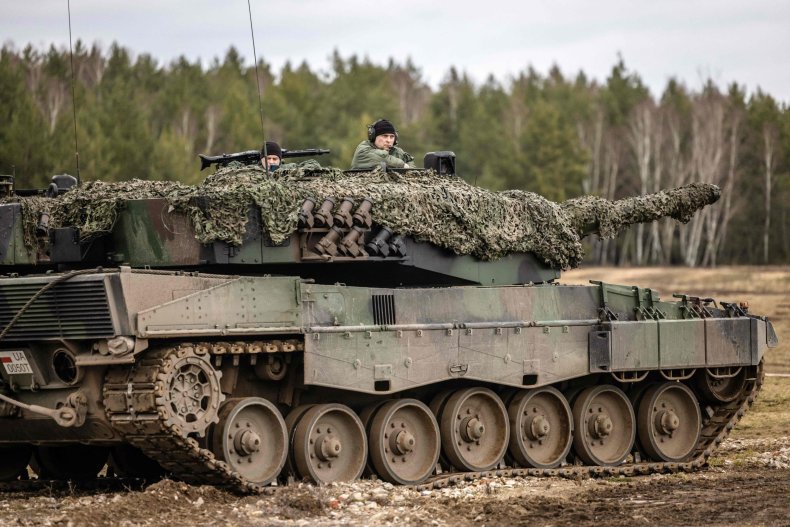 Last month, Poland's leadership—which has been a strong supporter of Ukraine's fight against Russian aggression since the beginning of the conflict—put pressure on Berlin to approve the transfer of the German-made Leopard tanks within its stocks to Kyiv.
As Berlin hesitated to take a decision, Morawiecki said that Germany's approval was a "secondary" issue, declaring that Poland would have sent the tanks to Kyiv anyway, whether Germany gave the green light or not.
But Berlin did come through by late January, approving the export of Leopard 2 tanks to Ukraine from its own stocks and third parties' stocks. Immediately after receiving Germany's approval, Poland reportedly started training Ukrainian troops to use the Leopard tanks. Duda said that Warsaw would send 14 of the tanks to Kyiv.
The four Leopard tanks are among the first to get to Kyiv, but more are expected in the coming months. Germany has pledged to send 88 Leopard 1 tanks to Ukraine, a government official said during a press briefing on February 3. The country will also be sending 14 state-of-the-art Leopard 2A6 tanks.
On Thursday, Spain and Finland both said that they will send Leopard 2 tanks to Ukraine, promising to keep supporting Kyiv in its fight against Moscow.
"You're not alone in this war," said Spanish Prime Minister Pedro Sanchez while visiting Ukraine's President Volodymyr Zelensky in Kyiv. "We will stand with Ukraine as long as necessary."
Madrid will send 10 Leopard 2 tanks to Kyiv, Sanchez said, "in the coming weeks or months." Finnish Defense Minister Mikko Savola said that his country will send three Leopard 2 tanks, but did not specify the time of their delivery.
Other countries previously pledged part of their Leopard 2 stocks to Ukraine, including Canada, which is expected to send four tanks, Portugal, which will send three, and the Netherlands, which will send Leopard 1 tanks.
Zelensky, who had previously expressed that he was "very happy" about Germany's decision to allow for the transfer of Leopard tanks to Kyiv, said on Friday that 2023 will be the year of Ukraine's victory. He told Ukrainian troops that "you will decide whether Ukraine is going to exist."
But it will take time for all the tanks pledged to Kyiv to arrive in the war-torn country. "They're not going to get the full complement of Leopard tanks for quite some months, because many of them need to be refurbished and refitted," Frank Ledwidge, a British former military officer and author, told Newsweek. "I would think we're looking at two or three months before they get it."
The full complement will provide Ukraine with two or three brigades—at least "two out of the nine Ukraine is hoping to create for a counter-attack in the spring." Ledwidge added that Ukraine "is not short of good tanks," but they're mostly ex-Soviet vehicles.
The Western Leopard tanks will certainly make a difference in the war, Ledwidge said. "But will they make a decisive difference? No, they won't," he added. "They aren't enough."
Update, 2/24/2023 at 12:38 p.m. ET: This article has been updated to include comments from Frank Ledwidge.