Russia's Army Left 'Mauled' One Year After Ukraine Invasion: U.S. General
Russian troops have been left "mauled" nearly one year into its invasion of Ukraine, says Chairman of the Joint Chiefs of Staff Mark Milley.
Over the past twelve months, Russian President Vladimir Putin has shown time and again an overestimation of his own army's strength, with Ukrainian counter offense holding the line against what was anticipated by Russia to be a swift victory.
As Friday will mark the one-year anniversary of Russia's full-scale invasion, Milley spoke to MSNBC's Joe Scarborough Thursday evening to reflect on the war so far, and said that in many ways Russia has "already lost the war."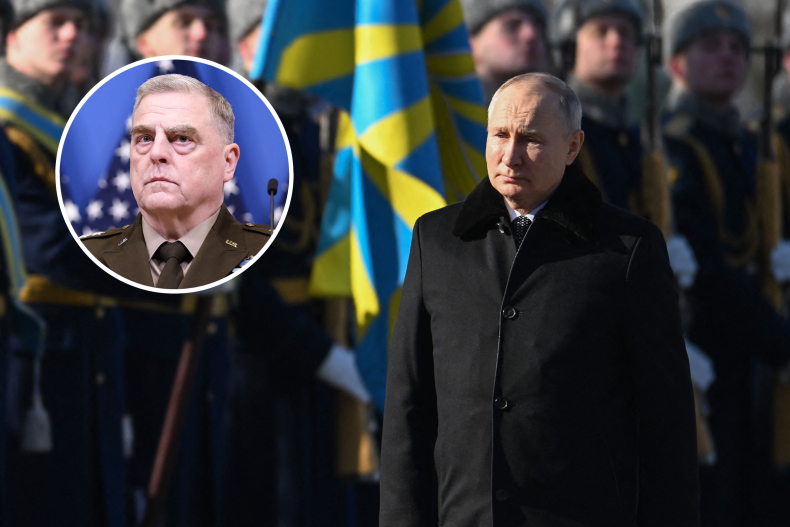 "Their initial political objective was to seize most, if not all of Ukraine, and collapse that government," Milley said. "That failed. So they didn't achieve their political objective that they set out to do. They didn't achieve it through military means at the beginning of the war, so they failed strategically."
"The Russian army has been mauled, really severely damaged," Milley said later in the interview. "But the Russian Air Force has not."
As of Saturday, Ukrainian officials estimated that Russian troops have suffered nearly 142,270 deaths, while British intelligence last estimated that both the Russian military and the mercenaries a part of the Wagner Group could have suffered nearly 200,000 casualties since the start of the war.
Newsweek has contacted the Russian Defense Ministry for comment.
But according to Milley, Putin may still have a strong air force behind him, noting that the Russian aircraft that has entered the battlefield "have been shut down in significant numbers."
"The Russian Air Force has not entered the fray in terms of close air support, in terms of bringing in their substantial power that they have in their air force, because it's just too high risk for them to do that," he added.
The British Defense Ministry reported last week that Russia has been reluctant to deploy its air force due to Ukraine's air defense capabilities as well as Russia's "dispersed basing" strategy with its aircraft.
Milley also spoke about the resilience of the Ukrainian people on Thursday, adding that it was one of the reasons Putin had "failed" so far.
"If you roll the clock back, they've been a free and independent country since 1991," the general noted. "So, this is a country who the vast majority of its population that's alive today in Ukraine knows nothing but freedom. And you just don't conquer countries that are free."
"They don't want to be occupied," Milley continued. "So, it was obvious to all of us that the Ukrainians would fight even if they fought with sticks and stones even if they fought with just rifles. They were going to fight they were not going to give up."
Beyond the continued military aid from the west, Ukrainians got another boost of encouragement on Thursday when the General Assembly of the United Nations voted in overwhelming support to adopt a resolution that once again condemned Russia for the war.
Ukrainian President Volodymyr Zelensky wrote on Twitter that the passing of the resolution "is a powerful signal of unflagging global support of [Ukraine]."
"A powerful testament to the solidarity of [the global] community with [Ukrainian] people in the context of the anniversary of [Russia's] full-scale aggression. A powerful manifestation of global support for [Ukraine]."