'Alligator' Chopper, 23 Tanks Among Russian Weapons Lost in a Day: Ukraine
An "Alligator" helicopter and 23 tanks were among the reported Russian military losses on Thursday, according to Ukrainian officials.
The Air Force Command of the Armed Forces of Ukraine reported on Facebook that a Russian Ka-52 Alligator chopper and its unknown number of occupants were destroyed. Numerous Alligator helicopters have been taken down in the past month, including one in the Zaporizhzhia and Donetsk regions and another shot down by troops in the eastern portion of Ukraine on the country's independence day.
The Russian military shot down its own Ka-52 chopper in late July in what was described as a friendly fire incident by Ukrainian officials.
The all-weather Ka-52 attack helicopter owned and operated by the Russian Air Force was introduced in 1996 and can destroy both armored and unarmored targets, low-speed aerial targets and military personnel. Russians deploy them as surveillance platforms and aerial command posts for groups of attack helicopters.
Also on Thursday, Ukrainian officials reported that missile bomb strikes by aviation crews were conducted on ground targets linked to the Russian troops.
"Ammunition warehouses, platoon and base posts, combat armored equipment, positions of anti-aircraft missile complexes" of Russians were affected, the Air Force Command said on Facebook.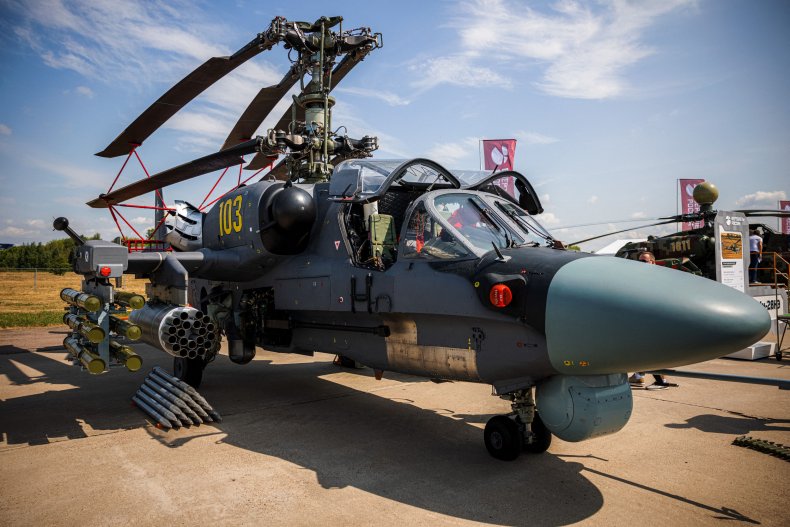 The Ukrainian defense ministry's Twitter account reported that, additionally, an approximate 450 Russian soldiers were "eliminated," bringing the war's total to about 48,350 personnel killed. A total of 23 tanks, 33 armored combat vehicles and 24 artillery systems were also destroyed Thursday, according to the Twitter post.
Ukrainians remain vigilant in their mission to retake Kherson and Crimea as part of a counteroffensive. On Wednesday, Ukraine's Operational Command South unit reported that Ukraine's armed forces killed 201 Russian military personnel and destroyed six Russian ammunition depots, 12 T-72 tanks and a wide range of Russian military equipment and weapons.
While Russian officials have deemed Ukraine's efforts to breach the frontlines as "unsuccessful," Serhiy Khlan, deputy of the Kherson Regional Council, said in a statement on Facebook that Ukraine did break through the "first line of defense of the Russians on the Kherson front."
The Defense of Ukraine Twitter page has mocked Russian soldiers attempting to hold fort in Kherson. One recent post featuring a video set to the 1932 song "Run Rabbit Run" shows footage of Russian soldiers appearing to be fired upon by Ukrainian missiles, artillery fire and snipers. It mockingly calls the Russian soldiers "guests" and encourages them to retreat.
Newsweek reached out to the defense ministries of both countries for comment.