Ammunition supplies are the lifeblood of NATO's militaries, a Lithuanian minister said, as the alliance grapples with the toll of the war in Ukraine on member states' stockpiles.
NATO's armed forces need a robust stockpile of ammunition, and Vilnius is "working with our allies" to ensure the alliance maintains sufficient levels of munitions, Erika Kuročkina, Lithuania's vice minister of economy and innovation, said at Defense and Security Equipment International in London, U.K., on Wednesday. Lithuania is heavily investing in this, and is looking to expand ammunition manufacturing, Kuročkina said.
The war in Ukraine, now well into its 18th month, has burned through NATO's ammunition stockpiles, depleting the supplies of Ukraine's Western backers even as Kyiv holds off on exhausting its rounds. But demand has only increased with Ukraine's grinding counteroffensive against Russia's well-fortified front lines in the south of the war-torn country.
There are also questions about whether North Korea could replenish Russia's ammunition stocks as the closed-off country's leader, Kim Jong Un, pledges Pyongyang's full and unconditional support for Moscow. Russia fired about 11 million shells in Ukraine in 2022, said Jack Watling, a senior research fellow for land warfare at the London-based Royal United Services Institute, according to The Washington Post.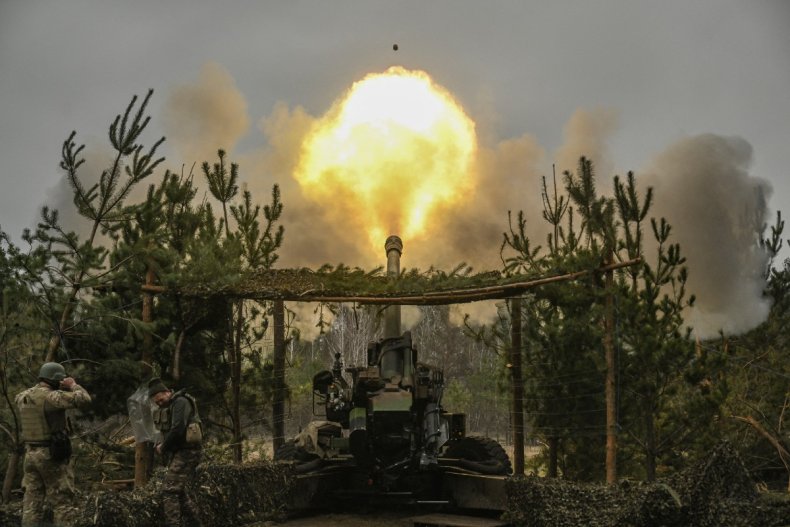 In early July, NATO Secretary-General, Jens Stoltenberg, said member countries were sending, and had already sent, unprecedented levels of ammunition of many types to Ukraine for its war effort.
"And that's also a reason why the Ukrainians have been able to retake land in the north and east and the south and now, some weeks ago, they were able to launch the offensive," Stoltenberg added, about a month after Ukraine launched its counteroffensive.
Yet there is a very high rate of consumption of ammunition, meaning Ukraine is firing thousands of shells each day, he said, "so there's an enormous need to resupply, and that's exactly what allies are doing."
In February, Stoltenberg said that in the face of enormous expenditure of ammunition, NATO's ammunition production is ramping up.
On Tuesday, Steve Cardew, the business development director for munitions at defense giant BAE Systems, said NATO was facing an ammunition watershed.
"We're giving lots of ammunition to Ukraine," Kuročkina said Wednesday. "Our stockpiles must be ready."
High on Ukraine's wish list has been the NATO-standard 155mm round, and the U.S. military is increasing production of the artillery shell. To date, the U.S. has sent more than 2 million 155mm artillery rounds to Ukraine, including more than 7,000 precision-guided 155mm rounds accompanying the almost 200 155mm howitzers.
The 155mm rounds "provide a good balance between range and warhead size," Ryan Brobst, a research analyst at the Foundation for the Defense of Democracies, told the Associated Press.
The 155mm round is "extremely popular," Kuročkina said, but added that "maintaining stockpiles is "not something we're scared about."
U.S. officials told CNN in mid-July that the U.S. has been nearing its military's minimum levels of ammunition, particularly with the vast provision of 155mm rounds to Ukraine. However, the exact levels of the required stockpiles are classified, the outlet reported.