Ukrainian forces attacking Russia's defenses in the south of the country have "likely made a significant tactical breach" near the recently reclaimed town of Robotyne, according to a new assessment.
Kyiv's fighters "continue to widen" the section of Russia's defenses around the town, the Washington D.C.-based Institute for the Study of War (ISW) think tank said on Saturday. Ukraine had focused on a 2.6 kilometer, or 1.6 mile, stretch of Russia's multilayered defensive lines around Robotyne, the institute said in its latest analysis.
Ukraine's military said earlier this month that its forces had broken through the first and second lines of defenses around Robotyne, to the south of the Ukrainian-held Zaporizhzhia city of Orikhiv.
Kyiv said in late August that it had seized control of Robotyne back from the Kremlin and a Russian-backed official in Zaporizhzhia told state television that Moscow's armed forces had "tactically abandoned" the town more than a week later.
However, Ukraine has not fully broken through Russia's defensive layer with vehicles and other heavy equipment, the U.S.-based think tank said.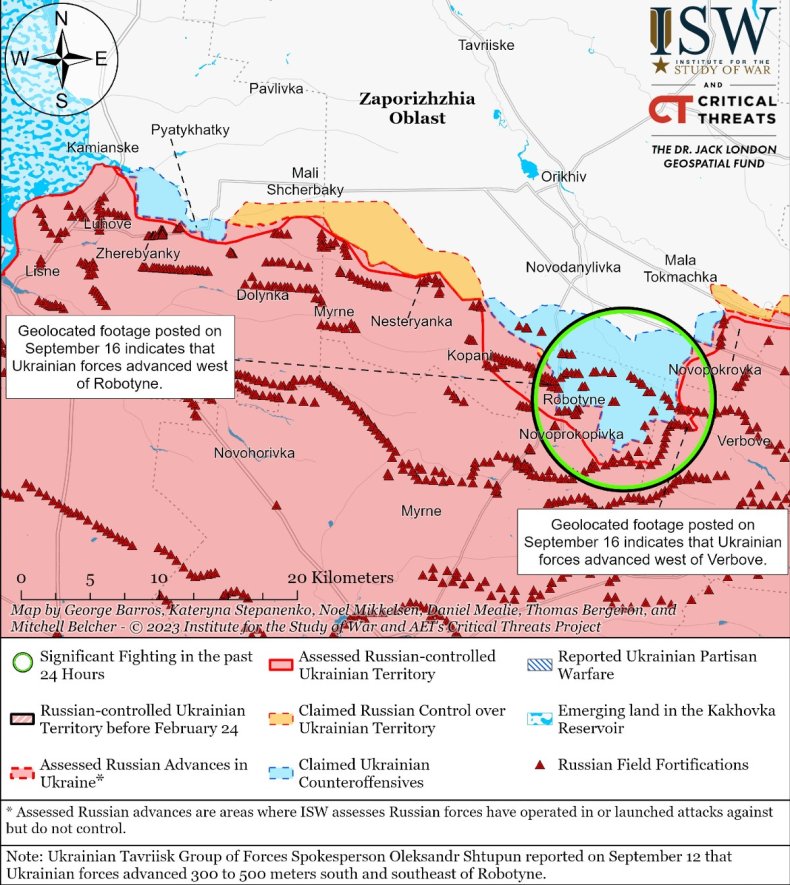 Ukrainian officials have suggested that Russia's first line of defenses, which Kyiv has broken through, was the most strongly fortified of the multiple lines put in place, the ISW noted.
"There is a very big difference between the first and second line of defense," Ukraine's commander of the Tavria group of forces, Brigadier General Oleksandr Tarnavskiy, told British newspaper The Observer at the beginning of September.
Kremlin forces have placed "the majority of their combat power at those forward-most Russian defensive positions to defend against Ukrainian counteroffensive operations," the ISW said on Saturday, adding: "These Russian forces have likely suffered heavy losses and conducted fighting withdrawals to prepared positions behind the current defensive layer."
Newsweek has reached out to the Russian Defense Ministry for comment via email.
In an operational update on Sunday morning, Ukraine's General Staff said its soldiers were continuing to attack Russian positions towards Melitopol, "causing occupation troops significant losses in manpower and equipment, forcing the enemy to withdraw from occupied positions."
Ukraine's fighters had "partial success" around the village of Verbove, to the east of Robotyne, Ukraine's deputy defense minister, Hanna Maliar, said on Saturday.
Also on Saturday, Russia's Defense Ministry said it had repelled 18 Ukrainian attacks around Robotyne and Verbove in the past week.
Although Ukraine's counteroffensive has largely focused on Russia's front lines in Zaporizhzhia, Kyiv's forces have also plugged away at Moscow's defenses in Donetsk. On Thursday, Ukraine said it had captured the Donetsk town of Andriivka, around six miles to the southwest of the decimated city of Bakhmut.
Ukraine has kept up its efforts to retake Bakhmut, Russia's Defense Ministry added on Saturday. Moscow has controlled the city since May 2023, after months of some of the fiercest fighting of the war.
Ukraine is "unsuccessfully trying to oust Russian troops" from Andriivka and the nearby town of Klishchiivka, the Kremlin said in a statement.
Kyiv's fighters made gains around Bakhmut on Saturday, the ISW said, adding Ukraine has advanced in northern Klishchiivka.
"Klishchiivka has been a focal point of fighting in the Bakhmut area in recent weeks," the think tank said.
Update 9/17/2023 6:02 a.m. ET: This article was updated with the latest map of Ukrainian and Russian positions issued by the ISW.