Ukraine Mocks Russia's HIMARS Claims: 'Just Laugh'
Ukraine has rejected Moscow's claims that U.S.-supplied High Mobility Artillery Rocket Systems (HIMARS) have been destroyed by Russian strikes as "propaganda."
Russia's defense ministry has repeatedly said its forces had successfully targeted the HIMARS, which have allowed Ukraine to hit enemy command and control centers as well as ammunition depots.
But Ukraine's Defense Minister Olexiy Reznikov recently mocked Moscow's claims, telling the Voice of America, "I can absolutely responsibly say that not a single HIMARS was lost."
"Therefore, when you read in the Russian media that a soldier...with a Kalashnikov broke in and saw a truck, (and then) destroyed 20 HIMARS with an automatic machine gun, you can just laugh," he said, according to a translation.
"This is stupid, such propaganda," he added in the interview. which was reported by Ukrainian agencies on Wednesday. Newsweek has reached out to the Russian defense ministry for comment.
On June 23, Reznikov touted the first delivery of four of the weapons systems whose speed and range have been a significant asset for Ukraine on the battlefield. By August, Ukraine had reportedly received 16 of the systems.
Russia has tried to counter the Ukrainian narrative of HIMARS' success, with Russian defense minister Sergei Shoigu telling a security conference in Moscow on Tuesday that the weapons, as well as long-range howitzers, were not having a "significant impact" on Russia's capabilities.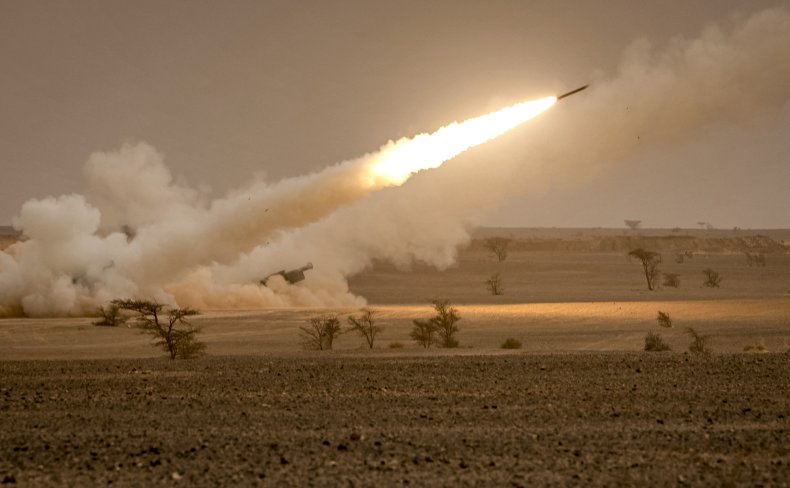 On August 13, Russian Defense Ministry Spokesman Lieutenant-General Igor Konashenkov said a HIMARS launcher and a warehouse with ammunition near​​Kramatorsk in the Donetsk People's Republic (DPR) had been destroyed.
That was the latest unverified claim by Russia since July 7, when it claimed to have destroyed a storage facility with HIMARS rockets in Radushnoe, Dnipropetrovsk Oblast.
On July 17, Russia said it had destroyed a HIMARS launcher alongside a "loading vehicle" for it in Krasnoarmeysk, in the Donbas region, although no such loading vehicle is required for the system.
Last month, Konashenkov said that between July 5 and July 20, a total of four of the launchers were destroyed, claims that were greeted with skepticism by military experts.
HIMARS appear to have been used by Ukraine in a strike against a warehouse in the town of Nova Kakhovka and the vital Antonivka Road Bridge in the southern Kherson region in July.
The Pentagon announced at the beginning of August that it would supply an additional package of security assistance for Ukraine, which included an undisclosed amount of additional ammunition for the HIMARS.