Putin Cancels Mariupol Assault Over Concern About Russian Casualties
Russian President Vladimir Putin has canceled plans for his forces to storm the Azovstal plant in the besieged city of Mariupol, saying he instead wants them to continue blockading it.
Putin told his defense minister, Sergei Shoigu, it was "inadvisable" to storm the sprawling industrial plant, where more than 2,000 Ukrainian servicemen are said to remain.
"We must always think...about preserving the life and health of our soldiers and officers," Putin said, according to a transcript on the Kremlin's website.
"There is no need to climb into these catacombs and crawl underground through these industrial facilities," he continued, although he wanted the area blocked off so tightly that "a fly does not get through."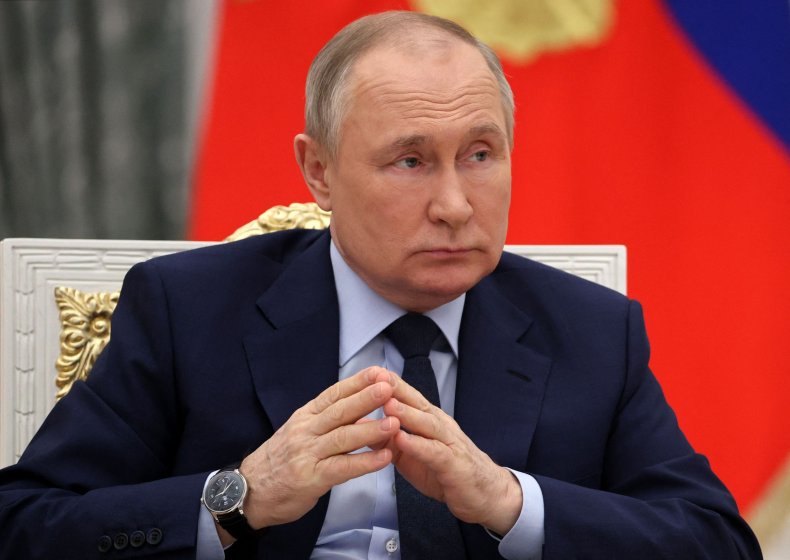 Putin also praised Russia's "liberation" of Mariupol after Shoigu told him Russian forces controlled the rest of the Ukrainian port city that has been the scene of a brutal siege.
Azovstal began operations in 1933 and before the full-scale Russian invasion of Ukraine, the vast iron and steel facility employed more than 10,000 people.
Russia-backed separatists began advancing into the facility on April 19, Radio Free Europe reported.
The sprawling complex covers four square miles and has a large underground network of rooms and tunnels where people have been sheltering.
On Tuesday, Russia had called on Ukrainian forces and foreign fighters holed up in the plant to surrender if they wanted to live.
Meanwhile, Ukraine's deputy prime minister Iryna Vereshchuk has demanded Russia allow an immediate humanitarian corridor for civilians to escape the steelworks.
"There are about 1,000 civilians and 500 wounded soldiers there. They all need to be pulled out of Azovstal today," Vereshchuk said on social media.
In the televised meeting with his defense minister released on Thursday, Shoigu said Russian forces controlled the rest of the port city.
Ukraine's President Volodymyr Zelensky has praised the resistance of the Ukrainian fighters there, which include those from the Azov Battalion, which has links to the far-right as well as Ukrainian marines.
Ukrainian marine commander Major Serhiy Volyna said in a video address this week that his troops were in a desperate situation and were outnumbered and running out of supplies.
Shoigu told Putin that more than 4,000 Ukrainian soldiers had been killed and 1,478 surrendered, although this has not been independently verified.
Putin said that Russia would guarantee the lives of those Ukrainian troops who lay down their arms and will be treated "in accordance with the relevant international legal acts."
Mariupol has been encircled by Russian troops and has been the site of the fiercest fighting since the start of Russia's invasion on February 24.
Newsweek has contacted the Ukrainian defense ministry for comment.
Update 04/21/22, 5:12 a.m. ET: This article was updated with additional information.