Ukraine Recaptures City of Chuhuiv, Kills Top Russian Commanders: Officials
Ukraine's armed forces claimed overnight to have recaptured the city of Chuhuiv in the Kharkiv region, as part of their ongoing counter-offensive in the area.
"In the course of hostilities, the city of Chuhuiv was liberated. The occupiers suffered heavy losses in personnel and equipment," the General Staff of the Armed Forces of Ukraine said in an operational update on Facebook.
The Ukrainian army also claimed to have killed two high-ranking Russian military commanders: Lt. Col. Dmitry Safronov, commander of the 61st Separate Marine Brigade of the Russian Armed Forces, and Lt. Col. Denis Glebov, deputy commander of the 11th Separate Airborne Assault Brigade.
Ukraine also said it had inflicted heavy losses on Russian forces during the offensive. Newsweek wasn't immediately able to independently verify the claims.
The city of Chuhuiv in eastern Ukraine was among the first places to report damage caused by shelling after Russian President Vladimir Putin launched a full-scale invasion of Ukraine on February 24.
Two five-storey apartment buildings were destroyed on the first day of Russia's invasion by heavy shelling, which left a missile crater some four to five meters wide carved into the ground.
Ukrainian Olena Kurilo survived when her Chuhuiv apartment was hit by a Russian missile strike. The 53-year-old teacher told AFP she had been "very lucky" and that she must have a "guardian angel."
"Never, under any conditions will I submit to Putin. It is better to die," she said. "I only managed to think in that second 'My God, I'm not ready to die.'"
Kurilo added: "I was in shock, I felt no pain."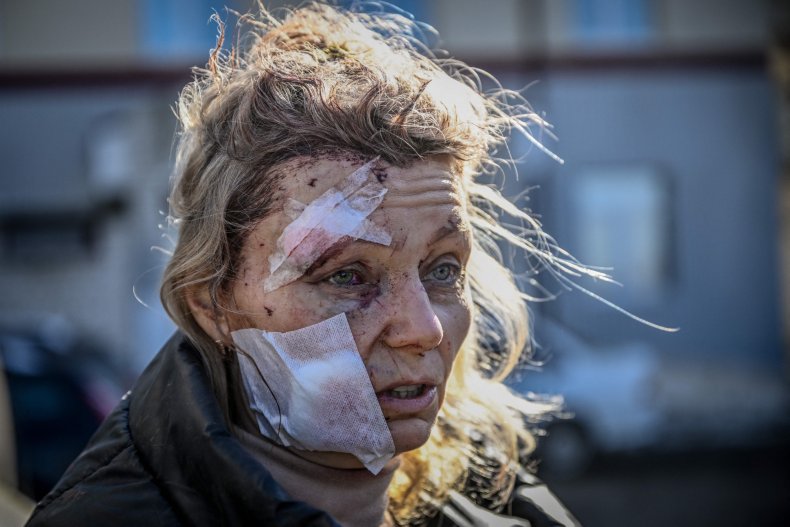 Chuhuiv is strategically located some 23 miles from Ukraine's second-largest city, Kharkiv, which been targeted by Russian forces for more than a week.
Ukraine's military said defense forces continue to conduct "a defense operation in the South, East and North."
Ukrainian defense officials' claims to have retaken Chuhuiv came shortly before Russia announced a third attempt at creating humanitarian corridors in Ukraine, following reports that its military had violated previous cease-fires.
Russia's military said on Monday morning that humanitarian corridors would be opened in the cities of Kyiv, Kharkiv, Sumy and Mariupol, effective from 10 a.m. Moscow time. The official announcement cited a request from French President Emmanuel Macron to Putin.
Meanwhile, Russia's armed forces continued to hit Ukrainian cities, including Mykolaiv, with multiple rocket launchers that also struck residential buildings, the Associated Press reported.
"Russia continues to carry out rocket, bomb and artillery strikes on the cities and settlements of Ukraine," Ukraine's General Staff said on Monday morning. "The invaders continue to use the airfield network of Belarus to carry out air strikes on Ukraine."