Ukraine Says 'Nazis Have Returned' After Russians Hit Holocaust Memorial
Ukraine's ministry of defense said Saturday that "Nazis have returned" after Russian forces targeted and damaged a Holocaust memorial site outside of the city of Kharkiv.
"Russian invaders fired on and damaged Holocaust Memorial in Drobitsky Yar on the outskirts of Kharkiv. The Nazis have returned. Exactly 80 years later," the ministry stated on Twitter.
The memorial is a menorah-shaped monument located at the entrance of the Drobytsky Yar Holocaust memorial complex. The site is where approximately 15,000 Jews were shot and killed during the Nazi invasion of the Soviet Union in 1941, according to the World Jewish Congress.
The attack marks the second time that Russian forces have targeted Holocaust memorials since it first invaded Ukraine on February 24. Earlier this month, Ukrainian President Volodymyr Zelensky said the Russian army bombed the Babyn Yar Holocaust Memorial.
Babyn Yar, a ravine located in the Ukrainian capital of Kyiv, was home to one of the deadliest Nazi massacres during World War II. Over 100,000 people were murdered at the site, including approximately 34,000 Jews.
"To the world: what is the point of saying "never again" for 80 years, if the world stays silent when a bomb drops on the same site of Babyn Yar? At least 5 killed. History repeating...," Zelensky tweeted after the attack on March 1.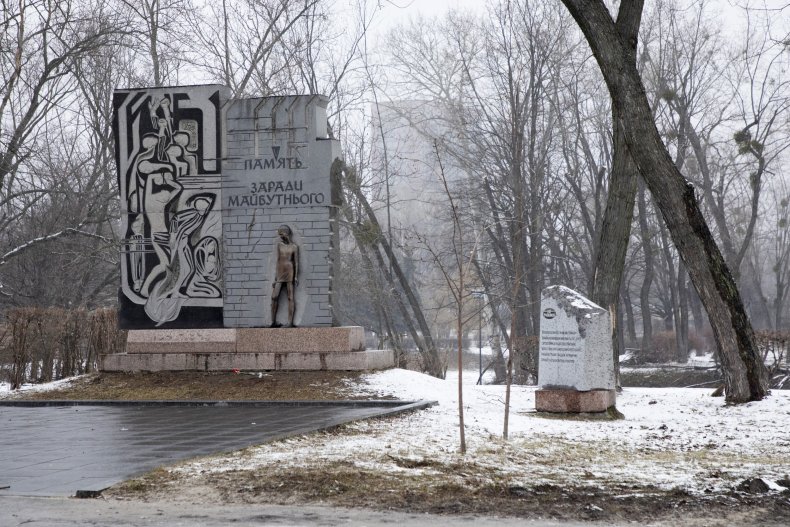 Zelensky, who is Jewish, has often evoked the tragedies of World War II while working to garner international support. In a video conference with Israeli leaders last week, Zelensky claimed that Russian President Vladimir Putin is attempting to carry out a "final solution" in his country.
"You remember it and will never forget it for sure," he said. "But you should hear what is coming from Moscow now. They are saying the same words now: 'final solution,' but this time it's about us," adding, "102 years after the Nazis, the order was given to begin the Russian invasion of Ukraine, which has already killed thousands of people and left millions without a home."
However, those comments received pushback from some Israeli lawmakers, including Israeli Prime Minister Naftali Bennett, who said "the Holocaust should not be compared to anything."
Meanwhile, Putin has also used World War II rhetoric when trying to justify the ongoing invasion when he baselessly accused Ukraine's government of being dominated by Nazis and asserted that his goal is to "de-Nazify" the country.
"Putin is trying to sort of recycle this anti-Nazi narrative to appeal to a very strong emotion as a way of rattling support for what he's doing." Thomas Graham, distinguished fellow at the Council on Foreign Relations and cofounder of the Russia, East European, and Eurasian studies program at Yale University, previously explained to Newsweek.
Newsweek contacted Russia's Foreign Ministry for additional comment, but did not hear back in time for publication.