Ukraine Seeks $565B From Russia for War: 'Evil Will Inevitably Be Punished'
A Ukrainian official estimated the country's losses at $564.9 billion since the beginning of the Russian invasion, adding that his nation will "seek compensation from the aggressor."
Yulia Svyrydenko, Ukraine's deputy prime minister and minister of economic development and trade, said in a Facebook post that the estimated losses come from losses related to infrastructure, gross national product (GDP), the civilian population and more.
"Evil will inevitably be punished and Russia will feel the full weight of its own criminal actions on the territory of Ukraine," she wrote.
The statement comes as the war in Ukraine is in its second month. Since the invasion began on February 24, millions have been driven from their homes as Russian forces fire upon their cities. Russian officials have been accused of war crimes for attacks upon places like a theater full of children and a maternity hospital.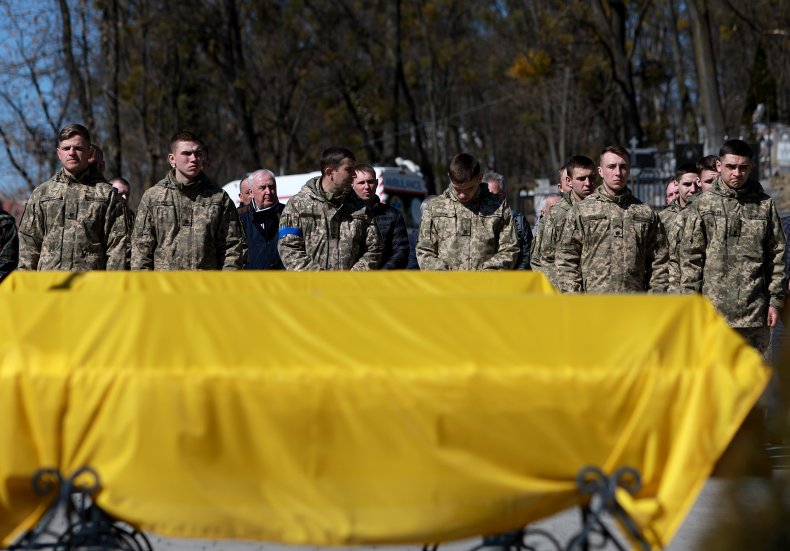 According to Svyrydenko's post, more than 4,900 miles of roads have been destroyed, as well as dozens of railway stations and airports, causing about $119 billion just in infrastructure damage. She also estimated losses of more than 10.7 million square feet of housing, 200,000 cars and 5 million people's food supplies, costing about $90.5 billion.
Her estimates also included $112 billion in loss to the nation's GDP, $80 billion in "losses of enterprises and organizations," $54 billion in losses of direct investment in the Ukrainian economy and $48 billion lost from the state budget.
"It is worth noting that every day the numbers change and, unfortunately, they are growing," Svyrydenko wrote. "That is why Ukraine, despite all obstacles, will seek compensation from the aggressor. Both by court decisions and by transferring to our state the frozen assets of Russia."
Western nations have taken numerous actions to strike at Russia economically. Sanctions have been levied against top Russian officials and oligarchs, and there are plans to launch a U.S.-EU task force aimed at lessening European dependence on Russian oil.
In an interview banned by the Russian government's media watchdog, Ukrainian President Volodymyr Zelensky offered Russian President Vladimir Putin a way to stop the war by negotiating over the status of eastern Ukraine's Donbas region. He suggested Russian troops retreat to the positions they held in the region before the February 24 invasion so the two countries can then negotiate over "the complex issue of Donbas." The conflict between Russia and Ukraine in the region has been ongoing since 2014.
However, Zelensky acknowledged that "it is impossible to force Russia to completely liberate" Ukraine, saying that "it will lead to World War III."
Despite Zelensky's offer, Russia launched new attacks on Kyiv Monday, once again trying to break through to the capital despite being pushed back by Ukrainian forces in its previous attempts.
Newsweek reached out to Russia's Ministry of Foreign Affairs for comment but did not hear back in time for publication.
Update 03/28/22, 11:50 a.m. ET: This story was updated to add more information and background.