Ukraine Appears to Shoot Down Russian Missiles in Dramatic Air Battle—Video
Videos circulating on social media appear to show the moment six Russian missiles targeting the city of Dnipro were shot down by Ukraine's air defense.
The clips, shared on the Telegram messaging app by Kyiv-based Ukrainian news agency UNIAN, show missiles being intercepted midair.
The head of the Dnipropetrovsk regional military administration, Valentyn Reznichenko, said in a Telegram post that Russia fired seven missiles at Dnipro on Tuesday morning.
"This morning's missile attack on the region: Our 'neighbor' launched seven 'friendly' missiles at us!" wrote Reznichenko. "Six of them were shot down by our military—over the city of Dnipro and the Synelnyky district."
According to Ukrinform, debris from an intercepted Russian missile caused a fire, which was extinguished by firefighters. No casualties were reported.
Kyiv-based newspaper Gazeta reported that the city of Dnipro and nearby Kharkiv were rocked by explosions at about 4 a.m. local time.
At least six explosions were reported in Dnipro, the newspaper reported, noting that Ukraine's aircraft defense system was activated. The outlet also reported that a fire broke out where missile debris fell.
It isn't yet clear what caused the explosions in the hard hit city of Kharkiv.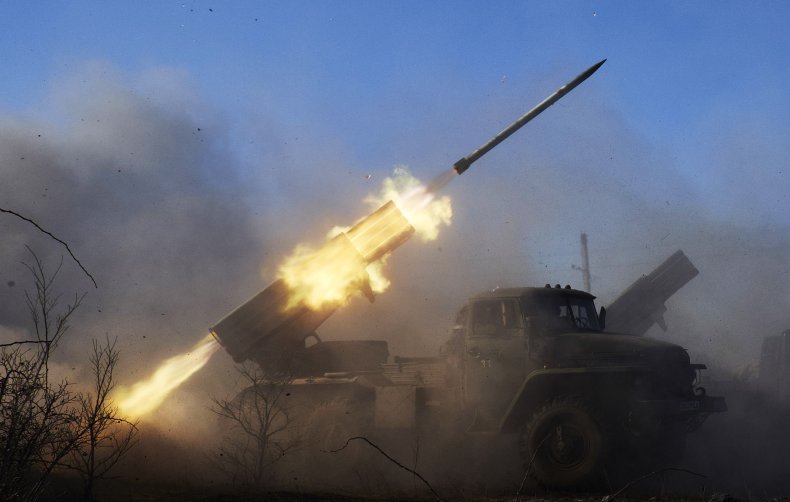 At around 3:30 a.m. on Tuesday, air-raid warning signals went off throughout the country, and residents of populated areas were asked to temporarily remain in shelters, according to Gazeta.
The targeting of Dnipro comes a week after Russian missiles struck the city from the Black Sea. Ukraine said it intercepted and shot down four of the missiles on the evening of June 28.
Reznichenko said that the attack had destroyed railway infrastructure and an industrial enterprise in Dnipro, and residents were trapped under rubble.
Dnipropetrovsk regional council head Mykola Lukashuk said on Telegram at the time that the missile strikes also damaged about 35 cars and several one-story buildings.
"The Ukrainian State Emergency Service is now conducting rescue works, dismantling the rubble and searching for survivors," Lukashuk wrote.
Ukrainian Brigadier General Oleksii Hromov said on July 1 that Russia has more than doubled its missile strikes on Ukraine in the last two weeks, and that Putin's forces are using less precise Soviet-era missiles for more than half of the attacks, Reuters reported.
After appearing to take control of the Luhansk region, Russia is now ramping up its efforts to seize all of the Donetsk region, Luhansk Governor Serhiy Haidai told Reuters on Monday.
Haidai said Russia's "goal number 1" now is to capture the Donetsk region.
Newsweek has contacted Russia's foreign ministry for comment.