A video of a Ukrainian soldier showing a phone that appeared to have stopped a bullet has gone viral since being shared online.
Twitter user OSINTtechnical posted the 30-second clip where the soldier pulled out a phone with a bullet lodged in it on Monday, April 18.
As of Tuesday, April 19, the video has been viewed some 402,000 times across several social media platforms.
OSINTtechnical captioned the video: "Ukrainian soldier's phone stopped [with] what appears to be a 7.62 round."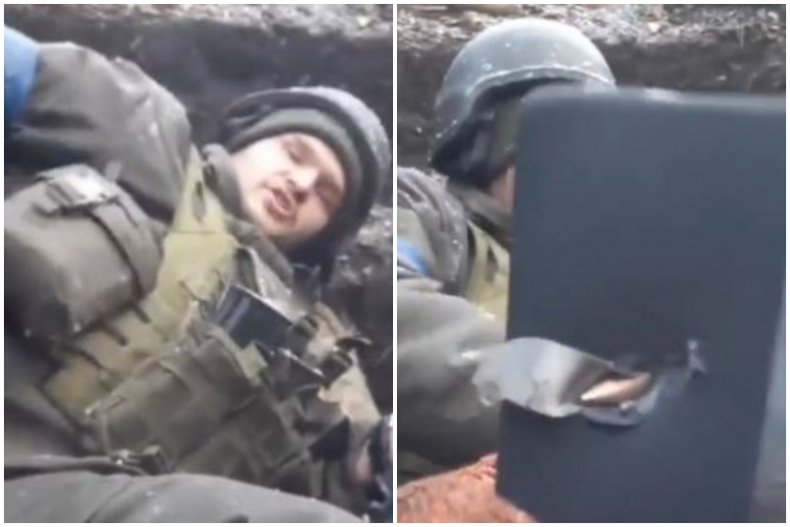 In the clip, the two men can be heard talking as snow falls into what appeared to be a makeshift trench, before one of the soldiers pulls out a phone, which had been penetrated by a bullet.
The soldier could then be heard saying: "The only thing that saved my life is this phone for ₴20,000 ($673) [and] a badge that they gave us."
Seemingly amazed by what he had just seen, the soldier recording the clip took the phone and held it close to the camera, showing the tip of the bullet had pierced the phone.
Since being uploaded onto the social media platform, the video has been liked some 12,800 times and retweeted on 2,320 occasions.
Newsweek has been unable to confirm where or when the video was filmed, or if the story attached to the clip is true.
While the clip went viral on Twitter, it was also shared on numerous platforms including Reddit and YouTube.
Newsweek has contacted firearms experts for comment.
Social media has been widely used by soldiers and civilians in Ukraine since the outbreak of its defensive war.
Viral clips and images have rapidly spread across the globe, capturing such events as the desperate situation faced by refugees, destruction of military vehicles, or evidence of alleged war crimes.
Videos uploaded by British foreign volunteer Shane Matthew have gone viral on TikTok, with one clip revealing the devastating impact on a home following a Russian bombing barrage.
In another video, Matthew could be seen fleeing from an apparent artillery strike and into a garage.
A clip of a woman confronting an armed Russian soldier during the early days of the war went viral with millions of views on social media.
The clip was shared on the Twitter profile of Ukraine World, a news website that shares posts in English.
In the video, the woman asked Russian soldiers to put sunflower seeds in their pockets so if they died on Ukrainian soil the national flower of the country would grow where they fell.