Ukraine Wants to Bill Russia for War Damages—and It Could Cost Billions
After four years of war with Russia-backed militants, Ukraine's government will count up the damage to its economy and send Moscow the bill, the country's president has said.
Russia annexed Crimea from Ukraine in early 2014 and then backed a flash insurgency in the eastern Donbas regions, shortly after huge protests in Kiev removed Russian-friendly President Viktor Yanukovych from power. After winning a snap election, Ukraine's current President Petro Poroshenko has vowed to restore control over Crimea without military means, but in Donbas his troops have been locked in a violent standstill with pro-Russian insurgents in combat that has cost more than 10,000 lives.
The leader, who has less than a year before new elections, has demanded that his ministers begin work on calculating just how costly Russia's actions have been on his country before launching a claim, he announced in a Facebook post this week.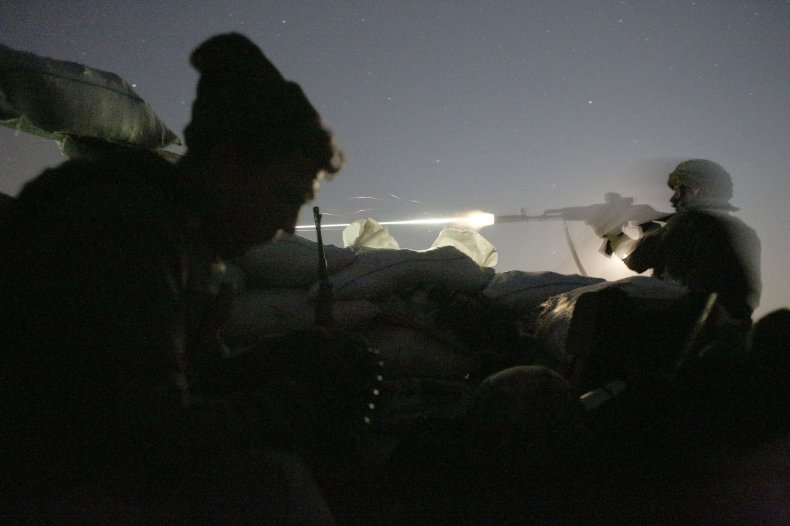 "The continuing armed aggression of Russia every day brings new immeasurable human suffering to the Ukrainian land, destroys infrastructure and destroys enterprises and economic potential of Donbass and Crimea, so we must not hesitate for a minute to form a consolidated claim of Ukraine to Russia to compensate for the losses," Poroshenko wrote.
Poroshenko did not give any preliminary estimates about the extent of the damages he expects but his representative to Ukraine's parliament, Irina Lutsenko, said as early as January that such damages exceeded $50 billion, Ukraine's 112 channel reported.
The Kremlin has continued to deny that it is behind the armed forces that currently hold patches of Ukrainian land near the Russian border, however it has since admitted that its troops did participate in the annexation of Crimea, after previously denying that. Russia's denials have not convinced Western nations and Russian authorities have reportedly awarded separatist troops in Ukraine's east as their own.
Read More: U.S. senators push bilateral bill to discover just how rich Vladimir Putin really is
Russia has previously not been receptive to requests for reparations or damages from other countries, as when Latvia estimated Russia owes about $210 billion in loss of infrastructure, investment and development, following the Soviet Union's takeover of the country. Russia brushed off the request and Ambassador Alexander Udaltsov then issued a bill on Moscow's behalf, claiming that Latvia owes $72 billion for the Kremlin's Soviet-era investment in the country.
Next year's elections in Ukraine will be the first since the height of hostilities with pro-Russian forces and the topic of the conflict is likely to become one of the top issues for the government's re-election campaign.