Ukraine War Can't End Without Putin's Destruction
With the war in Ukraine hitting its one-year mark, Russian President Vladimir Putin remains so publicly committed to his military efforts that many analysts believe he will never willingly accept anything other than victory.
As such, Putin's removal from power increasingly seems to be the likeliest end to the war.
Putin spoke at length about the war during his state-of-the-nation address on Tuesday. He said that Kyiv's "Western handlers" had pushed Russia into conflict with Ukraine. Putin also said Western leaders are trying "to transform the local conflict into a global confrontation" and that Russia will respond to that as "it will be a matter of our country's existence."
Such a fervent commitment to the war could prove to be Putin's undoing, though.
"Continuing a fruitless war may lead some in the military to decide that stopping the war is necessary to prevent the collapse of the Russian armed forces, and so Putin needs to be removed from power," George Mason University Schar School of Policy and Government professor Mark N. Katz told Newsweek.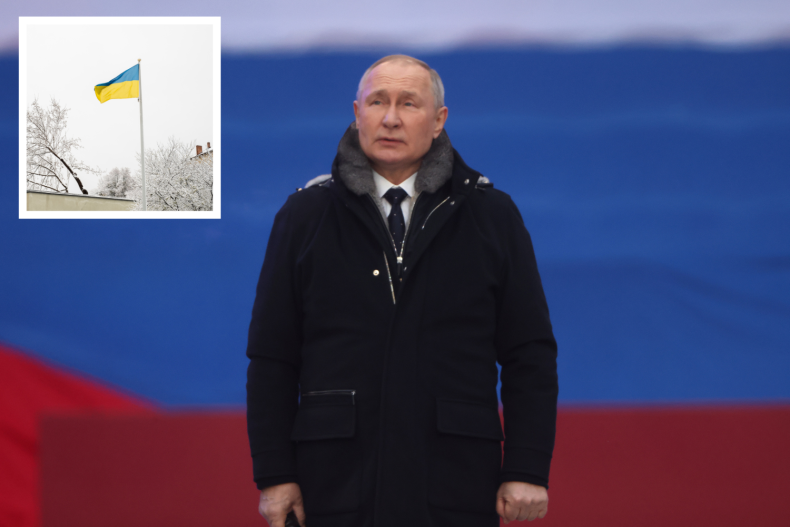 "I can imagine a coup resulting in his imprisonment or even death," Katz said. "I can also imagine that he cuts a deal whereby he agrees to turn over power in return for safe passage for him and his cronies to a country willing to host him."
Kurt Volker, a former U.S. ambassador to NATO and U.S. special representative for Ukraine negotiations, predicted before the war broke out a year ago that Ukraine would beat Russia.
Now, he sees Ukraine not only winning but also having the upper hand in possibly regaining control of Crimea. Both countries claim the peninsula as their own, but Russia invaded and annexed the region in 2014.
"Ukraine believes it has a military advantage at the moment and can take back more territory," Volker told Newsweek.
He said if Russia lost Crimea or suffered a similarly major defeat, then officials could seek to remove Putin from power.
"I'm not suggesting they would kill him. I'm thinking they might say, 'Oh, he's got a new health crisis of some kind. He has to go to Sochi and recuperate,'" Volker said.
William Reno, professor and chair of the political science department at Northwestern University, told Newsweek that, for now, Putin plans to keep dragging the war on.
"At the one-year mark, I'd say that Russia is waiting out the clock and the Ukrainians are racing against the clock. Public support in the West for assistance to Ukraine is still high but declining," Reno said. "The Russians figure they win by staying in the fight."
He added that it "looks increasingly likely that Putin personally has no intention of backing down, given where Russia is now."
Jason Jay Smart, a prominent political analyst in Ukraine and correspondent for the Kyiv Post, told Newsweek that the "war has all the potential to continue as is for a very, very long time."
"My best bet for this war to end in the short term, or in the near term, is if there is a radical political change in Russia, such as the fall of Putin," Smart said.
By continuing to fight without any significant success—especially with a high rate of casualties and a weakening economy at home—Russia may see Putin's strategy isn't worth the consequences.
"The longer the war goes on, though, the more that Putin risks looking like a failure inside Russia," Katz said. "Putin, however, won't back down from the conflict for fear that if he does, he will lose control inside Russia and be ousted."
Reno said that in order for Putin's authority to truly be in jeopardy, the war may reach a dangerous point first.
"It's hard to foresee how Russia's high officials or military leaders could remove him. Such a move might require a critical juncture, such as the disintegration of Russian forces in the face of a Ukrainian offensive. That's the sort of moment that's dangerous too, as Putin would likely reach for an asymmetric response that could include use of nuclear weapons," Reno said.
However, Smart believes the fighting will not stop until Putin is no longer leading Russia.
"I think the most likely thing—above 95 percent certitude—the most likely way this war ends is that Putin is replaced or that he dies, is killed, is gone," Smart said.
Newsweek reached out to the Russian Ministry of Foreign Affairs for comment.