Ukraine War Could Increase Some International Air Fare By Over $120
An aviation expert warned that the Russian invasion of Ukraine could impact international air travel, including trip duration and costs. Since the attack, Russia has closed its airspace to the EU, Canada, and the U.S. In response, the U.S. and some of its allies banned Russian flights from entering their airspace as well.
The closure of Russian airspace has blocked routes from Europe to Asia, prompting airlines to find alternative routes that might consume more time and fuel, and therefore potentially raising the prices of tickets for international flights.
"The most significant impact of Russian airspace closure will be on flight routes between Europe and North Asia, [which] includes a significant number of flights to Japan and Korea," Umang Gupta, managing director at Alton Aviation Consultancy, told Newsweek on Sunday.
He also said that flights from Europe to Singapore, Hong Kong, Thailand, Malaysia, and Vietnam will be impacted by the closure.
Gupta said that the increased prices of international air fares is due to the increase of oil prices and the longer routes that flights have to take, adding, that rising oil prices "will impact all airlines, at a time when they were starting to see demand return with reducing COVID case counts and fewer border restrictions."
"On a London to Tokyo trip, for a fuel-efficient widebody such as the Boeing 787-9 or Airbus A350-900, round-trip fuel burn will need to increase by more than 20 percent. At oil prices of around $100/bbl, this will translate into nearly $25,000 of additional expenditure for the airline round trip," he explained.
This means that airlines might have to increase fares by over $120 for a round-trip ticket to cover the new additional costs, according to Gupta. In taking alternative flight paths to avoid closed airspaces, U.S. airlines have been blocked from important flight routes that connect certain continents.
Gupta also told Axios that a typical flight from Europe to Asia would take about 12 hours to fly there and about 13 hours to return. However, more than two hours of flight time will be added in each direction, which Gupta called "a best-case scenario."
"Several U.S. carriers also use Russian airspace to fly to Asia and will have to look for alternative longer routes, or perhaps even consider 'tech stops' to refuel, reduce passenger capacity or cargo on board," he said, according to Axios.
Airlines are already having to pivot now that the airspace closure is in full effect. United Airlines recently changed its route for its flight from Chicago to Delhi, India, which added at least an hour to its journey and about two hours to its returning trip, according to FlightAware data. The airliner used to fly across Greenland and transit in Russia on its way back south.
"Qantas [Australian airline] has also decided to voluntarily avoid the conflict zone and will add an hour to nonstop flights from Australia to London," Gupta told Newsweek on Sunday.
Gupta said it is still "unclear" if airlines can apply cost increases to ticket prices as customers begin flying again amid relaxed COVID-19 restrictions. "It remains to be seen if fare increases are viable or airlines will have to absorb the cost increase and potentially reduce unprofitable flying."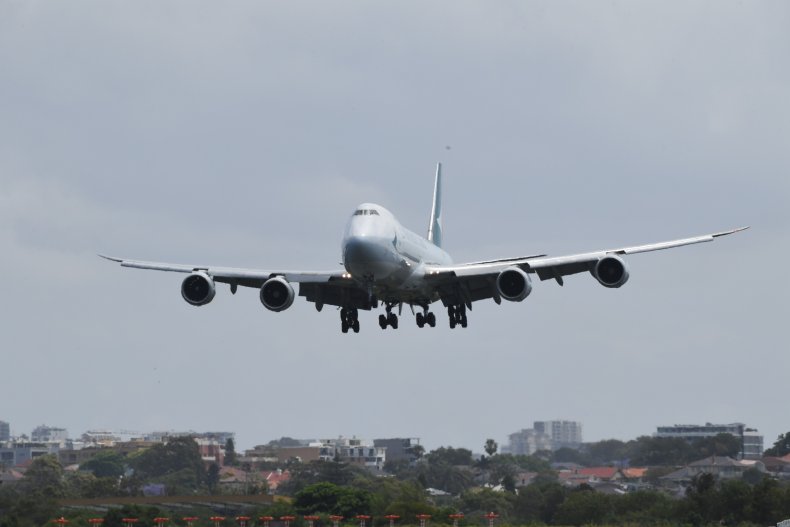 Rosaviatsiya, Russia's aviation agency, recommended on Saturday that all Russian airlines with foreign-leased planes should suspend passenger and cargo flights traveling internationally to avoid foreign governments from potentially seizing the planes as part of sanctions imposed on the country.
Consequently, Russian airline Aeroflot announced Saturday that it will halt all of its international flights, except those heading to Belarus, starting on March 8.
The suspension means that Aeroflot tickets for passengers who are scheduled to fly out of Russia after March 6 and set to return after March 8 will be canceled, the Associated Press reported, with Aeroflot saying in a statement that the decision was made due to "circumstances that hinder operating flights."
The story has been updated with comments from Umang Gupta, managing director at Alton Aviation Consultancy.