Ukraine Warns Russia of Massive Missile Strikes After U.S. Rockets Arrive
Ukraine's Foreign Minister Oleksii Reznikov hailed the arrival of High Mobility Artillery Rocket Systems (HIMARS) sent as military aid to the Eastern European nation from the U.S.—issuing a warning to Russian President Vladimir Putin's forces attacking his country.
Putin launched the invasion of Ukraine on February 24, drawing swift international condemnation and global backlash. Although Russian largely failed in its initial assault to take control of the Eastern European nation, it has made more gains in recent weeks after refocusing its efforts on the eastern Donbas region of Ukraine.
In response to the Russian aggression, the U.S. and NATO allies have rapidly provided billions of dollars in military and humanitarian aid to Kyiv. On Thursday, Reznikov announced the arrival of the HIMARS weapons, which can hit targets some 50 miles away, in a Twitter post.
"HIMARS have arrived to Ukraine. Thank you to my colleague and friend @SecDef Lloyd J. Austin III for these powerful tools!" the Ukrainian official wrote.
"Summer will be hot for russian [sic] occupiers. And the last one for some of them," he added. Reznikov included a photo of a rocket being launched.
Newsweek reached out to the Russian foreign ministry for comment. Russia has criticized Western arms supplies for Ukraine and has said they will prolong the conflict.
The four HIMARS came as part of a $1 billion aid package announced by the White House earlier this month. CBS News reported on Wednesday that the White House plans to announce additional HIMARS will be sent to Ukraine. Since February, the U.S. has already pledged some $5.6 billion in assistance to the country.
"We're going to deepen our support for the Ukrainian Armed Forces in today's fight, and we're going to build their enduring strength for tomorrow's dangers," U.S. Secretary of Defense Lloyd Austin said in June 15 remarks in Belgium.
"By working together, we can help Ukraine defend itself from Russia's cruel assault," he said.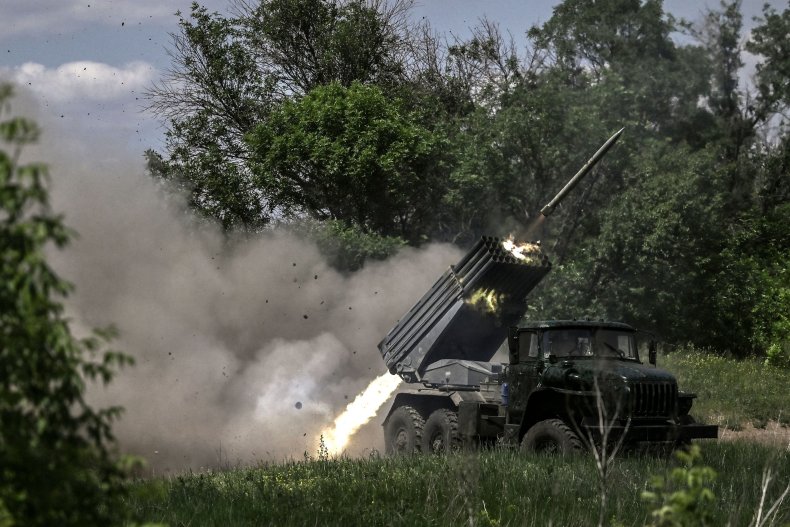 Putin and other top Russian leaders have justified their invasion of Ukraine by saying that the country is led by Nazis. In reality, Ukraine's President Voldymyr Zelensky is Jewish and had family members who died in the Holocaust. When Zelensky was elected in 2019—with nearly 75 percent of the vote—the prime minister in Kyiv was also Jewish.
Russia's president has evoked the historic Russian empire and referenced Peter the Great, who reigned from 1682 to 1725. Putin has questioned the validity of Ukraine's statehood and has noted that it was historically part of Russia. Ukraine became independent in 1991 after it left the now-defunct Soviet Union.