Ukrainian Orphanages Fight to Keep Kids Safe as War With Russia Rages
Running an orphanage in Ukraine always requires the necessities—food, shelter, clothing—but now, children coming from war-torn areas of the country need psychological services, too.
Olena Bakhovska and her husband, Andrew, volunteer at an orphanage in Lviv. In 1995, Olena, a rehabilitation specialist and an orphan, met Vera Petrusha, the president of the nonprofit Ukrainian Children's Aid and Relief Effort (UCARE), at a summer camp run by Help Us Help the Children. UCARE supports six orphanages in Western Ukraine.
In 2015, Olena reached out to UCARE to support various projects for orphans.
Shortly after, Olena and Andrew opened their own nonprofit in Lviv, and in the year since Russia launched its invasion last February 24, the couple has worked to serve the increased amount of children they're tasked to care for across the six locations, regardless of the time of day, or night.
Andrew recalled one night. At 2 a.m., he told Newsweek, they received a call that one of the UCARE orphanages was receiving 50 children, but there was no food. He and his wife managed to gather warm clothes and food in a period of three hours, bringing it to the children whose lives had just been completely turned upside down.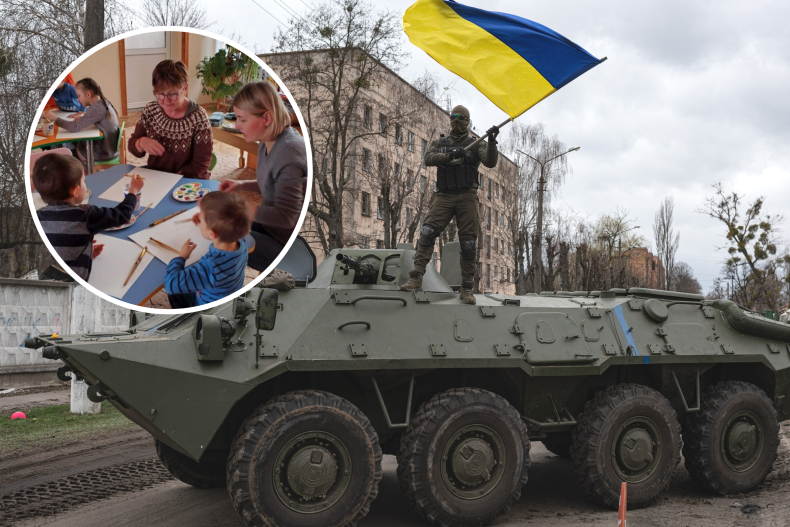 "It was a lot of emotions," Olena said. "When we were visiting those kids and passing them goods and supplies and support, we understood that those kids were scared. And we were scared also. We have a saying in Ukraine, 'Put emotions aside.' And that's how we approached it."
The next step beyond providing food, clothing and shelter is to give children the psychological help many require.
A report published this week by Yale University researchers said that at least 6,000 Ukrainian children have been held in Crimea and Russian cities for the primary purpose of political re-education. The Yale School of Public Health's Humanitarian Research Lab identified 43 facilities holding the children since Russia launched the invasion.
Daria Herasymchuk, Ukraine's top presidential adviser for children's rights and rehabilitation, said in January that nearly 14,000 children have been abducted by Russian troops and deported to Russia. Only 125 of them have been returned to Ukraine, with many sent to new Russian families.
Reuters reported in September that there were more than 105,000 children in Ukraine's network of more than 700 part- and full-time institutions, or orphanages—just over 1 percent of the child population, the highest rate of institutionalization in Europe, according to data from the European Union and UNICEF. It became more and more difficult to track the children as the war continued.
"Unless you visit every location, it's hard to determine whether there are children missing," Aaron Greenberg, UNICEF's senior regional adviser for Europe and Central Asia, Child Protection, told Reuters.
"When war broke out last year, we didn't know where we are and what to do," Andrew told Newsweek, courtesy of translator Olena Danylyuk. "Everyone was kind of in a depression and not understanding what's going on."
As time went on, many adults inquired about adopting some of the children. It has been a tumultuous process, he added, because of paperwork delayed by the war.
Olena said that in one orphanage, there are two sisters and one brother whose parents were taken by Russians. They were provided with temporary designation while awaiting confirmation that the adults are still alive.
Andrew said that recent arrivals of children—three groups of 40 in each—traveled from Zaporizhzhia, a common target of Russia's missile attacks, and are now considered orphans. Another 817 children are designated orphans across all six UCARE facilities.
Olena isn't only responsible for caring for those children who lost their parents, but she has a 9-year-old daughter and two sons, ages 18 and 23.
'No other way but victory'
"As a mother, I fear that I lost," Olena told Newsweek when asked how the war affects her and her family. "When there's air attacks or something happens, I have murmur with my heart and try to convey myself. I live in constant fear."
Son Lyubomyr, 23, speaks English and told Newsweek that he doesn't view Russians as people, repeating a saying among Ukrainians that "Russia is a cancer."
He was 15 when Russia annexed Crimea in 2014, a time he recalls enjoying school and envisioning a positive future for himself. Now, he is studying international relations and learning to understand why his country is continually being attacked or invaded for political reasons or otherwise.
"Sometimes when I wake up, for five seconds I feel like a person," he said. "But after that, all the feelings go away because I understand the situation of the moment."
Kyrylo Budanov, chief of the Defense Intelligence of Ukraine, told ABC News in a January interview that he expects the "hottest" fighting between Ukraine and Russian President Vladimir Putin's forces to occur in March. The spring could signal the end of the war, he added.
Ramzan Kadyrov, the president of Chechnya whose troops are fighting for Moscow in Ukraine, has a different timeline: the end of 2023.
"The West will kneel, and as usual, European states will have to cooperate in all areas with the Russian Federation," Kadyrov said. "There will not be and must not be any other way."
Ukrainians remain steadfast in their optimism.
"We believe in victory, we believe in our army," Andrew said. "A lot of changes are needed in every field, but for now we believe that we will win and later will be rebuilding. But for right now, we have to win."
Update 2/21/23, 9:57 a.m. ET: This story was updated to clarify that UCARE supports but does not operate orphanages in Western Ukraine; and that Olena met Vera Petrusha in 1995, not 2015.