As more Ukrainian citizens join their president's call to fight off Russia's invading forces, one student says she has put her college degree on hold in order to "to save my country, to save my friends, to save my family, to save my little sister."
Maryna Mazur—a 22-year-old Ukrainian native who had been studying for her business degree in Berlin, Germany—says that she decided to return to her home country to join the fight.
"I want to join the fight," she told Newsmax TV, "Nothing matters now apart from my family staying alive ... and to kill as many Russians as I can. ... I have no mercy for those people."
"I wish there was no war," she continued. "I would never think that I would say that I'm willing to kill a person. But I have so much hatred to people who probably bombed my house, my parents' house near Kyiv, to people who bombed my friend's house in Kyiv, and my ex-school."
"My life is not any more valuable than those of Ukrainian military, of those men and women who protect our country," she continued. "So, it is my duty to give and make anything, anything I can to help."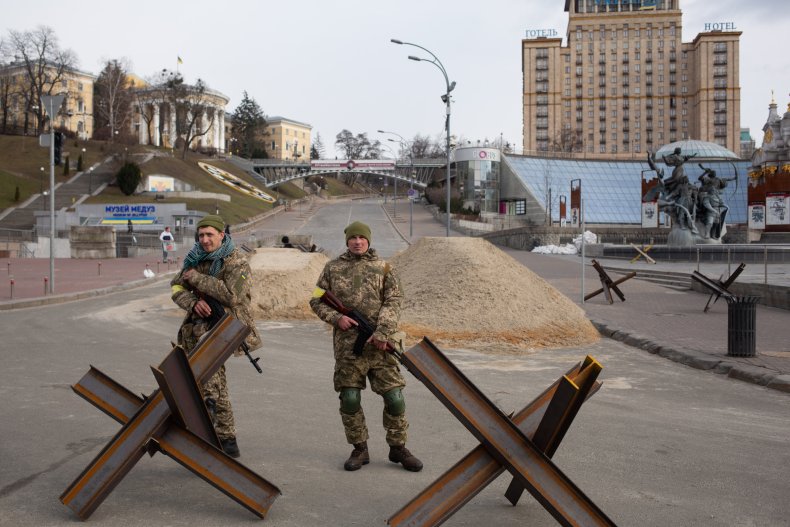 At the start of the Russian invasion last week, Ukrainian President Volodymyr Zelensky tweeted, "We will give weapons to anyone who wants to defend the country. Be ready to support Ukraine in the squares of our cities."
Ukrainian civilians have been helping set up roadblocks with sandbags and spare tires as well as removing road signs to help slow down Russian military vehicles, the Kyiv Post reported.
The calls for citizen volunteers and fighters have intensified as Russian strikes hit military, civilian and infrastructure targets across the country, killing hundreds of civilians.
Russian forces have attacked a kindergarten and orphanage in northeastern Ukraine and a hospital in the southeast, according to Human Rights Watch. The attacks reportedly killed civilians, including some children.
One of the Ukrainian Ministry of Defense's recent social media posts asked citizens to inform the ministry of Russian troop movements and to make explosive Molotov cocktails to fight off the Russians.
Answering the call, one Ukrainian business, Pravda Brewery in the western city of Lviv, began mass-producing Molotov cocktails.
The brewery's owner, Yuri Zastavny, said his business couldn't produce beer during the invasion. So instead they chose to make the homemade firebombs using their many bottles and the knowledge of workers who already knew how to make them.
Similarly, Ihor Tokarivsky, the owner of a company that erects mobile telephone towers across Ukraine, has purchased steel to make anti-tank weapons for fighting off Russian forces.
With a group of seven employees and 10 other volunteers from neighboring businesses, he has made over 50 tank traps, each weighing 881 pounds. The traps can hook and lift any vehicles that drive into them, making their undersides more vulnerable to weapons, according to Military Times.
The business is also making "hedgehogs," smaller objects made of spiky sharpened steel rods that will puncture even the heaviest tires on military vehicles. Tokarivsky said he had enough steel to make 11,000 hedgehogs.
Some 1.2 million refugees have fled Ukraine since Russia invaded on February 24, United Nations High Commissioner for Refugees (UNCHR) Filippo Grandi said on Friday. About half arrived in neighboring Poland, while others immigrated to Hungary, Moldova, Romania and Slovakia.
The exodus marks the fastest movement of refugees during this century, according to the Associated Press.
Newsweek reached out to the Ukrainian Embassy in Washington, D.C., for comment.