A zoo worker evacuated Ukraine's only family of tapirs, a rare mammal that has lived on Earth for 20 million years, from the devastated city of Kharkiv on Saturday.
The Feldman Ecopark zoo shared a video of the rescue on Facebook, taken by the worker who drove the animals out of the city. From the driver's seat of his van, the man grinned while updating community members on the rescue, before panning to show the three tapirs on a bed of hay behind him. The video was later reposted on Twitter, where it has been viewed 1.2 million times.
"The rescue operation was very sophisticated," Yana Gaidai of Feldman Ecopark told Newsweek. "We found a cargo van and made [it] bulletproof with hard armor plates. Our brave volunteers transfer animals along country roads to bypass military checkpoints."
Like most of Kharkiv, the zoo has sustained heavy bombing and shelling since the first day of Russia's invasion on February 24. Kharkiv was the second-most populous city in Ukraine and home to nearly 1.5 million people before the war began. Other than the besieged southern port of Mariupol, no other city has suffered worse bombardment from Russian forces.
Three staff members at the zoo have been killed and dozens have been wounded while trying to feed their animals, Gaidai said. Almost 100 animals have also been killed.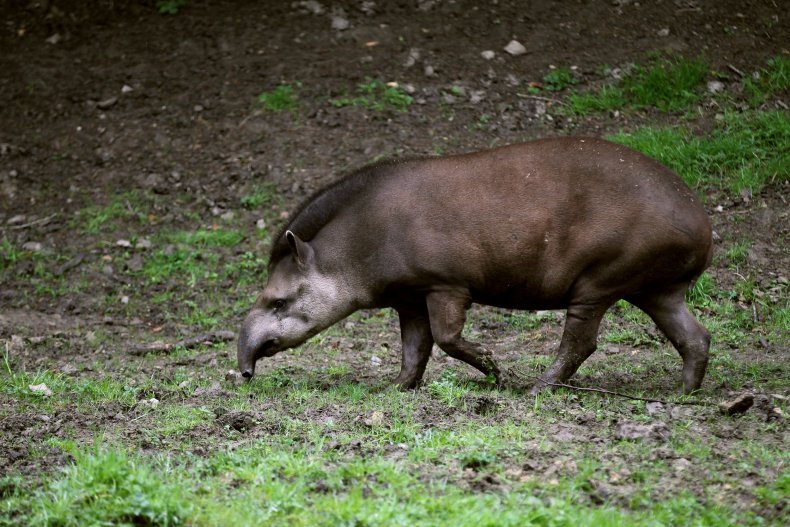 Feldman Ecopark first appealed for help with the tapirs on March 27. In a Facebook post, the zoo asked community members who cared for the "only tapir family in Ukraine that has a cub" to send donations for evacuating, feeding and temporarily housing the animals.
On Saturday, the zoo said many people had written to inquire about the fate of the tapir family. "We answer everyone," said the Facebook update. "Dalma, Pinto and Dolly were taken out of the danger zone and sent to the Poltava region, where a temporary home was prepared for them."
Gaidai added that the tapirs took the move well and are settling into their new home. Volunteers have brought them fruits, grain, vegetables and hay.
The same zoo worker who drove the tapirs out of Kharkiv previously evacuated several kangaroos in his van, Newsweek reported.
On Twitter, viewers from across the world left him words of admiration.
"Oh what a beautifully kind and loving human saving precious animals," wrote a user who went by @judyp01397197. "Beautiful souls sharing their humanity."
"Another selfless hero with compassion and humility in Ukraine," added another with the username @DaubeGraeme.