Ukrainians Deported to Russia Reportedly Having Passports Taken Away
Ukrainian citizens forcibly deported to Russia are reportedly having their passports seized and replaced with Russian documentation, according to Ukraine's ombudswoman Lyudmila Denisova.
Denisova, the Ukrainian Parliament's Commissioner for Human Rights, made the claims during an appearance on Russian-language Prague-based TV channel Nastoyashcheye Vremya (Current Time).
"Passports are taken away [from deported Ukrainians]. They [passports] are taken away in a filtration camp," Denisova said.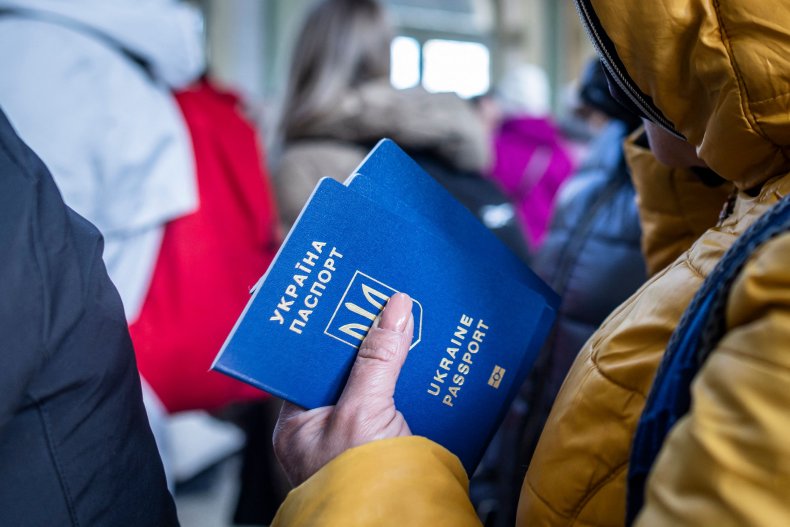 According to the ombudswoman, Russian forces are forcibly deporting Ukrainian citizens by first taking them to filtration camps in the Donetsk region, and then transporting them to Russian territory through the Russian-controlled republics in eastern Ukraine.
"For example, there is a family that was transported to Russia's Suzdal, in the Vladimir region, and then they were given a migration certificate…and they then went further with this migration certificate," Denisova said.
The ombudsman claimed that work is currently underway to ensure that Ukrainian citizens who have had their passports seized will be able to leave Russia to go to the EU with these "certificates."
Newsweek has been unable to independently verify Denisova's claims.
Two women who said they were taken to Russian territory from the besieged city of Mariupol in March told The Guardian that Ukrainian citizens are being sent to "filtration camps" prior to being forcibly relocated.
"People need to know the truth, that Ukrainians are being moved to Russia, the country that is occupying us," one woman told the news outlet on the condition of anonymity for safety purposes.
The Kremlin has denied the claims, calling such reports "lies."
'Forced Certification'
Denisova in a statement on April 10 accused Russian forces of forcibly deporting Ukrainian citizens.
"First forced deportation, then forced certification," she wrote on her social media channels. "Russia has begun issuing passports to Ukrainian citizens who have been forcibly deported to various regions of the aggressor country."
"By intimidating the most vulnerable categories of people—women, people with disabilities and pensioners, the aggressor's authorities received from them almost 14,000 applications for Russian citizenship and issued 12 thousand passports," Denisova wrote.
She added, "Such actions of the Russian occupier are aimed at continuing the forced integration of the population of our state into Russia's political, economic and humanitarian space."
Denisova told Euronews last month that since Russian President Vladimir Putin began his invasion of Ukraine on February 24, more than 400,000 Ukrainians have been forcibly displaced.
According to the Atlantic Council, an American think tank, Russia has for the past two years issued over 650,000 Russian passports to Ukrainians living in the Russian-controlled republics in eastern Ukraine, in an effort to transform the area into a "passport protectorate."
Newsweek has contacted the Russian foreign ministry and the Ukrainian foreign ministry for comment.