Lyudmila Denisova, the Ukrainian Parliament's Commissioner for Human Rights, alleged on Friday that Russian soldiers have raped children during the ongoing invasion of Ukraine.
In a Facebook post, Denisova alleged that an 11-year-old boy was raped by Russians in front of his mother who was tied to a chair and forced to watch as it happened in the Ukrainian city of Bucha.
"The level of brutality of the army of terrorists and executioners of the Russian Federation knows no bounds - raped children...," wrote Denisova, who has been appointed by the Ukrainian parliament to monitor human rights abuses.
Also in Bucha, Denisova wrote, a 14-year-old girl became pregnant after she was allegedly raped by five Russian soldiers, and a 20-year-old woman was raped by three Russians "in all possible ways at once" in the city of Irpen.
"There is no place on earth or in hell where racist criminals can hide from retribution!" Denisova wrote, adding that rape is strictly banned by Article 27 of the 1949 Geneva Convention relative to the Protection of Civilian Persons in Time of War.
Denisova also urged the UN Commission for Investigation Human Rights Violations to take into account "these facts of Russian war crimes in Ukraine."
"The racist occupiers must bear the strictest responsibility!" she said.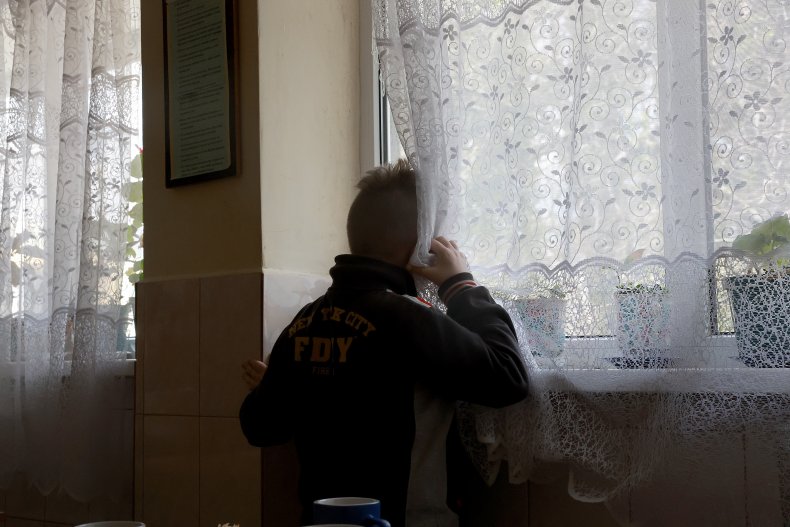 Children have reportedly been targeted by Russian soldiers since the war on Ukraine began in late February with the U.N. High Commissioner for Human Rights (OHCHR) reporting that 121 children were killed as of April 3.
On Sunday, Human Rights Watch (HRW) released a report including witness accounts of Russian soldiers raping and executing Ukrainian civilians. HRW said that between February 27 and March 14, a case of "repeated rape" and two cases of "summary execution" have taken place in the occupied areas of Chernihiv, Kharkiv and Kyiv.
"The cases we documented amount to unspeakable, deliberate cruelty and violence against Ukrainian civilians," Hugh Williamson, Europe and Central Asia director at Human Rights Watch, said in a statement. "Rape, murder and other violent acts against people in the Russian forces' custody should be investigated as war crimes."
This week, Ukrainian Internal Affairs Minister Anton Gerashchenko said in a Telegram post that Russian soldiers "tortured and brutally killed" some civilians in the village of Motyzhyn, including mayor Olha Sukhenko and her husband and son, who were kidnapped by Russian troops on March 25. The mayor and her husband had refused to collaborate with the Russian forces, according to local residents.
Similar incidents were reported in Bucha where journalists said they saw dead bodies of civilians in what Ukrainian officials described as a "deliberate massacre."
Newsweek reached out to the Russian foreign ministry and the Ukrainian foreign ministry for comments.